The Carolina Hurricanes exceeded expectations in 2015-2016 thanks to the rapid development of their young core. Now, general manager Ron Francis has a tall task ahead of him – add more talent and depth to the current roster.
Francis will have multiple avenues to explore this offseason to carry out the task. The free agent market will feature many talented offensive players, as will the trade market.
Perhaps the biggest name in the rumor mill is Rangers forward Rick Nash. The Carolina Hurricanes need to make a strong push for the 2002 first overall pick.
Why the Carolina Hurricanes should trade for him
There are several issues with the current state of the Carolina Hurricanes, and one of them is the club's lack of consistent goal scoring.
Rick Nash has a long history of netting goals in big bunches. He is two years removed from a 42-goal campaign, and he has eclipsed the 30-goal mark eight times in his 13-year NHL career.
Nash, who turns 32 in mid-June, is a big bodied winger and has the skill set that Carolina is in desperate need of. He is a big-time goal scorer who can muscle around opposing players. He's a prototypical elite power forward who can go to the net and be a game changer.
Dating back to 2013, Nash has a positive Corsi-for percentage of 50.88%. While being a flashy and talented offensive player, he isn't an extreme liability in his own end, and his north-south game would fit in nicely in Bill Peters' system.
Nash could fit into a variety of places in the Hurricanes' lineup. His size and skill could be a great fit opposite Jeff Skinner. Nash has the size to open up room for Skinner and take the focus off of him while he is on the ice. Throwing a player like Victor Rask, a steady two-way player with good size and faceoff abilities, in the middle of Skinner and Nash would make a formidable top-six line that can make game changing plays on any given shift.
http://gty.im/501167960
Another option would be pairing Nash with Jordan Staal. Staal played at an elite level during the second half of last season, posting impressive possession numbers and contributing consistently offensively while also throwing his hat into the Selke conversation with his dominant defensive play and faceoff acumen. He did this while playing with Andrej Nestrasil and Joakim Nordstrom.
While both Nestrasil and Nordstrom are underrated for what they bring to the ice in terms of both puck possession and two-way play, saying they are top-six forwards would be a tough sell. Adding a player like Nash to the fold alongside Staal would give him the top-end offensive talent and could boost his offensive output.
The physical dominance that the pair of 6'4″, 220-pound forwards could impose on opponents would be a sight to behold.
Wherever Rick Nash would slot in, he would instantly make the Hurricanes a much more dangerous offensive team both at even-strength and on the powerplay. He is an impactful power forward with a tenacious net front drive and the skill to make things happen.
The Hurricanes were in on Nash back in 2012 when he was being flaunted around in trade circles by the Blue Jackets. However, reports suggested that Columbus wanted Jeff Skinner coming the other way for Nash. Shortly thereafter, GM Jim Rutherford decided to pull out of that race.
Why the New York Rangers would trade him
There's a lot of very good things that can be said about Rick Nash, but there are also some issues with him.
Throughout his years as a Ranger, he hasn't been an impactful playoff performer. His career regular season points per game is a very solid .80, but that number drops to .55 once the playoffs roll around.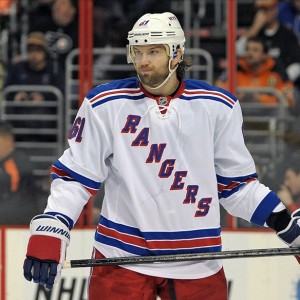 Since joining New York, Nash has also been prone to injury problems. He played just 60 games last year and 65 games in 2013-2014 due to injuries. This shouldn't be a big red flag for the Hurricanes given that he consistently played 75+ games per season with the Blue Jackets for nine years.
Perhaps the biggest reasons for the Rangers wanting to move on from Nash are his cap hit and their inability to get over the playoff hump since his arrival.
The Rangers are right up against the cap ceiling entering the offseason, and Nash's $7.8 million price tag isn't helping that situation. His deal runs through the 2017-2018 season, and it looks like New York will want to change things up dramatically between now and then, due largely to their inability to win the Cup.
With goalie Henrik Lundqvist entering the twilight of his illustrious NHL career, the window seems nearly shut on the Rangers' shot of winning the Stanley Cup with him in net. They realize this, and they appear ready to move on from this era of hockey and look to retool their team. This retooling would likely include saying goodbye to Nash.
Rick Nash has had an up and down go of things with the Rangers since 2012, and at this point, a change of scenery may be what's best, both for the team and for the player.
What would it cost to bring in Nash?
The Rangers need to get younger and bring in pieces that can contribute to their success down the road. That being said, they aren't just going to blow things up completely. They will likely have Lundqvist in net for several more years, and he is still one of the league's premier goalie talents despite turning 34 in March.
This is a move that would be very doable on the first day of June's NHL draft. The Hurricanes have a plethora of draft picks, and all signs point to them being very open to moving the picks for valuable assets that can help the team now. Nash would qualify as one of those assets.
The 21st overall pick, which was traded to the Hurricanes from the Kings in the Andrej Sekera trade in March of 2015, should be on the table. On top of that, the Canes could add in RFA Ryan Murphy, a former 12th overall pick, to sweeten the pot. Another roster player and a later draft pick may also need to be thrown in to get a player as talented and accomplished as Nash.
A trade for Rick Nash wouldn't be easy, and they surely wouldn't be the only team that would be interested in the power forward's services, but the Carolina Hurricanes would be foolish not to try to acquire a player like him. He would be an instant impact player and a guy who could net 35+ goals alongside some exciting young talent in Raleigh.
Covering News and the Carolina Hurricanes for The Hockey Writers. Senior writer for SB Nations's CanesCountry.com. Former editor of CardiacCane.com (2013-2016).
Contact: bfinger30@gmail.com, @brettfinger (Twitter)