The NHL season is only a month old – roughly 20 percent done. Many would argue that it's probably too early to start talking about the 2014 NHL draft, which will take place at the Wells Fargo Center in Philadelphia at the end of June. Sure, maybe it is.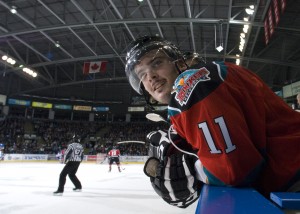 But there's one young man who surely has this date in the back of his mind – working hard and passionately so he can hear his name called at some point during the two day event. His name is Carter Rigby and he plays for the WHL's Kelowna Rockets.
[ALSO SEE: Carter Rigby: Undrafted and Uncertain]
Rigby has caught the eye of some NHL scouts over the past couple seasons, but suffered an injury to his right shoulder a month into the season last year. The injury forced the 19-year-old to miss roughly a month before he could make his return to the lineup. About a week after coming back, Rigby injured his left shoulder but managed to play through it – a move that obviously hindered his game.
Over the offseason, Rigby had surgery to repair both shoulders and was looking forward to getting back and making a point of catching those NHL eyes once again. I had a chance to talk to the native of Penticton, British Colombia, and hear what he had to say about the 2013-2014 season.
Andrew Forbes: You had the chance to play in Osoyoos early in your career, can you tell me how that was a stepping stone for you as a young player?
Carter Rigby: You know what, I think it's a big part of where I am today and where I'm playing today. I think that if I didn't go there that I might not be back in the Western League. Obviously I was in Prince George as a sixteen-year old and a fifteen-year old before that and things weren't working out and I asked to leave. So there, just playing a lot and playing against older guys – faster guys – just really helped me develop my game. And being successful in that league really helped my confidence in going into Junior A and making the step up to the Western League with the Rockets.
AF: This season you've had some injury woes, how has that impacted your development and your career moving forward?
CR: Obviously it sucks that it was like a month into the season and I was out for a month, I guess, after that. My other one decided to go right as soon as I got back. Four games into getting back from my right injury, my left one went on me. And I just kept on playing through it because I didn't think it was as bad as it was. I think I just started getting used to the pain – it wasn't that painful anymore. I started playing good hockey and then they decided to get me in for an x-ray and MRI and told me I was done. They told me I was done for the year. Things were going good, but all of a sudden things stopped after 34 games. I sat in the stands for quite a while and then ended up playing the last three games of playoffs in the second round because we had so many injuries I needed to play. It definitely took a toll on my body and my mind especially because it's been a long summer, but I'm just looking forward to getting back into things and being in the lineup here.
Excited to have @RIGS94 on my left side tonight! #welcomeback #onetimers

— Ryan Olsen (@rolsen94) November 2, 2013
AF: What are you going to have to do this season to continue turning the heads of NHL scouts?
CR: I think the big thing is to just play my game – play simple hockey. Obviously I need to become a better skater, that's one thing that's been my downfall. At the same time I have to be myself. I have to be the character player I am and score goals too. I just have to play as I know I can and I shouldn't have a problem hopefully.
AF: Now Kelowna, is ranked among the top 10 in CHL rankings. Last year, they had 52 wins before a rough playoffs. What do you think you can bring to the table to help the Rockets make a push at the Memorial Cup this year?
CR: A big thing is that I'm 19 this year and I've been in the league for a couple years now so I know how things work. There's leadership qualities – I think I'm pretty vocal with the young guys and I can definitely help the young guys settle in and adjust. And when times aren't good I can get the boys going. When playoffs come around, that's when I like to play the rough stuff – getting in guys heads. I'm just a character player that I think a lot of teams that win championships need. At the end of the day, they're the guys that get you through on the ice and help you out off the ice. Just those qualities there are some that I bring to the table and help out with the boys this year. Hopefully we're in London, Ontario at the end of the year.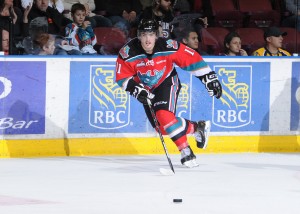 AF: You talked about playing a rough game. Now, some people have called you a 'goon with average hands.' How do you respond to that?
CR: I wouldn't say 'goon' one bit. Obviously I don't think I'm scared to drop the mitts and back myself up, but I'm not out there to fight. I think of a 'goon' as a fighter and someone who take dirty penalties and I don't feel like that's my game at all. I just play a hard simple game, but on the edge. I'm very physical. I use my mouth a little bit more than I should [laughs]. But it helps me and hopefully helps the team by getting some of their key players off their game. But I'd like to think that I have above average hands [laughs]. I guess it depends on the day.
Unfortunately, he sustained a setback going into the start of this WHL season. But the 19-year old didn't falter – making his return to the Kelowna lineup November 2, when his Rockets beat the Prince George Cougars 4-1. Rigby notched an assist in his return and has continued his success in his return.
Well it's been a while, can't wait #gameday

— Carter Rigby (@RIGS94) November 2, 2013
In four games this season, he's put up a goal and three assists for four points and a plus-two rating. The Rockets are currently ranked second in the WHL's Western Conference and have played four less games than any other conference opponent.
So can Rigby turn the heads of NHL scouts again this season?
"At the end of the day, it's about the team winning," he said. "Every team wants a winner and the further we go, the more looks everyone on the team gets including me."
Andrew Forbes can be found on Twitter at @AndrewGForbes for comments and questions.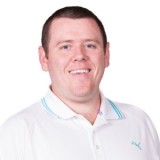 Andrew is in his 8th year reporting for The Hockey Writers covering the Toronto Maple Leafs. He began his broadcasting with CBC's Hockey Night in Canada team as well as being part of their coverage of the 2014 Winter Olympic Games in Sochi. He's the former play-by-play voice of the London Jr. Knights for Rogers TV and currently hosts the Sticks in the 6ix podcast. You can follow him on Twitter at @AndrewGForbes.