The leading goal scorer for the San Jose Sharks, is currently also leading the Calder trophy talks.  Tomas Hertl, the now 20 year-old rookie sensation has kept a steady pace after his phenomenal opening to the season.  His 12 goals are the most on the Sharks so far this season with only Patrick Marleau reaching double digits so far in San Jose.  At 18 points through 21 games, Hertl is on pace to score 70 total points this season.  This ranks higher than any other rookie to don the Sharks uniform.  Even that of the best rookie seasons, including Logan Couture's of 2010-11.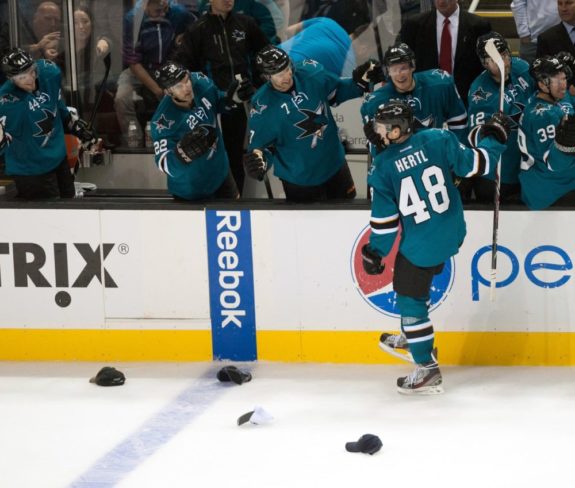 Best Rookie Seasons in Sharks History
While the Sharks' history is a fairly short one, just over twenty years, many rookies have come through and been successful in San Jose.  However, the 2010-11 campaign by Logan Couture easily tops this list.  He finished with 32 goals and 24 assists to reach 56 points in his first full season in teal.  While it may not compare to the best rookie seasons of all time (or even recent history) it is still impressive.  Seasons like those are few and far between.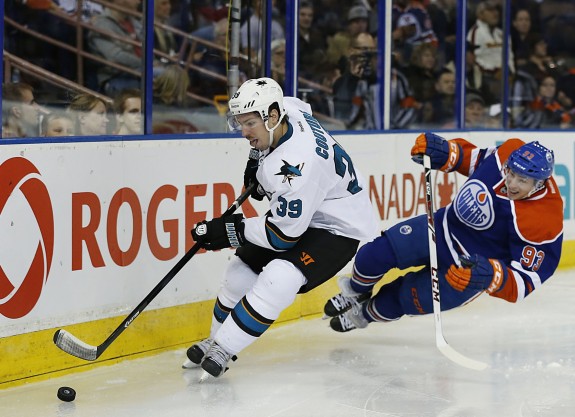 Couture's mark was one that surprised many outside of San Jose, but his stellar play before reaching the NHL screamed leadership potential.  He amassed a +18 over the course of the season and was second to Jeff Skinner in Calder voting (Skinner has since declined).  More impressive was his solid play in the postseason.  He made appearances in 2009-10's playoffs and scored four goals in limited ice time.  His second foray into the postseason the next year was even better with 14 points in 18 games.
What set Couture apart was that leadership quality and the consistent play that Sharks forwards (ahem, Marleau, cough cough) have lacked.  Number 39 earned the praise of his GM as "one of our most consistently solid players."  After his near-Calder winning season, he earned a two year extension and has since become a major leader and star on Team Teal.  The best rookie seasons don't always turn into superstardom, but Couture's did.
Hertl Power Making a Statement
Nobody expected his torrid pace to keep up through the season, but Tomas has not fallen all the way back to Earth just yet.  Through 21 games, his 18 points is better than Couture's 12 points.  Logan only had 9 goals at the time as well.  Couture definitely picked up the pace later on in the season, but it is hard to say that Hertl won't do the same.  And of course, through his first season, Couture didn't make a highlight quite like this one…
It could be the goal of the year, but of course there is plenty of hockey to be played.
Hertl's production on the scoreboard isn't his only asset however.  The youngster is a physical presence on the attack as well.  He is not afraid to throw his body around and gets dirty in the corners and in front of the net.  He's earned his captain's praise for that in addition to his ability to find the back of the net.  Many rookies shy away from the physical part of the game until they build some more confidence.  But being physical is just as fun as scoring.  Which brings us to…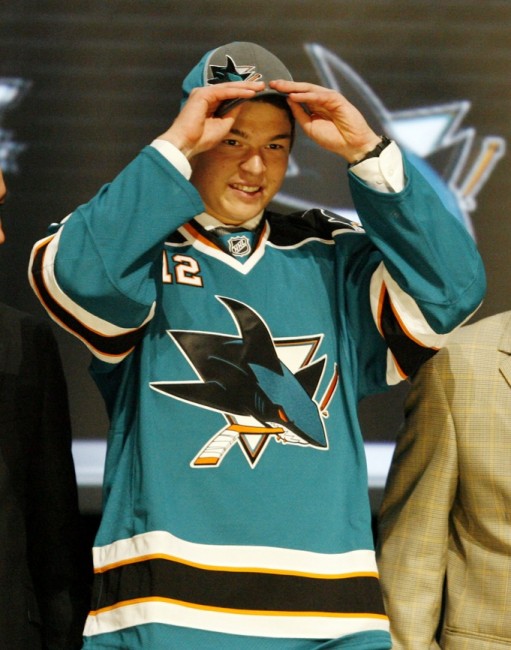 Last, but definitely not least, Tomas has the biggest grin on the squad.  Not many rookies can maintain that bright-eyed star-struck demeanor and be a force on the ice.  Many athletes can forget that they are playing their favorite sport as a job.  Many forget that they are living out their dreams.  One of the less-traveled roads to making one of the best rookie seasons in history is to just have fun.  Hertl shows little signs of frustration when things aren't bouncing the Sharks way.  He is literally having too much fun just being here to let a few losses ruin his mood.
Hertl Mania for Years to Come
The remainder of the 2013-14 season will go a long way in determining how Hertl's career grows in the NHL.  Staying healthy and keeping his point production at his current, modest pace will give him the edge on Couture in that category, but Logan's contributions are not just on the scoreboard.  To be one of the best rookie seasons in history he will need to make an impact beyond the first months of the season.  Couture was a leader almost immediately.  He played all facets of the game and has only improved with time.  Hertl's leadership qualities have hardly scratched the surface.  Obviously, the language barrier is going to delay that, but can he lead?  The NHL season is a marathon, not a sprint.  Once the playoffs roll in, Hertl's judgment will come in clear.  Withstanding the rigors of a season in this league is the best indicator of future success.
Kenneth is a graduate of the University of San Francisco in Politics and Chemistry. But his passion in life has always been hockey. He has played since he was four and even coached a few teams. Kenneth writes for the San Jose Sharks at thehockeywriters.com