With the new regime in place, it was only a matter of time before interim head coach Ted Nolan and president of hockey operations Pat LaFontaine started making changes in Buffalo. The first task on the agenda is increasing the average age of the roster by reassigning some of the teams young talent.
The new bench boss made his intentions very clear. "Patty [LaFontaine] and I have been talking about it since we got involved," said Nolan. "I think you can have some young kids, a few of them, but not as many as we have."
Four Rookies Demoted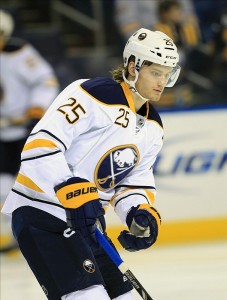 Both of this year's first-round picks will be heading elsewhere. Defenseman Nikita Zadorov will be returned to the London Knights of the OHL before playing in his 10th NHL game, which means his three-year entry-level contract is yet to kick in. Fellow defenseman and 2013 first rounder Rasmus Ristolainen will be sent down to the Rochester Americans.
Joining the Finn in Rochester will be forwards Johan Larsson and Mikhail Grigorenko. While the other roster moves are pretty straight forward, the Grigorenko situation comes with some complications. Since Grigorenko is still junior eligible, he can only go to Rochester for a "two week conditioning" stint. Afterwards, he must go back to Buffalo or be sent to his QMJHL hockey club the Quebec Remparts. Teams in Canadian major junior can only have two import players. The Remparts already filled both of those spots and one of those players cannot be traded or released due to league rules.
It's already been confirmed the Russian forward will rejoin Buffalo after his conditioning stint.
With regards to BUF's Grigorenko, I can confirm he will not be sent back to Quebec/the QMJHL after his conditioning stint. Will remain up.

— David Pagnotta (@TheFourthPeriod) November 19, 2013
Not only may have the junior hockey stipulations played a role in this decision, but also Grigorenko's contract situation. Because of the mishandling of Grigorenko last year, his entry-level contract kicked in even though he was returned to junior. The Sabres surely don't want to waste another year of his contract while he plays in Quebec.
On Course For a Successful Rebuild
While many may seem to question why a team would send off some of its youngest players during the middle of a rebuild, it is absolutely the right decision.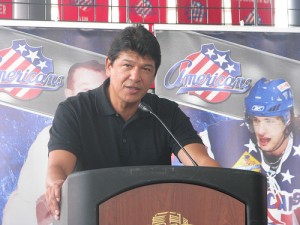 "You see some good organizations and how they go about it," Nolan said. "You don't force-feed somebody and say we're a rebuild. Rebuild is important, but how you rebuild is really important."
While it's great for young players to get  firsthand experience playing at the highest level in the NHL, they also need to be put into a position to succeed. It's not as easy as sending a player out on the ice and watching them automatically develop. It's very difficult for 18 and 19-year-old boys to go out and play against fully mature men. The worst possible scenario is shaking the confidence of a young player, as it can have serious ramifications and significantly stunt growth.
"There's something beneficial about a 19 year old playing with his peers. It breeds confidence," said Nolan. "Confidence is a wonderful thing. You can make the player believe in himself. You can make an average player good and a good player great."
Ted Nolan: confidence is a wonderful thing. you can make the player believe in himself. you can make avg player good and good player great

— howard (@hsimon62) November 19, 2013
Not only do making these roster moves benefit the players being reassigned, it benefits the young players who will remain on the roster. It's important for these players to have mentors and others to study under. By surrounding inexperienced players with veterans, they'll learn through osmosis. Not to mention, the team should be a bit more successful than its slow start to the 2013-14 season, and winning also builds confidence.
Nolan discusses some of the roster moves in the video below.
In the press conference, Nolan expresses the importance of allowing players to mature and being patient in the development process. He also points out it's not just about a player being ready physically, but also being prepared mentally. Look at Tyler Myers for example. The defenseman has all the physical makeups to be an exceptional hockey player, but something isn't right in his head, and it has severely hindered his growth.
There are many players, coaches and GMs that believe that players must earn their way to the NHL. By simply handing a player a roster spot on the senior club straight out of the draft, it can potentially send the wrong message and deter the player from developing a strong work ethic. This may be one of Mikhail Grigorenko's issues. The Russian forward was essentially guaranteed a roster spot on the Sabres by former GM Darcy Regier before training camp had even began, even though he struggled in his first season after making the team straight out of junior.
"The guys that got moved today are all good players and are probably going to be here sooner than later. But it's one of those things, it's a philosophy going back five years ago that you've got to earn it in the minors. You've got to earn the right to be here," said Sabres defenseman Mike Weber. "It's nothing against those guys; they were given the opportunity so it's not their fault. But from a standpoint of where we want to be as a hockey team, I think it's a positive."
Potential Call Ups
Since four players are also being sent down, that means there will also be call ups, which Nolan alluded to. While one spot is being filed by Mike Weber who returns from injury, the other three spots are there for the taking.
Matthew Coller of WGR 550 believes Brayden McNabb and Luke Adam should be called up from Rochester. After being in Lindy Ruff's doghouse and enduring two difficult seasons, Adam seems to be getting his career back on track.  The forward is having a career year for the Amerks, leading the team in scoring, while reclaiming his confidence and passion for the game. The Sabres could certainly use some of his scoring touch to improve upon a league worst 1.73 goals per game average.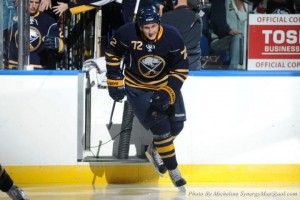 McNabb is another player getting his career back on track after dealing with adversity. The defenseman had a very impressive stretch in the NHL during the 2011-12 season, before suffering a severe knee injury. The injury did set him back a bit as he got buried on the depth chart, but the extra bit of development has done him a world of good. At 6'5″ and 205 lbs, McNabb brings a physical presence to the lineup and has a bit of a scoring touch from the point, both attributes the Sabres would welcome to the roster.
The last spot is sure to go to a veteran player. That likely puts Matt Ellis, Kevin Porter and Patrick Kaleta in the running. The escapades of Kaleta have been well documented. For him to be eligible to return he must clear re-entry waivers which makes his situation complicated. Out of these three, the likely choice seems to be Kevin Porter. He started the season with Buffalo and has shown chemistry with Sabres forward Brian Flynn. Ellis is the captain of the Amerks so the organization would best be served by keeping him in Rochester to aid in the development of the prospects playing there.
Other players who may receive some consideration are A-level prospect Joel Armia,  veteran defenseman Alexander Sulzer and grinder Jamie Tardif.
The Sabres finally have a clear development plan. Fans must remain patient because a bright future lies ahead for the organization.