Six weeks into the American Hockey League season, the Abbotsford Heat are in a familiar place in the standings – first overall. For the second consecutive season, the Heat are among the best teams in the AHL through the first chunk of the schedule. However, the nature of the Heat's recent success is radically different than last year's. Rather than relying on former NHLers and AHL veterans for their success, as they did for much of last season, instead the Heat have been carried by a core group of talented youngsters. With their parent, the Calgary Flames, in an admitted rebuild, the success of the Heat can only mean the odds of its players earning NHL call-ups can only be going up.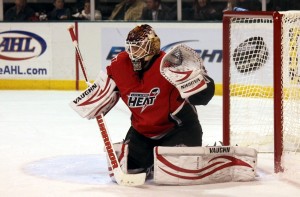 Here's a quick look at a handful of Abbotsford Heat players that could find their way to Calgary before the end of this season
CORBAN KNIGHT
Acquired in the off-season from the Florida Panthers, Knight is a native of nearby High River, Alberta and was a perennial contender for the NCAA's Hobey Baker Award during his four years with the University of North Dakota. One of the later cuts at Flames training camp, Knight has taken to the AHL like a fish to water, posting 16 points in 19 games and scoring two game-winning goals.
The only thing keeping Knight in the minors right now may be Calgary's log-jam at center – with Matt Stajan, Joe Colborne, Sean Monahan and Mikael Backlund on the NHL roster, Knight will probably have to bide his time. That said, if/when the Flames make some trades, expect Knight to be the first body up from the farm, and to stick around in the NHL.
JONI ORTIO
Calgary's sixth round selection way back in the 2009 NHL Draft, Ortio came over to North America two years ago and played for a spell in Abbotsford. He was, to be blunt, pretty bad, and soon left to return to his native Finland. He returned to North America this year for the last year of his entry-level contract as a new man. Poised, aggressive in net and very consistent, Ortio won each of his first seven starts. His prowess probably made the Flames confident enough to ship out Laurent Brossoit to Edmonton as part of the Ladislav Smid trade. And with neither of Reto Berra or Karri Ramo blowing the doors off in Calgary, it's completely possible – maybe even probable – that Ortio may get a cup of coffee in the NHL if those struggles continue (and he keeps playing well). Not bad for a guy that many, including me, somewhat wrote off after his disastrous first nine games back in 2011-12.
MAX REINHART
Renowned for being a whip-smart hockey player, the eldest of the three hockey-playing Reinhart brothers continues to evolve and adapt as a pro. Naturally a center, he reacted to the Flames glut of pivots by becoming a winger, too. Reinhart's not great at any one thing, but his game lacks holes and he can adapt to different roles and situations. During a recent recall to Calgary, he skated both as a checker on the fourth line and as an energy-producing player on a "kid line" with Sven Baertschi and Sean Monahan. He was sent back to Abbotsford when Lee Stempniak returned from injury, but he earned praise from Flames head coach Bob Hartley for his contributions.
BEN HANOWSKI
Acquired in the trade that sent Jarome Iginla to Pittsburgh, Hanowski is bigger and a bit meaner than Reinhart, but lacks a bit of his skating and vision. That said, Hanowski uses his size pretty well and has adapted to the professional game fairly quickly after a four-year college career. He's helping to generate offense on an Abbotsford club that usually struggles to score and, with the Flames generally lacking in size and grit, he'll likely get a look at some point this year. That said, he'll need to work on his skating, as it held him back from more success during his late-season NHL stint last season.
MARKUS GRANLUND
The younger brother of Mikael Granlund of the Minnesota Wild, Granlund had an excellent prospect camp but struggled with an injury and inconsistency during main training camp. Now fully healthy and getting more and more comfortable with the smaller North American ice and North America in general – in part thanks to fellow Finn and teammate Joni Ortio – Granlund has been very good of late. He's generating shots in every game and has 10 points in 15 games after missing the first handful of games due to injury. In the first year of a three-year entry-level deal, it's doubtful that the Flames will rush him into the NHL, but it's possible they give him a late-year call-up to gauge his progress and comfort level.
OTHERS IN THE MIX
Chad Billins had two points in two games with Calgary earlier this year, so he's probably the most likely blueliner to be recalled. Older Heat players Ben Street and Blair Jones have been excellent, scoring at more than a point-per-game pace, but their chances are hindered because they would need to clear waivers to return to the Heat. The Flames would probably rather not risk losing them for nothing on the waiver wire. Paul Byron falls into the same boat.
Ryan Pike has covered the Calgary Flames and the NHL Draft extensively since 2010 as a Senior Writer for The Hockey Writers and Senior Contributing Editor of FlamesNation.ca. A member of the Professional Hockey Writers Association, he lives in Calgary.