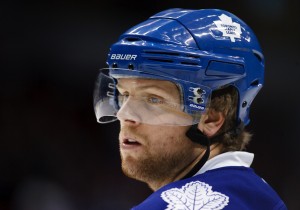 To paraphrase Robert Burns, the best laid plans oft go awry. In the short term,  that is true for the leafs and the group of forwards they've assembled.
Things seemed easy enough to sort out a few weeks back. GM Brian Burke and coach Ron Wilson felt a handful of players were battling it out for a 3rd line spot, but the rest was essentially figured out. Indeed, questions existed concerning the health of Tim Connolly and Matthew Lombardi, and whether players who'd shown well as last season ended could repeat their success. Yet as the preseason closes, it looks like nothing will be as it was drawn up for the opener.
Phil Kessel remains the Toronto Maple Leafs' top offensive weapon. As such, his line becomes the de facto first line in many minds. The chemistry he and Joffrey Lupul found as the season ended, and the acquisition of Connolly had fans thinking that as long as the three were healthy, this could make for a bonafide top line, perhaps scoring as many as 90 goals together. The early returns however are not so good. Connolly was able to get into only 2 games and there's reports he is not healing well from an upper-body injury. Kessel played 5 games and led the team in shots, but had only a goal and an assist. Lupul played 6 games, but was essentially invisible through the preseason. These three players have skills, and can prove very valuable to a run for the playoffs, but they've had almost no opportunity to find chemistry. Connolly has a reputation for injuries, Kessel for streaky scoring, and Lupul's ineffectiveness so far leaves a question as to whether he can regain his 25 goal form of a few years ago. It's the worst scenario playing out right now for what was to be the top scoring line.
The preseason did show that the line of Mikhail Grabovski, Clarke MacArthur and Nik Kulemin appears ready to repeat the surprisingly good performance of last season. Grabovski was delivering very well in camp, with multiple-point games and that hard-work ethic that turned him into a fan favorite last season. MacArthur and Kulemin also were solid as camp progressed. However, Coach Wilson won't have this group together to start the season. MacArthur will miss the first 2 regular season games for a hit he delivered to Justin Abdelkader. Grabovski is questionable for opening night against his old Montreal squad as he suffered a deep bruise to his foot in the last game. This is not a situation that was expected as this season begins.
Things are not necessarily clearer among the third and fourth lines. While Colby Armstrong seems to have found his stride again after an injury-filled season, and Matt Frattin has delivered enough evidence that he deserves to start in the NHL, after that, it's difficult to say. Nazem Kadri was in the running with Frattin for a spot, but a knee injury sidelined him for about the first month of the season. Tyler Bozak started like a house on fire with a 2-goal effort, but only got 2 games in before being injured. He should play opening night. Colton Orr, Mike Brown and Matthew Lombardi all played well, but were limited to a handful of games as they recover from injuries. Darryl Boyce, Joey Crabb, Jay Rosehill and Mike Zigomanis also played hard and showed well, though it's fair to say the Leaf braintrust sees them primarily as Marlies who can contribute as call-ups, not as long-term answers. Certainly it makes things difficult when a team needs to employ call-ups as the regular season opens.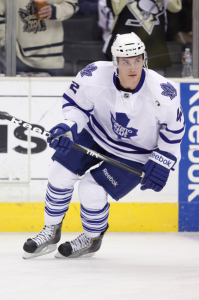 Thankfully, some of the damage can be mitigated. For one, the schedule is quite kind to Toronto. The Leafs open the season with 5 straight home games, and actually have a full week off between games 2 and 3. The injuries to Connolly and Bozak were considered minor, and word is Bozak won't likely miss games. Grabovski did not suffer a bone break, and he could also be ready to go. Matthew Lombardi played about 15 minutes in his one preseason tilt, Mike Brown appeared fine scoring twice in his first game, and Philippe Dupuis was steady in 6 games. With the schedule as it is, it may mean Bozak filling in for Connolly and perhaps Boyce for MacArthur until his suspension is complete. But, the full complement of forwards could be in place by game 3 against Calgary on October 15.
That can add up to good news for a team that desperately needs a strong start. The Leafs have been plagued by poor first half performances that leave too great a hill to climb. The poor starts are too commonplace and easily a key factor why this team has missed the playoffs every year since the lockout. Injuries and suspension, slumps and line juggling are going to happen to every team. For the Leafs, it's unfortunate to have these circumstances occur as the season starts, especially to players like Connolly and MacArthur who are expected to add so much offensively, as well as limiting other regulars such as Brown, Bozak, Lombardi and Orr to short preseasons.
Leaf fans are hoping that this is just a minor blip and not the start of a pattern that sees regulars out of the line up for extended periods. Despite Burke's hard work, the franchise is still not deep enough at the skilled forward positions to withstand long absences. Reality is any prolonged absences could be major factors in extending the Leafs' absence from the playoffs.