In the International Ice Hockey Federation's Challenge Cup of Asia, three matches were played on Day 2. The first game went to shootout, the second match saw the winning team making 40 shots on goal, and the third game, although the host country, Kuwait, dominated the game, the losing coach found a lot of positives from the match.
Match 4: Malaysia v. Oman – 7-8 – Shootout, 49 Penalty Minutes
In a high-scoring matchup between Malaysia (0-1) and Oman (1-0), Malaysia's #8, Ban Kin Loke continued to rack up the points with two goals and and an assist. Loke, in Day 1, scored all five of Malaysia's goals in their 6-5 loss to Kyrgyszstan. For Oman,  #12, Anad Al Balushi and#17, Dawood Al Hasani both scored two goals each, but it was #48, Aziz Al Jadidi who was awarded the winning goal in the shootout which saw their goalie, #33, Yousuf Al Naimi, shut out the Malaysians in the penalty shots.
There were a total of 49 penalty minutes handed out in the game: 10 minutes for Malaysia and 39 for Oman which included a 5 minute major for kneeing and game misconduct for Talal Ambusaidi.
Malaysia's goaltender, #35, Tengku Azlly Abdillah, saved 24 of 32 shots. Omar's goaltender Al Naimi, saved 49 of an impressive 56 shots on goal. Malaysia's record is now 0-2 and Oman is tied with host country Kuwait the lead now with 2-0.
Match 5: Kyrgyzstan v. Singapore – 2-4
The matchup between Singapore (0-1) and Kyrgyzstan (1-0) looked like a hockey game. There were only 14 minutes in penalties between the two teams in Singapore's first win of the 6-day tournament.
Kyrgyzstan goals were scored by #18 Kanat Abylmechin Uulu and#88 Tologon Zholdoshbek Uulu, assisted by #19 Salaman Tynaliev and #5 Amanbek Esen Uulu.
Kyrgyzstan's goalie #20 Elzar Bolotbekov saved 36 out of 40 shots on goal, and Singapore's goalie, #25 Khai Shene Eugene Chin saved 32 of 34 shots on goal.
Match 6: Kuwait v. India – 10-2 – Two Hat Tricks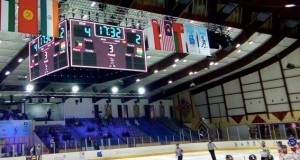 Host team Kuwait (1-0) was able to shutout India (0-1) in the first two periods of play, but India managed two goals in the third before a series of penalties gave Kuwait power play opportunities that they were able to capitalize on.
Kuwait's #89, forward Abdul Aziz Shetail and defenceman #28 Meshal Al Ajmi both scored hat tricks, with Al Ajmi's 3 goals all coming in the 3rd period. Another forward, #20 Ahmad Al Ajmi scored 2 goals, and forward #93 Abdu Aziz Al Maraghy and defenseman #17 Jasem Al Awadhi both scored one goal each against India's goaltender, #1, Nawang Dorje, who saw 35 shots on goal.
For India, their two goals were scored back-to-back in the 3rd period by forwards #99 Rinchen Tundup and #57 Gonbo Tashi, and a timeout by Kuwait's coach after those two goals seemed to change the momentum of the game. Kuwait's goaltender, #96, Ali Al Qadiri, stopped 15 of the 17 shots on goal.
In reflecting on his team's second consecutive loss, team India's volunteer coach, American Adam Sherlip, found a lot of positives from the game against Kuwait.
"Sometimes the score of a hockey game doesn't represent how the game went," Sherlip says. "Although the 10-2 score looks like a blowout, the reality is quite different. We played a really tight first period, and kept up that pace in the second period. In those two periods, we had a handful of chances to score, but couldn't execute on a few plays, but we played hard and better positionally than we did in the game against Oman."
"In the 3rd period — our top line of Rinchen Tundup ("Haldu"), Tashi Gonbo & Stanzin Namgyal ("Ule") scored only a few minutes into the period, and then again on their next shift." Sherlip says he had double-shifted that line as a reward for their hard work and to motivate the team to keep working hard.
Zidarevic's Well-timed Timeout
Sherlip says that when Kuwait's coach, Marko Zidarevic (SRB) called his timeout, it was well-timed and did what it was designed to do — settle down his team. 
"I tried to convey the message to my guys that 'the game's not over; we need to control our emotions and focus on defensive responsibilities.' Hockey's a fast game where things are easier said than done, and Kuwait responded with a goal shortly after the timeout. Then our players took a handful of bad penalties that resulted in some power play goals for Kuwait, and with the score now 6-2 with 10 minutes left I decided to give more players a chance to gain experience. I changed goalies and played our 3rd and 4th line players more at the end of the game. The experience gained was invaluable for these guys, but part of the learning experience is making mistakes, and that's what happened."
Long-term Development of Team India
"As the coach," Sherlip says, "it's important that I balance our strategy and desire to win with the long-term development of the team and program. In this particular game, with the end nearing, I determined that playing time and practical experience was more important than our final score."
---
The format for the IIHF's Ice Hockey Challenge Cup of Asia Division 1 is Round Robin, and the play will continue until April 24, 2015.
Strategist, writer and hockey mom. Notre Dame Hound. Luctor et emergo.