"Not Great"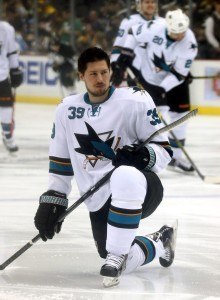 "Not great" was the response given by Sharks center Logan Couture this past Wednesday when asked about the "culture" of the San Jose dressing room. While everyone has their own opinion on what a hockey dressing room culture really means and how much it affects the play on the ice, it is something that clearly starts from the top. And in the case of the San Jose Sharks and their absentee owner Hasso Plattner, Vice President and GM Doug Wilson is the tip top of hockey operations.
When it comes to culture, every player plays a part but the GM, head coach, and highest paid players are really the tone setters of a dressing room. These are the men and potentially women (I'm sure many women in the hockey world could have had a better 11 month stint as Sharks GM than Wilson has over the past 11 months), who really shape the team's culture. And if you listen to the usually candid Couture, there is only one person with a significant role in the culture whom Couture doesn't regularly praise. That would be none other than Wilson.
Wilson's Culture is the Problem
During his final interview of the season on Wednesday Couture was asked if the team is still behind (update: now former head coach) head coach Todd McLellan. Couture responded with a definite yes.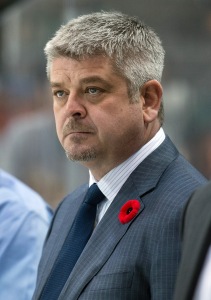 "I am. I mean you are going to have to ask 20 other guys but I think for me I definitely wouldn't be the player I am without Todd and this whole coaching staff. You know coming to the rink was enjoyable every single day for me. I learned a lot everyday and improved as a player. I have a ton of respect for the whole coaching staff. I've never been the type of person to say a coach needs to change. I think that's a cop out most of the time when you blame a coaching staff or a coach. They don't go out on the ice and play the game. Maybe it's the players, that something needs to happen [there]."
Couture clearly backs his coaching staff and as seen shortly after the Wilson and Joe Thornton spat, Couture went to bat big time for Thornton. During post game interviews the next day Couture was highly appreciative of Thornton's value to the team.
"Joe's been good all year. Not just today. He's been one of if not the best player on our team all season. He shows up every single night and works as hard as anyone on this team. He wants to win, you saw it again tonight, it's happened for 69 games now."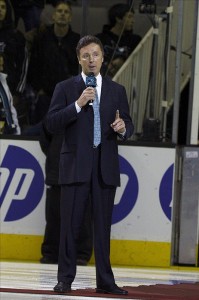 Couture's agent is Joe's brother John and so clearly Logan loves having Thornton around. When it comes to not thinking the culture is where it needs to be, Couture is certainly not including Thornton as part of the problem. Chances are he is also not including Patrick Marleau, the other highest paid player on the roster. Marleau is the only Sharks player to have won two Gold Medals in the time Couture has been with the Sharks. They often play on the same line together and have had quite a bit of chemistry together over the years. Of course Marleau's performance dipped this season but very difficult to imagine Couture being critical of Marleau in the dressing room. Couture loves Thornton, and Thornton loves Marleau. All the top guys support one another in that room. Therefore, process of elimination leaves only Wilson as the most likely cause of a culture that Couture believes is "not great" and that has to be another big signal for change.
When the core players on a team are backing their coach and each other but fed up with "culture" that is as strong of an indictment against the GM as you will find from a collective team. Thornton is the only one seemingly willing to publicly admit his disapproval of Wilson, but the room as a whole is clearly not happy with the man in charge. One would have to believe owner Hasso Plattner realizes this and makes the one change he has to make to get this franchise unified on the same page again.
Andrew has been credentialed to cover the Sharks since 2010 and the 49ers since 2012. He graduated with his BA in Broadcast Electronic Communication Arts in 2013 from San Francisco State University.