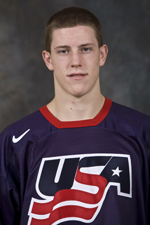 Charlie Coyle and the Minnesota Wild agreed to a three year entry-level contract on Thursday. While the terms of the deal were not specified, the signing of Coyle was a welcome addition to the many Minnesota prospects that have signed their entry-level deals with the Wild. Johan Larsson, Brett Bulmer, Jonas Brodin, and Zack Phillips all signed their contracts with the Wild over the last year and it should come as no surprise that GM Chuck Fletcher signed Coyle before the NHL season finished.
Since Coyle made the move from the NCAA to the QMJHL in December of 2011, he was eligible to sign with the Wild as he was no longer involved in a collegiate hockey program. With 12 goals and 16 assists in 17 games for the Saint John Sea Dogs, any GM would be hard pressed not to lock up such a talented piece of their future. Coyle wanted to dedicate himself 100% to his NHL career by leaving Boston University and joining the Sea Dogs and he has lived up to his word as he and fellow teammate Zack Phillips have developed some great chemistry together.
While Coyle is playing in the offensively dominated QMJHL, he was scoring at a steady pace when he played at Boston University (14 points in 16 games). Even though Coyle maintained a neutral rating with the BU Terriers, he is currently sporting a +18 rating with the Saint John Sea Dogs, a stat that suggests he has mostly been in the right place at the right time at both ends of the ice. Since Coyle made the jump from the NCAA to the QMJHL, it would be difficult to forecast his numbers had he stayed with the BU Terriers, but it certainly looked as though Coyle would've surpassed his 2010-2011 NCAA totals.
Thanks to eliteprospects.com, it is pretty clear that Charlie Coyle's 2011-2012 campaign could have been his best in a Terrier's uniform if he played a full NCAA season:
With Coyle's signing, fans must be wondering when other prospects such as Mikael Granlund and Jason Zucker will come on board with the Minnesota Wild and sign their entry-level contracts. A rough estimate for the signings of the two aforementioned players seems to be somewhere around the May to July 2012 timeline as Granlund will finish his season in the SM-liiga and Zucker will finish his WCHA season at the University of Denver.
Here's a brief look at what Granlund and Zucker have done so far this season for their respective teams and their respective ETAs: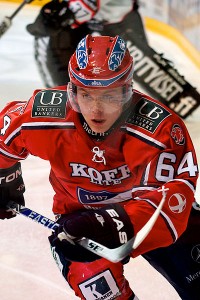 Mikael Granlund (HIFK Helsinki of the SM-liiga)
Mikael Granlund was having a spectacular season in the SM-liiga before the World Junior Hockey Championship and he has kept up his pace ever since returning to his team. Granlund has 51 points (20 Goals, 31 Assists) in 45 games for HIFK Helsinki and has registered 5 points (All Assists) in 3 games for Team Finland during the 2011-2012 Euro Hockey Tour. When Granlund finishes his season in the SM-liiga, Chuck Fletcher will probably focus on signing Granlund to a three year entry-level contract with the full intention of giving the center an opportunity to make the Wild's roster out of training camp.
Granlund has the skill-set to make the Minnesota Wild out of training camp and he'll likely gel pretty quickly with the team as fellow Finns Mikko Koivu and Niklas Backstrom will help his transition to the NHL. It's a good thing that Chuck Fletcher did not splurge at this year's NHL Trade Deadline as teams that were shopping top-six forwards were looking for prospects like Coyle, Granlund, and Brodin in return for a scoring forward. Fans should look forward to watching Granlund make the jump from the SM-liiga to the NHL in 2012 as the Finnish center will dazzle NHL fans when given a chance.
Jason Zucker (University of Denver/WCHA)

Zucker's return from the WJHC has seen him build upon his totals at the University of Denver as the forward has registered 40 points (20 Goals, 20 Assists) in 30 games played. Last year, Zucker finished with 45 points in 40 games and he will most likely eclipse his totals from the 2010-2011 campaign. Once Zucker finishes his WCHA season, he will be eligible to sign an entry-level contract with the Minnesota Wild and try out for the team.
Zucker is a talented left winger who can definitely be utilized by the Minnesota Wild, but it is yet to be seen what route the Wild will take in Zucker's development. While Zucker might not make it to the Wild as fast as Mikael Granlund, he should be ready for NHL action by the 2013-2014 NHL season. Even though Zucker might not be as NHL-ready as the other Minnesota Wild prospects, he is still a talented winger that will have an impact on the Wild's roster as soon as he is promoted to the professional level.