Lengthy homestands are a rarity in any sport, and especially so in hockey. But the Charlotte Checkers have been gifted another scheduling oddity, and will play their next ten games at Time Warner Cable Arena.
In hockey, home teams can count on winning around 56 percent of the time. The Checkers, however, have only won once in eight tries. They've had more luck in Oklahoma City, where they swept the season-opening series.
The homestand couldn't have come at a better time. The Checkers are clinging to a one-point edge over the Utica Comets. But not for the division, or even the final playoff spot — the Comets are the worst team in the AHL, and Charlotte is just above them.
The opportunity to turn their season around will never be better for the Checkers, who won't have a homestand longer than five games the rest of the way. Should they come out of it with a losing record, Jeff Daniels may feel the temperature on his seat rise exponentially.
"Prospect Graveyard"
Mike Murphy uttered the now infamous phrase as he made his KHL exodus, which lasted all of seven games. But he hasn't been wrong.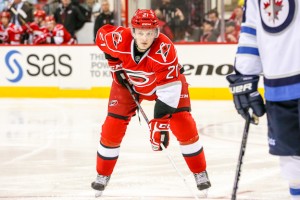 Carolina's AHL affiliate has been an abject failure in terms of prospect development, and it's cost them a generation of players. From the 2007-09 NHL drafts, the organization has just two players that have graduated to full-time major leaguer, and both only barely: Brett Bellemore and Drayson Bowman.
Some have been traded, while others have toiled away in Charlotte, never to advance beyond the "Quad A" level of hockey. Bellemore and Bowman have been the exception, spending a combined 482 games under Daniels' tutelage. More common is the case of the 2009 draft class, which has a combined zero games of NHL experience. Only sixth-round pick Rasmus Rissanen is still with the organization.
Talent development is only part of Daniels' job description, but it's arguably the most important. The money lies in his ability to properly prepare these players to play in Carolina, not to become AHL all-stars.
On-Ice Product
Daniels has been in charge of Carolina's AHL affiliate since 2008, amassing a 206-163-42 record. He's been to the playoffs three times in five full seasons, winning three rounds. But when focusing on the last few seasons, things get concerning.
A tragic meltdown highlighted the end of 2011-12 where they went 9-12-5 down the stretch to miss the playoffs. Four straight losses capped off by an 8-2 blowout at the hands of the Abbotsford Heat put an exclamation point on that season. A year ago, Daniels' team took a 2-1 series lead over Oklahoma City before dropping their next two at home by the combined score of 14-3.
And then there's this year.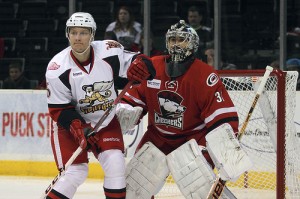 While it may be too easy to place the blame in one area, constant rotation in goal hasn't helped; the Checkers are averaging a different goalie every third game. Three of those goaltenders — Mike Murphy, Rick DiPietro and Jesse Deckert — have GAAs of above 3.75 and save percentages worse than .875, and they account for nearly half of the starts.
Offensively, they are averaging a modest 2.57 goals per game, down from last year's playoff squad that scored just under 3.00 per game. The top three scorers have returned, but 11 of the next 12 have either moved on or spent the whole year in the NHL.
pic.twitter.com/CLtWPH8UWG ahl possession close estimates to Nov 25 @MacSapintosh @SteveBurtch @JoshL1220

— 🎄Josh ⛄️ Weissbock🎅 (@joshweissbock) November 29, 2013
By the numbers, the Checkers shouldn't be this bad. They're controlling play more than half of the time, and five players have double-digit point totals on the season.
"We're in games," Philippe Cornet said. "When the team lost seven straight, a lot of them were by one goal. The difference between winning and losing is a thin line. We've just got to keep working and turn this thing around."
But the fact remains: they're not winning games. At some point the responsibility has to fall at the feet of the coach. If the Checkers come out of their homestand with a losing record and in danger of losing another season, a change will have to be considered.
Andrew Luistro graduated from Appalachian State University. An avid sports fan, he began beat writing for the Sunbelt Hockey Journal, part of The Hockey Writers Network, with a focus on the Carolina Hurricanes. Andrew also actively follows the Boston Red Sox and Carolina Panthers, among other teams. Follow him on Twitter @ndrewL7