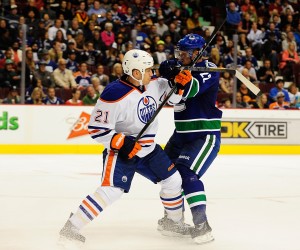 With the Edmonton Oilers and GM Peter Chiarelli electing to take struggling defenseman Justin Schultz to arbitration the Oilers have opened up their second buyout period. Fans have been speculating and clamouring for Chiarelli to make at least one more move on defense with one or both of Nikita Nikitin and Andrew Ference to be bought out.
But is it a viable option?
The idea is that a move would create room for Darnell Nurse, Griffin Reinharts and possibly an outside target on the UFA market to help shore up the defense.
Does It Make Sense To Buyout A Contract?
Jonathan Willis (OilersNation and Edmonton Journal) investigated the numbers. With a Nikitin buyout the Oilers would allocate $1.5M in cap space for two seasons instead of $4.5M. Ference, on the other hand, becomes $0.67M in 2015-16 and $1.17M the following three seasons.
A Nikitin buyout means two seasons over one and a Ference buyout means four seasons over two. Nikitin will be a UFA next July whereas Ference will be in two seasons (2016-17).
The issue is the numbers game is getting complicated with nine defenders playing for seven spots and each can push for minutes at the NHL level:
Andrej Sekera ($5.5M with 6 years remaining)
Nikitin ($4.5M with 1 year remaining)
Mark Fayne ($3.6M with 3 years remaining)
Ference ($3.2M with 2 years remaining)
Reinhart ($3.2M with 2 years remaining) *** Includes ELC bonuses ***
Nurse ($1.7M with 3 years remaining)
Eric Gryba ($1.2M with 1 year remaining)
Oscar Klefbom ($1.2M with 1 year remaining)
Justin Schultz (RFA)
Dumping a contract could be the way to go here.
Trade Nikitin?
It might be easier to move Nikitin – who on the flip-side may be more versatile and offer help on the power play and penalty kill over Ference to another NHL club. Meaning the guy has more value than Ference, both have contracts that are giant albatrosses but Nikitin as a player has more value of the two.
If the Oilers were to eat $1-$1.5M of the Nikitin contract, could they look at Arizona, Carolina and Toronto who all have the cap space and could use a defender? If you don't want to buy him out, you can dump him for a lower round pick and just eat a little in return. Could the Oilers move Nikitin to the Coyotes who will just be happy to reach the cap floor?
Nikitin and his $4.5 mil salary (2nd highest) in crowded Edm defence picture might have to be addressed. Where does he fit?#oilers

— Jim Matheson (@NHLbyMatty) July 2, 2015
Nikitin, 29, is still a serviceable defenseman who played 19:38 TOI last season with 1:44 TOI coming on the PP last season. The season was an absolute write-off for the 6'4 220lb russian defender. The knock is the poor, injury-riddled performance last season with an inflated contract and coming into the season in poor condition.
#Oilers appear set to open a second buyout window; question is whether they should buyout Nikitin or Ference: http://t.co/YZtRcEPs6L

— Jonathan Willis (@JonathanWillis) July 6, 2015
He can't have any worse of a year in 2015-16 in comparison, a fresh start would help as well. Assume that will be Chiarelli's selling point.
Trade Ference?
As much as fans would like to see the Oilers move out their captain, it's highly unlikely that it happens. No one is going to touch that contract with a 10-foot pole.
From the start, the Oilers strapped Ference with an over inflated contract (anyone seeing a trend with the former regime yet?) that he was never going to live up to. Ference at the time he went to free agency was a serviceable third-pairing defender for Boston, MacTavish and the rest of the management group felt the was a second-pairing defender and that's where it all went sideways.
Anybody figured out what the Oilers are going to do with captain Andrew Ference and Nikita Nikitin?

— Terry Jones (@sunterryjones) July 1, 2015
It's common knowledge across the league what Ference, the player (not the contract) can bring to an NHL club. As the contract has progressed he's settled into a No.6/7 on other clubs. He's a great leader for the club in the dressing room and a role model in the community which this team greatly needs being that it's chalked full of young twenty-somethings. Nikitin's role can be filled by an incoming Griffin Reinhart and maybe even Darnell Nurse who is already head and shoulders above his early abilities last off-season. Ference, 36, fits well into a player-coach role and might be the serviceable 6/7 the Oilers will use this season. For that contract and on-ice return combined, the Oilers and Chiarelli have zero chance to move that contract.
For the record…I wouldn't buyout Ference. Don't see need to waste cap space for four years. #Oilers

— Jason Gregor (@JasonGregor) July 6, 2015
Edmonton has $8.8M in cap space this season and will have another $14M come off the books next summer when a plethora of talented top-pairing defenders are possible to hit the free-agent market:
Mark Giordano, 33 (Calgary)
Brent Seabrook, 31 (Chicago)
Erik Johnson, 28 (Colorado)
Alex Goligoski, 31 (Dallas)
Brian Campbell, 37 (Florida)
Dustin Byfuglien, 31 (Winnipeg)
Ultimately, the $3.25M cap hit for the next season for a 6/7 is exorbitant, but paying him for another four seasons NOT to be here is even more outlandish when you factor in that it'll be a total difference of $2.8M when you compare a buyout to a fulfillment of the contract.
The Oilers problem in the long-run isn't a bad contract with Ference, it's going after a top-pairing defender. Edmonton has plenty of money to make a move next season so if they can sign one of the top defenders in the 2016 UFA market, trading Nikitin's contract for a 6th or 7th round pick and eating a small portion of salary this season plus buying out the final year of the Ference contract next season might be the best course of action here.