A year ago, ahead of the 2015-16 season, the Chicago Blackhawks were faced with a recurring theme; the cost of success is reliant on difficult transactions that often result in fan-favorites being traded away to open up cap space. As a result, the team made some splashes in the offseason to try and do just that.
First, Chicago traded away Patrick Sharp and Stephen Johns to the Dallas Stars in July to unload some salary, but to also acquire offensively-gifted defenseman Trevor Daley and Ryan Garbutt. Then, the team traded Kris Versteeg and Joakim Nordstrom to Carolina along with a third round pick in 2017 in exchange for Dennis Robertson, Jake Massie, and a 2017 fifth-round draft pick.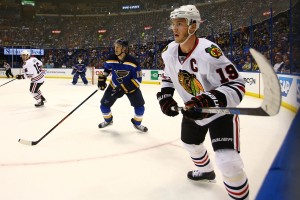 When the acquisition of Daley proved to be a failed experiment, the team shipped the recently-acquired defenseman to Pittsburgh to acquire Rob Scuderi. Other moves, such as the trade of Jeremy Morin for Richard Panik and the acquisition of Jiri Sekac for Ryan Garbutt were also facilitated throughout the season.
As such, the Blackhawks were a strong team throughout the 2015-16 season, as they have been for the last half-decade. Led by captain Jonathan Toews, eventual Hart Trophy winner Patrick Kane, and rookie phenom Artemi Panarin, the team had all the makings of an eventual Stanley Cup champion.
If one thing was clear about the 2015-16 season, it was the fact that the Chicago Blackhawks were going all-in for another Stanley Cup.
One of the biggest trades of the entire season came ahead of the 2016 NHL Trade Deadline when the Blackhawks re-acquired Andrew Ladd from the Winnipeg Jets, along with Jay Harrison, and Matt Fraser. The Blackhawks also acquired Christian Ehrhoff from the Los Angeles Kings, as well as Dale Weise and Tomas Fleischmann from the Montreal Canadiens.
The cost of making a Stanley Cup run was steep. The Blackhawks were forced to give up top-prospect Marko Dano as well as a 2016 first round draft pick and a conditional third round pick in exchange for Ladd. While the condition was not met, the price was still high, as the team failed to win the Stanley Cup, and Ladd, Harrison, and Fraser, Ehrhoff, Weise, and Fleischmann are all no longer with the team.
A boom-or-bust season is nothing new in the NHL, and teams have recovered from them before. While the Blackhawks made every effort to bring another Stanley Cup home to the Windy City last year, the page must be turned on what can only be described as a disappointing season.
Team 2015-16 Record: 47-26-9 (3rd in the Central Division)
Offseason Moves
Key Roster Additions:
Michal Kempny
Nick Schmaltz
Brian Campbell
Jordin Tootoo
Key Roster Losses:
Teuvo Teravainen
Bryan Bickell
Andrew Shaw
Forwards:
Projected Lines:
| | | |
| --- | --- | --- |
|                              LW |                               C |                              RW |
| Richard Panik | Jonathan Toews | Marian Hossa |
| Artemi Panarin | Artem Anisimov | Patrick Kane |
|  Tanner Kero | Nick Schmaltz | Ryan Hartman |
| Andrew Desjardins | Marcus Kruger | Jordin Tootoo |
Patrick Kane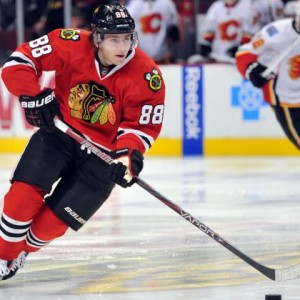 Kane is one of the best forwards in the entire NHL. His impressive 2015-16 season earned him multiple accolades, including the Art Ross, Ted Lindsay, and Hart Memorial trophies. A true offensive threat, Kane finished last season with a new career-high in goals with 46 (surpassing his former high of 30) and passing the 100 point mark for the first time in his career with 106 points.
The former first overall selection from the 2007 NHL Entry Draft is far-and-away the best offensive threat on the Blackhawks. Tied for the highest-paid player on the team with Toews, Kane figures to be a long-term fixture on the 'Hawks right wing for years to come.
Artemi Panarin
What more can be said about Panarin that hasn't already been said? The reigning Calder Trophy winner (award annually to the NHL's best rookie) is primed for a strong sophomore season this year. In his rookie season, Panarin scored 30 goals and 77 points in 80 games while skating alongside Kane and Artem Anisimov. While he was able to achieve incredible success on that line, he may be seeing time on a new line come the 2016-17 season to create balance throughout the lineup.
So I just realized I had a brain cramp when typing earlier. Q is strongly considering putting Panarin with Toews, NOT Kane with Toews.

— Mark Lazerus (@MarkLazerus) October 1, 2016
Skating alongside Toews would be different for Panarin, should the Blackhawks decide to go that route, but it certainly shouldn't diminish the young Russian's output this season. Toews is one of the best players in the entire league, and Panarin should be able to slot in alongside "Captain Serious" with ease.
It's definitely a thought process. We're saying 'Let's have a look at it in camp.' And maybe we can have a different look or something to think about, at least, going into the season with Johnny and Kaner being on different lines and having more balance on both lines. – Joel Quenneville
For now, it's still safe to pencil Panarin in alongside Anisimov and Kane to start the season, but the potential for a new line is there for the emerging sensation should it work throughout training camp and the remaining preseason games.
Jonathan Toews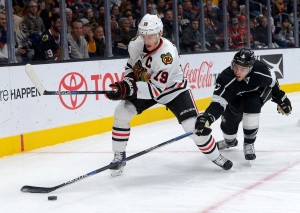 Toews is a sure-fire Hall of Fame player. He's won a Selke Trophy, a Conn Smythe Trophy, two Olympic Gold Medals, a World Cup of Hockey, and three Stanley Cups, among other accolades and awards. He's also still just 28-years-old. One of the NHL's best, Toews has shown no signs of slowing down by any stretch of the imagination.
While Toews is an impressive player, both offensively, and defensively; his leadership and ability to make everybody around him better might be his most admirable traits. Toews is under contract in Chicago for another seven seasons after signing an eight-year, $84 million contract extension with the club two seasons ago.
Coming off of a failed Stanley Cup bid, but a successful World Cup of Hockey effort with Team Canada, Toews will definitely be fired up to bring success back to Chicago; a team that has experienced a multitude of success in the Toews-era. Toews playing so deep into the World Cup of Hockey tournament might have been the best the best thing for the Blackhawks, as well, given the fact that he'll likely now report for the regular season in tip-top, mid-season form.
Defense:
Projected Pairings:
| | |
| --- | --- |
|                             LD |                             RD |
| Duncan Keith | Brent Seabrook |
| Brian Campbell | Niklas Hjalmarsson |
| Michal Kempny | Trevor Van Riemsdyk |
Duncan Keith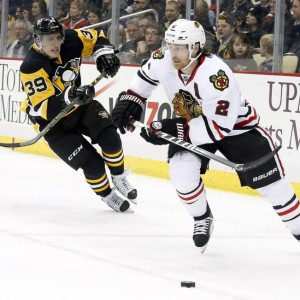 When thinking of defensemen on the Chicago Blackhawks, it's almost a foregone conclusion that the first name that anybody will name is Duncan Keith. On-par with the likes of Toews and Kane in terms of value to the team, and popularity in the city, Keith is an elite defenseman with a championship pedigree.
While Keith has always been one of the league's most reliable defenders, his offensive ability has also been one of the stories of his career as well. Keith has recorded at least 40 points in each of the last seven seasons (not including the lockout-shortened season), including 61 in 2013-14 and 69 in 2009-10.
Keith's success is integral to the success of the Blackhawks, and he has been as important to the team's three most recently Stanley Cup victories as anybody; Toews and Kane included. A top-tier, number-one defenseman is always a primary need for any NHL team looking to compete; Keith gives the Blackhawks exactly that, and then some – and he's done so for quite some time now.
Niklas Hjalmarsson
The least-flashy defenseman on the Blackhawks roster, Hjalmarsson has been an absolute fixture on Chicago's blueline over the years. It's easy to look at the Blackhawks defense and think about players like Keith and Seabrook, but Hjalmarsson is arguably the best shutdown defender on the team, and one of the most elite in that category across the entire league.
His 18 goals and 125 points in 550 games won't jump off the page to anybody, but his real value comes from his strong defensive ability and elite-level of awareness. A force on the blueline, Hjalmarsson is a truly unsung hero of the Blackhawks defense.
Brian Campbell
It seems like an eternity ago that Campbell was traded away from the Chicago Blackhawks to the Florida Panthers. Following the Blackhawks 2010 Stanley Cup championship, the team was starting to see salary cap issues emerging. While Campbell made it through the first set of salary cap purging by Stan Bowman and the 'Hawks, he was ultimately shipped away to Florida following the 2010-11 season in an effort to keep the team competitive for the long-haul.
Evidently, that has been the case, as the Blackhawks have won two Stanley Cups since trading away Campbell and remain contenders to this very day.
The 37-year-old Campbell also remains a capable player in the NHL and should bring a solid puck-moving element to the Blackhawks' second-pairing. Over his 15 seasons, Campbell has scored 82 goals and 487 points in 1,002 career games, including a respectable six goals and 31 points last season with the Panthers.
Re-uniting Campbell with his former defense partner Hjalmarsson seems like the plan of action for Chicago this year, a move that should benefit both Campbell and Hjalmarsson due to the familiarity they both have with each other. The Blackhawks are looking to compete for a Stanley Cup this year, and using inherent chemistry is the best thing the team can do to make Campbell's return a smooth one.
Goaltending: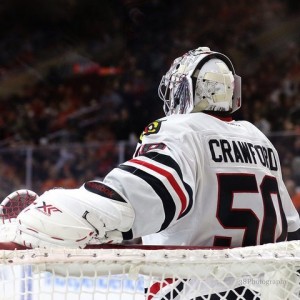 Corey Crawford is one of the NHL's best goaltenders. As a result, he was named to Canada's World Cup of Hockey roster and was the backup to Carey Price (earning the role ahead of last season's Vezina trophy winner Braden Holtby). Last season, Crawford played in 58 games and posted a 2.37 goals-against average and a .924 save percentage. He was also able to record seven shutouts, a new career-high for the native of Chateauguay, Quebec.
Crawford has also been one of the most consistent goalies in the NHL over the last five full season. In that time, Crawford as averaged approximately 58 games per season (which doesn't include the 2012-13 season that was shortened due to the lockout) and has averaged a 2.38 goals against average and a .917 save percentage. When comparing Crawford's averages over the last five years and his 2015-16 season, it's very clear that consistency is his strong suit.
Breakout Player: Nick Schmaltz
Schmaltz is set to play in his first NHL season after signing his entry-level contract this offseason. In his second season at the University of North Dakota, Schmaltz improved his goal total from five goals to 11, his assists from 21 to 35, his points from 26 to 46, and lowered his penalty minutes from 12 to six, while improving his plus/minus rating from plus-three to plus-44. The former Fighting Hawks star will look to continue his development at the NHL level, choosing to leave University and vie for an NHL job at just 20-years-old.
Schmaltz projects to be a scoring forward in the NHL, which led to the Blackhawks selecting him so high (20th overall) in the 2014 NHL Entry Draft. Given Chicago's need for inexpensive options to fill their roster to compliment some of their more expensive players in the lineup, Schmaltz should be given a good opportunity to impress early in a Blackhawks uniform. The third-line center role is primed and ready for the taking, if Schmaltz proves he can live up to expectations this early in his development.
Player with Most to Prove: Brent Seabrook
Brent Seabrook has been a mainstay on the Blackhawks blueline since the 2005-06 season and is about to enter the first year of an eight-year, $55 million contract. The average annual value of the deal comes to $6.875 million and comes at a time when the Blackhawks already have a large portion of their salary cap locked up to with a few players. Seabrook did score a career-high 14 goals and 49 points last season while playing in 81 games, which bodes well for the Blackhawks who signed the veteran defenseman to the new deal prior to the start of the 2015-16 season.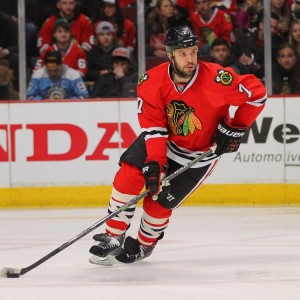 While Seabrook has been a solid player for the Blackhawks for over a decade, there's no denying the concern that fans will have when watching Seabrook over the course of this contract. While there is no question about Seabrook's offensive ability, there have already been questions about his defensive ability and ability to drive possession.
When comparing Seabrook to his defensive partner in Keith, it's clear that both players are deserving of top-paring responsibilities based on offense, but Seabrook may not be as deserving based on other metrics.
A quick look at a HERO chart comparison (courtesy of Own The Puck) shows that Seabrook lacked in the Shot Suppression and Possession department. The 31-year-old ranks as a second-pairing defender for Shot Generation, which stands to reason, but his rating as a depth defenseman, and low-bottom pairing defenseman for Shot Suppression and Possession, respectively, are legitimate causes for concern.
While his low ranking in those metrics is reasonable to at least take notice of, it's also important to remember that Seabrook has never ranked very highly in any of those categories throughout this career. With that in mind, it would be hard to argue that Seabrook wasn't deserving of his contract simply based on his effectiveness in the Blackhawks lineup over the years.
Regardless of the advanced statistics, or the "eye-test", or however else people will evaluate Seabrook, he will need to impress early on in his eight-year extension to give Blackhawks fans reason to breathe easy. The length of the contract is another issue, but for now, Seabrook should be concerning himself with the 2016-17 season.
First Players in the 'Call-Up' Line: Mark McNeill
The first player in line for a call-up this season for the Blackhawks has to be Mark McNeill. The 23-year-old center has been in the Blackhawks organization since being drafted 18th overall in 2011 but has yet to find a role on the Blackhawks roster.
ICYMI: Mark McNeill has been waiting for his turn for five years. This year might be his best chance. My story: https://t.co/7uKGqhJ4iV pic.twitter.com/e0ABRoFo5l

— Mark Lazerus (@MarkLazerus) September 29, 2016
His lone game of NHL experience came last season in Carolina last January, recording 12:44 of ice time, failing to record a point or shot-attempt. He did record three hits that game, but that wasn't the only place McNeill wants to stand out on the scoresheet.
Once you get that taste, you just want more. I'm a pretty self-motivated guy, and I'm pretty hungry to achieve my goals and make it here. – Mark McNeill
With Chicago's AHL affiliate, the Rockford Ice Dogs, McNeill has proven to be a top performer year in and year out. He was the team's second-leading goal scorer in the 2015-16 season and the leading scorer in the previous year.
In 2013-14, McNeill played in 76 games and scored 18 goals and 37 points. In 63 games the following season, he scored 23 goals and 44 points. Last season, McNeill played in 64 games and recorded career-highs in goals (25), assists (23), and points (48). His offensive production, along with his ability to throw his 6-foot-2, 212-pound frame around has been well-documented by Chicago media. His inability to crack the Chicago lineup has been puzzling, but that could all change this season.
Chicago Blackhawks Season Outlook:
When it comes to the Chicago Blackhawks, the question for the last half-decade has been "how far will the Blackhawks reach in the playoffs?" and not "will the Blackhawks make the playoffs?" One of sports' modern-dynasties, Chicago has won three Stanley Cups since the 2009-10 season. Last year may have resulted in a quick playoff exit for the 'Hawks, but that should only prove to motivate them, rather than deter them from continued success in the 2016-17 season.
While Chicago has an elite team, they also happen to play in arguably the toughest division in all of hockey. The Dallas Stars, St. Louis Blues, and Chicago all hit the 100 point mark last season, and the Nashville Predators came close with 96 points. The Minnesota Wild and Winnipeg Jets also made very strong efforts to improve this offseason, and while the Jets likely won't compete this season, they certainly took steps in the right direction.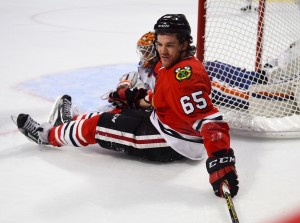 With such tough competition in tow, the Blackhawks will find themselves playing hard for first place in the Central division this year. It's entirely possible that the winner of the division isn't decided until the last week of the season, but the Blackhawks have proven to be up for the challenge for the last eight years.
Despite losing Teuvo Teravainen and Andrew Shaw, Chicago managed to find some very capable replacements in the forms of Schmaltz and Ryan Hartman. Bringing in Czechian defenseman Kempny and welcoming the return of Campbell should also bode well for Chicago next season, and the team should ultimately compete once again for a top-three position in the conference, and a top-two position in the division.
Something that Blackhawks fans can look forward to this season is the sophomore season for Russian forward Panarin. After a breakout rookie season in the NHL, Panarin will look to have a solid follow-up campaign while continuing to skate alongside the reigning NHL MVP Kane or the team's captain in Toews.
Team 2016-17 Record Prediction: 49-22-11 (2nd in the Central Division)
Make sure to comment below with your opinions on how the 2016-17 season will play out for the Chicago Blackhawks, or head over to the THW Twitter feed or Facebook page and sound off about all our NHL coverage.