With the Minnesota Wild closing out the St. Louis Blues in Game 6 of their first round series on Sunday, it is now known that they will be the ones to move on to face the Chicago Blackhawks in round 2. This means that the two will face off in the postseason for the third consecutive postseason. In 2013, the Wild were Chicago's first victims en route to their capturing of the Stanley Cup. In 2014, the Blackhawks again topped the Wild, this time in the second round, before falling to the Los Angeles Kings in the Western Conference Final.
Season Recap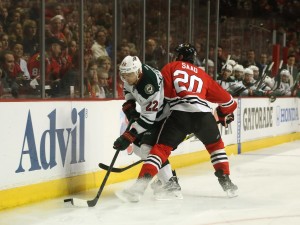 The Blackhawks and Wild met five times over the course of this year's regular season, with the Blackhawks emerging victorious in three of the five contests. Patrick Kane was injured for the last meeting, but in the four he was able to play in, he racked up a whopping eight points with two goals and six assists.
Captain Jonathan Toews put up six points in the five games. Winger Bryan Bickell had five points in five games. Center Brad Richards had five points in four games. Meanwhile, the Wild did not have any players produce at a point per game clip against Chicago with the exception of Mikael Granlund, who only skated in three of the games. Jason Zucker was their most dangerous weapon against Chicago, as he scored three times in the five contests.
Why the Wild Might Win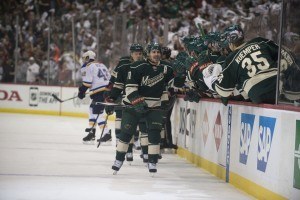 Let it be known that this is not the same Minnesota Wild team that the Blackhawks have grown familiar with in postseasons past. Devan Dubnyk is a Vezina nominee for this team despite not joining the team until much of the season had already gone by.
The Wild's score close even strength SAT% is up from last year's 48.2% mark to a much more respectable 50.7% this season.
Further, despite being a low scoring club, this team has very respectable forward depth. Zach Parise, Thomas Vanek, and Jason Pominville form a legitimate high end trio as the team's top three wingers. Chris Stewart has been very strong for them as well since being acquire from Buffalo. They are strong down the middle as well, with Mikko Koivu, Mikael Granlund, and Charlie Coyle capable of giving them three legitimately good two-way centermen. There's depth there as well, as Nino Niederreiter and Justin Fontaine both topped 30 points. Jason Zucker was on pace to top 40 over a full season.
To go along with a respectable forward group, Minnesota boasts a very good defense. Anchored by Ryan Suter, the unit also features Jonas Brodin, Jared Spurgeon, Marco Scandella, and budding star Matt Dumba in key roles. All of these defenders excel in multiple facets of the game, and it's easy to imagine them doing a reasonably good job of limiting the impact of Chicago's abundance of offensive firepower.
You can't talk about the strengths of the Wild for as long as I have without going into further detail on Devan Dubnyk. I mean, how awesome is this story? The guy had been tossed aside by the Oilers (he never should have lost his job there in the first place), Predators, and Coyotes by the time he landed in Minnesota. Since then? How about a .936 save percentage? He's been Vezina-esque. He'd be a shoe-in for the award if it weren't for that pesky Carey Price fellow.
The edge in net will be huge for Minnesota's hopes. There's little doubt that Devan Dubnyk is a better option at this point than a shaky Corey Crawford and a still unproven Scott Darling. If the Crawford/Darling rotation can't get it done, Dubnyk can easily steal the series with help from his team's lockdown systemic play.
Why the Blackhawks Might Win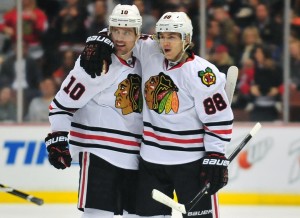 The argument for Blackhawk victory in this series boils down to their star power and their experience. Just as he did this year in the regular season, Patrick Kane has long tormented the Minnesota Wild. So has Jonathan Toews.
While the Wild are surely confident heading in, would it really be surprising if the fact that they're about to go up against the team that has done them in two years running could have their confidence shaken a little bit? The confidence factor with the Wild is one that could go either way, so I think it's best to disregard that when it comes to making a prediction.
All that being said, I just think the Blackhawks have a better team than the Wild. Unlike previous years, this year the degree to which that is true is a very, very slim margin. The Wild have a great team this year, I just don't see where on the ice outside of goaltending they can legitimately lay claim to being outright better than Chicago. When it comes to personnel, Chicago's better down the middle. They're better on the wings. They're better on defense. Minnesota's team defense is probably better than Chicago's due to the way each team executes their respective systems, but Chicago has the personnel to break Minnesota's tight game over a seven game series.
Prediction: Blackhawks in Seven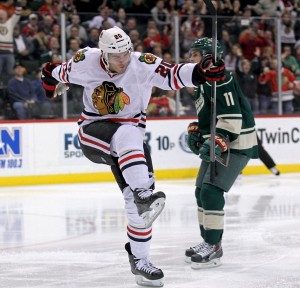 This series just doesn't quite feel the same as it has the past two seasons. Captain Jonathan Toews summed this idea up perfectly in his comments to the media earlier today:
I asked Toews if this felt like a big brother vs. little brother rivalry, with the Wild trying to prove themselves. pic.twitter.com/cV0LWzQXPm

— Mark Lazerus (@MarkLazerus) April 27, 2015
From the Blackhawks' perspective, it's good to see that their captain realizes this. He makes an excellent point that they just beat a good team in St. Louis. One would have to imagine that Minnesota's confidence would be sky high coming off such a triumph.
I would not be at all surprised to see this perfect storm of momentum and confidence translate into an early 2-1 series lead for Minnesota. Hell, I wouldn't be surprised if the Wild took the whole series altogether. This is the best team they've had in years. Like I said earlier, it's just that I find Chicago's team to be slightly superior.