Maybe the Chicago Blackhawks should hold a practice on a CBA-scheduled day off. Regardless of how they do it, they need to fix their penalty kill, which is ranked last in the league. The most glaring problem on this team and a large factor in their ho-hum 3-3-1 start is the failure to kill penalties.
A Telling Tale
The penalty-kill was practically the foundation of the Blackhawks three recent Stanley Cups. This year, it has a current "success" rate of 46.1% through seven games. Let's look at where the Hawks PK ranked recently:
2009-10: 4th (85.3%)
2010-11: 25th (79.2%)
2011-12: 27th (78.1%)
2012-13: 3rd (87.2%)
2013-14: 19th (81.5%)
2014-15: 10th (83.4%)
2015-16: 22nd (80.3%)
It isn't a coincidence that they rank in the top-ten each year they've become Stanley Cup champions and struggled in other years. This isn't to say that a successful PK unit is the reason they won, as many other factors need to go right, but it does play an important role.
The #Blackhawks have allowed 14 goals on 26 opposing power plays this season.

In 2013, they allowed 18 goals on 141 opposing power plays.

— Mark Lazerus (@MarkLazerus) October 25, 2016
Adam Hess of Second City Hockey absolutely nails it on why the Blackhawks have been struggling so badly.
The Blackhawks do not defend the point on the power play. No qualifier here; it's not that they "rarely" defend the point, or don't defend it well. It's that they do not defend the point. Full stop.

Looking through all of the power play goals allowed by the Blackhawks, there are only a handful that have not resulted from the Blackhawks being far too passive when it comes to defending the point. They do not pressure puck handlers at the point, they do not try to shut down point-to-point passing lanes, and they really don't even take away passes to the point from lower in the zone.

This is a result of their rigid box [sic]. They hold firm in that tight box around the net wherever the puck is, and while that is a good thing when the puck is lower in the zone, it's a nightmare when you're allowing a team's best point players to pass or shoot without any pressure.
The Night Is Darkest Just Before the Dawn
Things aren't all bad, though. Marcus Kruger, one of the driving forces behind the Blackhawks' past success is still a prominent member of the PK unit. Norris trophy winner, Duncan Keith, is also a part of the effort, but one big point that has yet to be addressed is the injured Andrew Desjardins.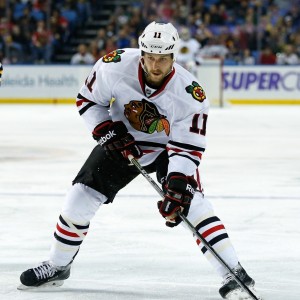 Something of a penalty-killing specialist, Desjardins' "lower-body injury" that he sustained while blocking a shot has created a noticeable hole while the Blackhawks are a man down. Desjardins was placed on the IR on October 10, 2016, and is expected back sometime in mid-November.
By this point, the Blackhawks will have played somewhere in the neighborhood of 15-20 games. While their special teams will improve (since it can't really get any worse), fans will have to hope that the damage hasn't been a case of too little too late. The Blackhawks are part of the heavy-powered Central Division and will need to get points while they can grab them. It will only get harder to secure two points each night, and potentially being without Desjardins until American Thanksgiving won't make it any easier.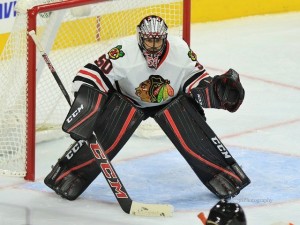 One big bright spot to focus on is the even strength play thus far. Part of the adversity the Hawks faced last year was their weak 5v5 play and their reliance on the second line's scoring ability. Richard Panik has been an alternative, albeit temporary, source of scoring, but a bigger story is Corey Crawford's even strength play. He's allowed only three even strength goals all season, and when the Blackhawks are not a man short, Crawford sports a .972 save percentage, highest among NHL goalies with three starts or more.
---
Complete Blackhawks Coverage From THW
---
While there's no magic formula to winning in the NHL, the Blackhawks will need to fix their shorthanded performance, or they'll be playing from behind all season long. There are good signs, so don't give up quite yet, but crawling out of the trenches does mean the Blackhawks will be traveling uphill, making it that much harder on themselves.