The Chicago Blackhawks have announced that they have extended the contract of Artem Anisimov to a five-year deal worth $22.75 million.
Can also confirm that Artem Anisimov has agreed to a five-year, $22.75 million extension with the Blackhawks, according to a source.

— ESPN Chicago (@ESPNChiHawks) July 1, 2015
Anisimov, 27, was acquired yesterday in the mega deal that sent Brandon Saad to the Columbus Blue Jackets. A player long sought after by GM Stan Bowman, Anisimov fills Chicago's need at second line center. Expected to slot behind Jonathan Toews, Anisimov now gives Chicago some stability at a position that have not had in quite some time. In 2013-14, the 'Hawks used Michael Handzus to man the second line, and in 2014-15 it was Brad Richards on the line. Richards seemed to thrive playing alongside playmaker Patrick Kane, something that many people believe will also happen for Anisimov.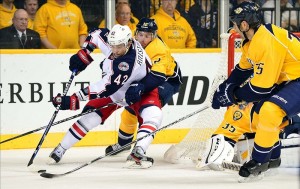 While the 'Hawks benefit greatly on the ice, they also hope that his presence will help ease the transition of incoming Russian Artemi Panarian. Panarian is expected to join the Blackhawks this season, and could find himself playing alongside Anisimov on the second line.
In 412 regular season games, Anisimov has 86 goals and 106 assists. He had seven goals and 20 assists in 52 games this season. A triceps injury forced the big center to miss significant time during the year. While his numbers were down last season, in 2013-14, Anisimov played in 81 games scoring 22 goals along with 17 assists.
Entering the final year of his current contract, Anisimov will carry a $3.283 million cap hit this season, and a $4.55 million cap hit next year when his new contract takes effect.
Keep up with all the free agent signings with The Hockey Writers' Deal Tracker.
RELATED: Brandon Saad traded to Columbus 
Matthew Bowen has been covering the Chicago Blackhawks for 5+ years. He has covered the team for websites such as ChiCitySports, Bleacher Report and Blackhawksondemand.