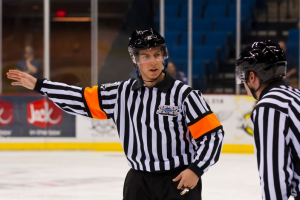 You love them and you love to hate them: the on-ice officials.
Let's face the facts, you can't watch a game without them. The play would have no structure or flow. A game played without officials has the ingredients to be a real barnburner.
Controlling some of the would-be barnburners in the Central Hockey League is 25-year-old referee Peter Tarnaris.  Tarnaris donned his officiating sweater when he was only 12-years-old. "I could be paid to be a part of the game and practice my skating." Tarnaris said of signing on as an official.
Peter advanced quickly through the grassroots levels and graduated to Tier One Junior Hockey at the delicate age of 15. When asked who helped early on in his career Peter replied, "A very experienced and passionate official, Joseph Prescott or 'Pops' as he is known in the hockey world." 'Pops' helped Peter progress and pointed him in the direction of junior hockey and the USA Hockey Officiating Development Program which breeds hockey officials and helps them prepare for the next level.
At fifteen, Tarnaris was one step closer to the NHL by calling games in the United States Hockey League and the North American Hockey League, the top two junior leagues sanctioned by USA Hockey. When you're 15 you feel like the world is on your shoulders, but when Peter was 15 he had a game riding on his whistle. Imagine whistling a bigger, older, uglier athlete for a penalty while thinking, "When will my peach fuzz start looking like some of these players' facial hair?" as Tarnaris did.
Fast-forward ten years and Tarnaris is on full-time duty with the Central Hockey League whose level of play is equivalent to that of the ECHL. The 25-year-old was summoned to full-time status via CHL Director of Officiating Bryan Lewis. Being a full time hockey official requires an abundance of travel. "In the business of hockey, travel is obviously a big part of the job," stated Tarnaris. Peter, a Chicago native, is currently based in Dallas, Texas for the season and will visit every CHL city. "Family is very important to me and being away is one of the biggest sacrifices we all make to be a part of this great game,"  he said. On the flip side, Peter notes that he gets home every so often to visit his loved ones.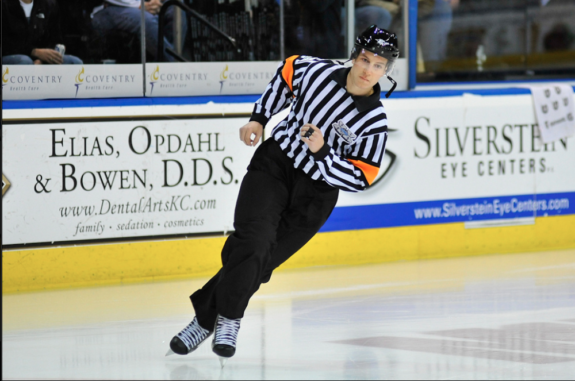 If the travel isn't demanding enough on the body, the game is. Your favorite player can sprint from one end of the ice to the other and can signal for a line change to rest.  Referees and linesman don't have that option until the clock hits zero.  That's why Tarnaris mentioned that "off days call for a gym visit. Like players, officials must follow a routine based on their body's needs."
Just like other athletes, officials need to eat right. "Nutrition must remain a focal point for us during the season. Since we don't have the luxury of home-cooked meals, we must make health conscious decisions at the restaurant," declared Peter. He went on to mention that he packs healthy snacks that match his arduous travel schedule.
It's well known that hockey players are creatures of habit on game days and so are the officials. The young referee shared his typical game day routine. "I enjoy being an early riser and getting a hearty breakfast. We as officials in the CHL tend to meet with each other for lunch and talk about the game at hand that evening." Just like players, officials like to retire to their quarters and relax before the game. "I usually just stay in my hotel room and occupy the hour with phoning my family, reading hockey related articles or thumbing through a book," said Peter.
Again, pre-game routines are a huge part of an athlete's life when they reach their team's dressing room. Zebras are no exception. Tarnaris spoke about his routine saying, "I frequently get a fresh pot of coffee brewing and change into my under garments and read over the stat-packs that we are provided."
Similar to hockey players, Peter and his crew engage in four square, two touch, or wall ball to warm up. Peter's other routines are skipping rope and riding a stationary bike.
Just before the game, the Chicago native repeats to himself, "Nobody wonders where you have traveled in from that day, or what's your day's been like, the officiating crew's utmost concentration and professionalism is needed for the next 2.5 hours."  When it comes time to drop the puck for the start of the game Tarnaris thinks simply, "Don't fall."
An on-ice official's job is dangerous, physically demanding, and stressful at times which is why every now and again you must be able to laugh and joke around. Peter shared one of his lighter moments on the ice, "I was skating at an arena that accidentally left too much water on the ice. A player came up to me and asked if I knew where he could find some fishing line and some bait to tie to his stick."  Tarnaris responded, "I'd join you, but with my fishing skills I'd better use the goal net."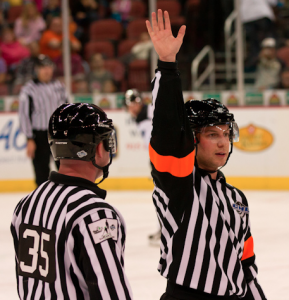 With all the miles officials put on their bodies during a season, many need a chance to reinvigorate themselves from time to time during the season. When Tarnaris has some downtime, he likes to cook, play catch, join in competitive ping-pong, or pull the occasional prank as his escape from the grind of the season.
As far as off-season hobbies, Peter listed golf, barbeques with friends and family, and bike riding as some of his favorites.
Like any hockey player, the 25-year-old has ambitions to work in the National Hockey League. Peter is one step closer having attended a summer officials camp for the American Hockey League, a league that directly feeds players and officials into the NHL. Some American Hockey League officials work in the AHL under an NHL contract. As a rostered AHL official, Tarnaris is within striking distance of a full-time officiating contract in the league which would move him one step closer to his goal.
The next time you have the urge to yell at a referee, remember what Tarnaris repeats to himself before each game: "Nobody wonders where you have traveled in from that day, or what your day has been like, the officiating crew's utmost concentration and professionalism is needed for the next 2.5 hours."
They give their all every game.
Follow Ted on Twitter- @bauerhockeydude
Ted grew up in Virginia. Warren has a passion for the AHL and dishes out articles about the Norfolk Admirals and the AHL. Follow him on Twitter @bauerhockeydude