The Subway Super Series has become a staple for the Canadian Hockey League over the past number of years and draws to everyone's attention that the World Junior Championships are just around the corner.
The exhibition series of six games that pits all-star teams from the WHL, OHL and QMJHL against a team of Russian selects. The series debuted in 2003 as the Canada-Russia Challenge and was later renamed the Super Series in 2009, and is currently underway across six Canadian cities.
Aside from some of the most entertaining junior hockey one can watch, one of the true benefits of the series is a preview of players for Hockey Canada brass.
All of CHL players participating are either WJC returnees or players battling for spots on the upcoming team's roster.
For coach Benoit Groulx and the Hockey Canada staff it gives them a sense of what players they want to invite to camp in December and gives some players a chance to improve their stock or garner more consideration.
Here's a look at some names to remember.
WHL
The WHL kicked of the Super Series this week, and not with the start Canada was hoping.
Game 1 was in Saskatoon Monday and the WHL stars lost a close 3-2 game. The result was very similar the next night in Brandon as they lost again 3-2, this time via the shootout.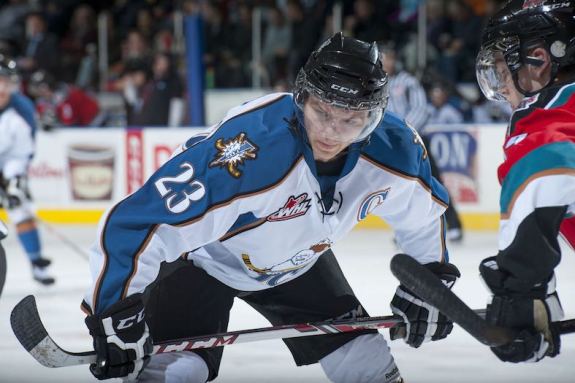 SPOTLIGHT PLAYERS
Sam Reinhart, Forward
After being returned by the Buffalo Sabres, Reinhart immediately became one of Canada's top players. As a returnee from 2014, he is the leading candidate to wear the "C" on Boxing Day and will be counted on as a key contributer.
Had one assist in two games for the WHL.
Nic Petan, Forward
An offensive dynamo who has led the WHL in scoring twice, he will also be counted on for Canada in an offensive role. Will slot into one of the top two centre spots on the roster, and was one of Canada's better offensive players in last year's WJC.
Held off the score sheet altogether in both games against Russia.
Josh Morrissey, Defense
Will be one of the leaders for Canada's defense this Christmas, in a position that has the ability to be a real strength for Canada. One of the more prolific offensive defensemen in junior hockey, Morrissey will log big minutes for Canada.
ON THE BUBBLE
Madison Bowey, Defense
A near lock to make Canada, Bowey is the top offensive producer from the backend in junior hockey. With 26 points in 17 games, it also puts him 6th in WHL scoring overall.
He's an excellent skater and puck-mover and will likely be counted on in terms of the power play for Canada.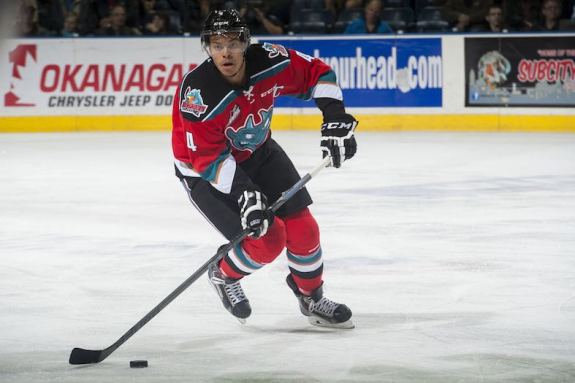 Shea Theodore, Defense
Theodore suffered an injury while in camp with the Anaheim Ducks and was just recently returned to the WHL. His two Super Series games are actually the first junior games of the season he has played.
Another elite offensive defenseman, Theodore had 5 points in 5 games in the AHL for Norfolk before being returned and led all WHL defensemen in scoring last season with 79 points.
Depending on play it could be an and/or situation with Bowey and Theodore for Team Canada.
Jake Virtanen, Forward
One of the top skaters around, Virtanen can flat out fly. In a game where speed kills, Virtanen will get a long look from Hockey Canada.
He played on a line with Reinhart in the Super Series which could be a sign of things to come.
Greg Chase, Forward
Someone who continues to improve each time you watch him play. A player who plays a strong two way game, he's part scorer and part agitator.
He will be on the bubble to be sure but with a solid month of play and good camp, he could end up being a valuable depth player for Canada and potential fan favourite.
Tristan Jarry/Eric Comrie, Goaltenders
With Zach Fucale all but assured a spot as the returning starter, Jarry and Comrie will be battling for the other goaltending position on the team.
Their numbers are extremely similar with Jarry having the slight edge, although to be fair he plays in front of a better Edmonton team.
Neither goaltender established themselves in the Super Series as both were good but not great. Both would appear to have equal opportunity at this point and their play over the next month will be interesting to watch.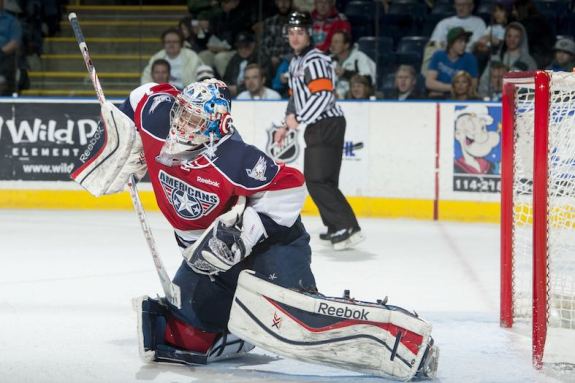 OHL
The OHL series of games are slated to go November 13 in Peterborough and November 17 in Kingston. The OHL will send more players than the other two leagues and will have, not completely, but significantly different lineups for the two games.
SPOTLIGHT PLAYERS:
Connor McDavid, Forward
This one comes with an asterisk as the fate of McDavid is not known after injuring his hand in a fight last night. By far the best player in junior hockey right now, McDavid has torn up the NHL with 51 points in his first 18 games.
Expected to go first overall in next year's NHL Entry Draft, he will also be counted on to lead the charge offensively for Canada. He did not have a great showing in last year's tournament, but neither did the team and he was only a 16 year old to be fair. This year, on home soil, the pressure will be cranked up on him.
Connor McDavid has had his X-ray, the only word for now is he has suffered a hand "injury" and will see a hand specialist tomorrow.

— Bob McKenzie (@TSNBobMcKenzie) November 12, 2014
Max Domi, Forward
Arguably the most offensively talented player in the CHL, Domi can dazzle with his skill set. He had faced much disappointment after being cut from last year's team as well as being released by the Arizona Coyotes in training camp.
Their loss is Canada's gain, as there is no way he is cut this year and will be a top six forward on this year's team.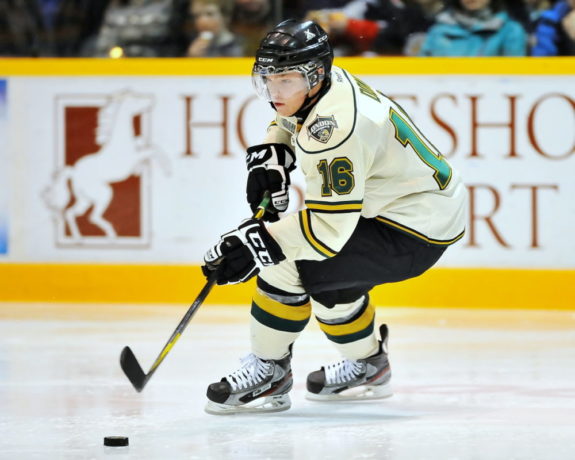 Darnell Nurse, Defense
One of the most physically dominant players in junior hockey, Nurse is a man among boys on some nights. A big, hulking defenseman who plays with a mean streak, Nurse is also an effortless skater which makes him a nightmare for opponents.
Like Domi, he was a surprise cut at last year's WJC camp and was released this season after two regular season NHL games with the Edmonton Oilers. This Christmas however, he will be an anchor and likely a top shutdown defender for Team Canada.
ON THE BUBBLE
Chris Bigras, Defense
Perhaps a surprise to be a bubble player seeing as how he was on the team last year, that is the strength of the position for Canada this year.
He will have the inside track as a returnee, but every defenseman invited to camp this December will have a legitimate chance of making the team.
Nick Ritchie, Forward
Ritchie could give Canada a power forward component that few other teams can match. He has the ability to be physically dominant on any given shift. Add to the fact that he has soft hands and loves to go to the net and you have a forward who could be and handful for defensemen.
The issue with Ritchie has always been consistentcy. One night he could completely dominant and take over the game, and then be invisible the next.
He will have plenty of competition for a forward spot on Canada, but has tools that other forwards do not. The Super Series is an ideal opportunity for him to make an impression on the Canadian staff.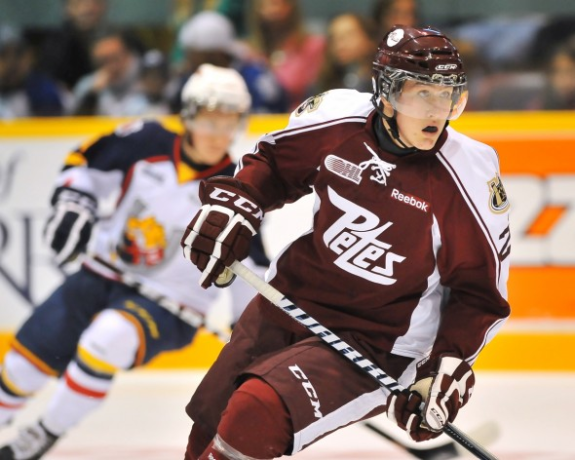 Robby Fabbri, Forward
A player who had a breakout season last year and continued it with an impressive playoff run, has not stopped impressing. Had an excellent NHL camp in St. Louis and almost was a surprise addition to the team and has 16 points in 11 games since being returned to the Storm.
There will be plenty of competition for offensive roles on Team Canada, but with a strong Super Series and month of play, fully expect Fabbri to be wearing the red and white.
QMJHL
The Quebec league team will be the third team the Russians will visit and will host games 4 and 5 in Bathurst November 18 and Rimouski on November 20.
SPOTLIGHT PLAYERS
Zach Fucale, Goaltender
Last years starter at the WJC, Fucale was good, but not nearly good enough as he needed to be. Will be a lock to make Canada again and will get first crack at the starter's job. Fucale like many of his teammates from a year ago will be hungry at a shot at redemption.
Canada's best goaltending prospect, Fucale has not gotten off to the start he wanted to this year and his numbers so far are certainly not where he wants them to be. All that matters however is how Fucale plays in December and the Super Series is a perfect opportunity to get back on track.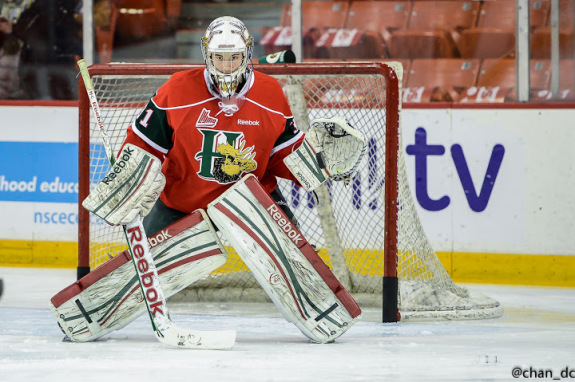 Frederick Gauthier, Forward
Other than Fucale, Gauthier is the lone player on Team QMJHL that played for Canada last year. Not an offensive force in the same vein that other spotlight players are on this list, but Gauthier was a valuable depth player for Canada last time and took big face-offs as well as killing penalties. He has been limited to only 6 games this season so far, so will also be using the Super Series to get his game into form.
ON THE BUBBLE
Samuel Morin, Defense
Another NHL first round pick with size, Morin may be the biggest of the group. At 6'7" he can be a very imposing figure on the blueline. He has improved every area of his game in each of his three QMJHL seasons and continues to get better.
He will be another one added to the blueline mix and another talented defenseman hoping to make the Canada roster. He will be in tough with defensemen from the other two leagues but has the size and skill combination that could set him apart with a strong showing next week.
Philippe Desrosiers, Goaltender
A third goaltender battling with Jarry and Comrie to occupy the spot beside Fucale, Desrosiers looks to have an equal opportunity to battle for that spot.
His numbers this season are not as impressive as those from his counterparts in the WHL, however Desrosiers has had past success for Canada at the under -18s and with a strong Super Series and Canadian camp he could play his way into the position.
Laurent Dauphin, Forward
The Chicoutimi captain brings elite level vision and hands as well as grit and a competitive nature. He has 18 points in 13 games this season on a very weak Sagueneens team and has been a bit of everything to that team.
He has also represented Canada at multiple levels already and with a strong Super Series he could play his way into consideration.
 _________________________________________
Follow Carl on twitter @CarlTHW or Google+ for more articles