The 2013-2014 season was Ryan O'Reilly's best as a professional hockey player. Not only from a statistical point of view, but just as a general sense as far as hockey players are concerned. 28 goals, 64 points, lead leader in takeaways and to top it off only two penalty minutes across the entire campaign. He developed excellent chemistry with center Matt Duchene, and together they both had career seasons. Of course Colorado won the Central division, and pretty much surprised the entire hockey world. They fell short in the post season, but for O'Reilly he still had more to put on his resume in Las Vegas. He won the Lady Byng.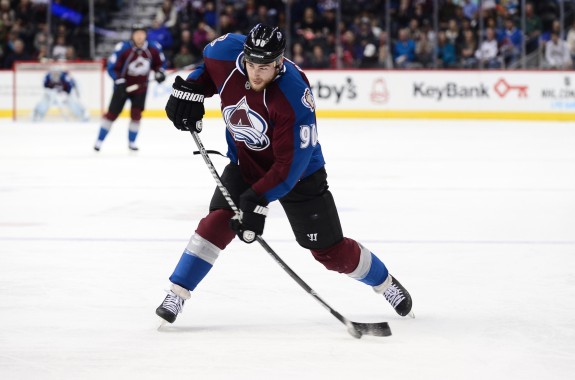 In the off-season O'Reilly got stuck in another contract dispute with Colorado's management, and the issue almost went to arbitration. At the last-minute  the two sides finally agreed upon a deal that would keep O'Reilly in Denver for two more years. Now that the season is in full swing, and Colorado is struggling mightily, Ryan O'Reilly doesn't look like the same player he was last season. And it might not be long before the odd trade rumor shows up.
There are some positives to talk about with O'Reilly's game first, he still leads the NHL in takeaways. He's tied at 20 with Toronto's Leo Kamorov. O'Reilly has always been good with his stick, and he's a premiere two-way forward when he's on his game. He's also been more physical this season, as per Patrick Roy's request. O'Reilly had 22 hits in 80 games played last season, he's already at 9 this year after only 17 games played.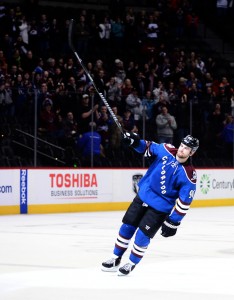 But O'Reilly wasn't paid around 6 million dollars a year to hit, and his problems this season are coming from his dip in scoring. 28 goals last season was a career high for him. He's on pace this year for 9 goals. Though to be fair to O'Reilly, everyone on the Colorado team is struggling to find the net. It's a team wide issue in some respects, so it's not entirely fair to single out O'Reilly as the only culprit. But with a big paycheck comes those rather lofty expectations. Though while O'Reilly hasn't been scoring he hasn't been generating a lot of offense either. Matt Duchene who only has four goals to his name this year has always seemed more dangerous to score than O'Reilly.
Of course, part of the issue is with the line combinations. No forward on Colorado has consistently had the same linemates game in game out. Where last year O'Reilly had a chance to develop chemistry with Matt Duchene, this season Patrick Roy has bounced players around in search of that winning combination. Roy needs to show some patience here.
Defense was going to be an issue for Colorado, but O'Reilly has the skills to help out in his own end. He's struggled though, and at times has been caught puck watching in his own end. Here the problem might be O'Reilly trying to do too much to cover up a teams big weakness. But he's looked tired and disinterested at times. Again these are team issues, and O'Reilly has just been part of the issue. There are a lot of defensive problems with the Avalanche at the moment, and no one is expecting O'Reilly to solve them by himself.
COL 5-on-5 SV% with Ryan O'Reilly on ice: 84.4% COL 5-on-5 SV% with Cody McLeod on ice: 95.2%

— Scott Cullen (@tsnscottcullen) November 7, 2014

The biggest issue from a fans perspective is simply that O'Reilly doesn't seem as interested. O'Reilly has always been a hard worker, and he takes his own physical fitness very seriously. It's unlikely that he'd ever let off on improving himself or his game. But questions will inevitably be asked of a player whenever they cash in with a big contract and struggle the following season.
Whatever is wrong with O'Reilly early in the season isn't something as simple as him giving up on the team, or coasting after getting a big contract. There are a lot of issues in Denver right now, and O'Reilly is definitely one of them. If he's going to help this team into the playoffs he's going to need to improve a lot. Scoring will come to this team eventually. There are players that have too much skill not too. The bigger problem is Defense and the real consequence of O'Reilly's slow start could be felt here. If the likes of Duchene, MacKinnon and Iginla start scoring like they have in the past then O'Reilly possibly becomes trade bait. Colorado doesn't want another Paul Stastny situation. If O'Reilly has trade value now, it's better to shore up the blue line than it would be to let O'Reilly walk in free agency.
Despite his slow start, O'Reilly would be desired by a lot of teams around the league. Colorado are rapidly approaching a panic point in this season. If O'Reilly sees his future in Colorado he will need to start producing and helping the team win now. He's a great player and lot of of Avalanche fans would love to see him on the team for years to come. He just has to start meeting his potential, otherwise he runs the risk of being shipped out, sooner rather than later.
Born and raised in Denver, I'm a writer covering the Colorado Avalanche. I have a degree in Journalism from Northern Illinois University.