What goaltender Cory Schneider's doing now isn't something Devil fans haven't seen before. With last night's 3-1 victory over the Minnesota Wild, Schneider has started the Devils first 16 games of the season and looks in line to break Martin Brodeur's consecutive start record in Devils history. Brodeur had 17 straight starts to open the 2002 season, and 19 consecutive appearances to begin the 2001 campaign.
Upcoming Plans
The Devils have another set of back-to-back games coming up as they play in Washington against the Capitals on Friday, and then come home to square off with the Colorado Avalanche on Saturday. Now it's easy to say that it's a great opportunity to start Keith Kinkaid in one of those two games, however after Monday's loss to the Boston Bruins, we all thought Kinkaid would get the start last night. Turns out we were all wrong, as Pete Deboer came out and once again proclaimed Cory Schneider as the nights starting goaltender. What's to stop the Devils head coach from pulling the same maneuver in these next set of games?
Basically nothing as Deboer has stated multiple times that Schneider's his guy and no matter the situation, he's going to roll with the 28-year-old goaltender.
The main question though, is should he? There isn't a question that at this rate, Schneider is looking to start at least 65 game if not more. The problem is whether its fatigue, lack of practice time, or what have you, Schneider's overall play this season has been inconsistent.
Before last night's game where he made 24 saves in the win, along with four highlight-reel saves, Schneider allowed four goals in every game of the three-game road trip. Throughout the early part of the season, we saw a couple of great games out of Schneider only to see him get pounded in the next set of contest.
Let's be fair here though; this is Schneider's first tour of duty as a full-time NHL starter. Very seldom do we see a goaltender become a starter and light it up consistently throughout the season. There's going to be up's and downs with any goaltenders development, however at this point in his career, Schneider needs to begin showing more consistency in his game.
Should Schneider Take a Seat?
Nobody knows Cory Schneider better Cory Schneider. However Pete Deboer may be a close second.
Deboer could have easily given Schneider a rest in hopes of him coming back against Washington and having a good performance. However, Deboer went with his gut feeling, and thankfully for him and the Devils, it worked out. "He's our guy. I think when you have a guy that's struggling a little bit, you've got two choices. You either sit him and hope taking a step back fixes it or you let him play through it and find his game again."
After the win Schneider said, "I was pretty determined that we had to get a win tonight and, again, personally, I had to be better."
The only goal Schneider allowed was on a crazy play shorthanded. Schneider played the puck off the glass in the corner which deflected right to the stick of ex-Devil Ryan Carter. Carter quickly corralled the puck off the boards and slipped a shot through Schneider as he tried to recover.
Schneider joked, "Like I was saying to the guys, I thought we should work on our one-goal leads instead of our two-goal leads." On a more serious tone he said, "Only I can fix those things, but I think I've had more of those so far this year already than I had my whole career. It's on me."
Schneider isn't wrong as it seems every game, at least in the past three, some kind of crazy goal is getting by him.
Mike Cammalleri who had the game-winner in the second period said, "He was by far our best player tonight and there was a lot of will there. He decided that we were going to win the game, it seemed, and that was it."
Tempering Expectations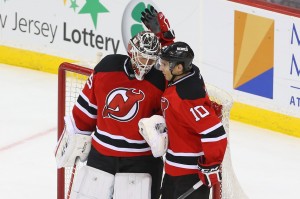 Even though Schneider's started every game thus far, it's not like he's going to start every game for the rest of the season. There's a reason the feat of starting all 82 games in a season hasn't ever been accomplished. It's obvious at this point that even though Schneider played well last night, he needs a rest, and his statistics back up that claim.
Through the first 16 games Schneider has a .904 SV% and a 2.86 GAA. Ok numbers, not great though; and if the Devils are going to make the playoffs, they need his .921 SV% and 1.97 GAA from last year. Bad stretches can happen with any goaltender, however if Schneider continues to start at this rate, then at some point within the next month, Schneider's most-likely going to have another stretch of games where he allows four or more goals on consecutive nights.
It's going to be a challenge to get Schneider the necessary amount of rest he needs to be consistent. However if the Devils can find a happy medium with their star goaltender, then expect many wins to follow.
Like/Dislike? Leave a Comment Below!
Corey Spina lives in Wayne, New Jersey. He is a senior at Centenary College, and is majoring in Communications/Journalism. Corey is in his second season covering the New Jersey Devils for The Hockey Writers, he completed a sports journalism internship with TAPinto, and he is the Host/Producer of the Sports Buzz on WNTI.org.