New York Rangers left winger Chris Kreider has requested $4.75 million per year ahead of his arbitration hearing currently set for July 22, TSN's Aaron Ward reported on Wednesday. Ward also reported that the Rangers have offered Kreider $3.2 million per year.
Salary Arbitration numbers New York Rangers/ Chris Kreider. Club offer $3.2M / Player asking $4.75M #NHL #NYR

— Aaron Ward (@NHL_AaronWard) July 20, 2016
Kreider, 25, became a restricted free agent on July 1 when his two-year, $4.95 million AAV contract expired. At thee time of his last contract signing, the Rangers had just been eliminated in the Stanley Cup Final by the Los Angeles Kings, with Kreider playing an important role. During that playoff run, Kreider played 15 games, registering 5 goals and 13 points.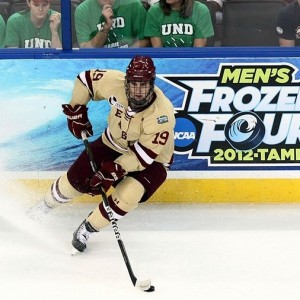 In the two seasons since, Kreider has proven to be consistent in the regular season, despite not taking significant steps toward becoming the franchise player that the club has hoped he would. During the 2014-15 regular season, Kreider scored 21 goals and 46 points in 80 games. Last season, he tallied 21 goals and 43 points in 79 games.
Kreider, a Massachusetts native, played three seasons of college hockey with Boston College, helping lead the Eagles to the 2012 NCAA National Championship on a team that also included current Calgary Flames forward Johnny Gaudreau. Kreider made his NHL debut days later during the Rangers 2011-12 Stanley Cup Playoff run, appearing in 18 games and registering 5 goals and 7 points.
Kreider was originally drafted by the Rangers 19th overall in the 2009 NHL Entry Draft.