Following the lowest goal and point totals of his career in 2015-16, Minnesota bought out the final year of Thomas Vanek's contract.
Officially a free agent on July 1, the Detroit Red Wings signed Vanek to a low-risk, high-reward deal worth $2.6 million for one year. At 32, Vanek is a candidate for a bounce back year that should see him put last season behind him.
[RELATED: Breaking Down Red Wings' Acquisitions]
Vanek will be hungry to perform after being bought out by the team he once said was "beyond (his) wildest dreams" to be a part of. The same place he played two years of college hockey and sharpened his hockey skills.
The Stats
Vanek has been a regular contributor in his 11 NHL seasons, accumulating 254 goals and 497 points in 598 games. He has hit the 20-goal mark ten times, the 30-goal mark four times and the 40-goal mark twice.
Vanek's not the greatest defensive forward, however, a career minus-10 beyond the 2006-07 season and a minus-9 just last year.
His offensive ability should certainly help Detroit after a weak scoring season that saw the Red Wings finish as the only playoff team with a negative goal differential and 23rd overall in goals for.
While Vanek's goal totals have declined over the past three seasons (27-21-18), Red Wings GM Ken Holland is hoping the team has "a motivated athlete."
Red Wings hope for a highly motivated Thomas Vanek: Frans Nielsen says former teammate… https://t.co/aAkkNyw0B8 via @RedWingsMLive #RedWings

— Red Wings (@RedWingsFeed) July 2, 2016
Familiar Faces
Vanek already has familiar faces within the red Wings locker room, which should ease the process of slotting into a new team. A few of those are Steve Ott, Frans Nielsen and new assistant coach John Torchetti.
Ott and Vanek played together during the 2012-13 lockout-shortened season and started the following season together, as well. The two were named co-captains in October of 2013. Ott wore the "C" for 59 games before being traded alongside Ryan Miller to the St. Louis Blues while Vanek wore his for 13 games before being shipped to the New York Islanders.
In New York, Vanek would meet familiar face number two; Nielsen, who is well aware of Vanek's capability having spent time together when Vanek tallied 17 goals and 44 points in 47 games playing with John Tavares.
A few hours after Nielsen signed a six-year contract in Hockeytown, he learned of Detroit taking in Vanek on a one-year deal and said Vanek "could be the steal of this free agency," and that his skill is up there with Tavares.
After Vanek's short stint in Montreal, he signed a three-year deal with Minnesota where he scored 21 goals and 52 points in his first season before hitting career lows in goals and points in 2015-16.
Vanek was blamed for his lack of effort. Fans said he took shifts off and wasn't a good enough defensive player. He did, however, see his average ice time drop to 16:13 in his first year with Minnesota—his lowest since his rookie year in 2005-06—and then even lower to 15:37 in his second year.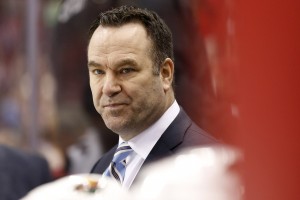 During his two seasons in Minnesota, Vanek's offensive coach was Torchetti. Some Red Wings fans may initially look at this reunion as a shaky one, especially after Torchetti took over for the final 27 games after Mike Yeo was fired. Torchetti benched Vanek for three games, each of which Minnesota won.
Vanek played in 20 of the final 27 games as the interim coach made him a healthy scratch before he aggravated an injury. In those 20 games however, Vanek tallied four goals and 14 points even without any real change in ice time.
Torchetti may have found the key to motivating Vanek or perhaps played him to his strengths better than Yeo could. Either way it seems Torchetti's presence will go a long way in Vanek's search to rediscover the game he had just three seasons ago when he tallied 68 points in 78 games.
Only time will tell if Vanek is the motivated athlete the Red Wings are hoping for and if Vanek can in fact rediscover the 20-goal, 50-point guarantee he is still capable of being in his early thirties.