Chris Kunitz isn't an enforcer, nor is he a particularly intimidating figure. However, the 37-year old veteran left wing brings an element that's somewhat rare among the Pittsburgh Penguins' roster. He brings an edge or a bit of physicality that's playing a role in their Eastern Conference semi-final matchup against the Washington Capitals. Not to be confused with useless goonery, he's taking every opportunity to throw his body around and he's doing so with purpose. This is arguably the best version of Kunitz we've seen in Pittsburgh since his 68-point campaign in 2013-14 but this time, it isn't necessarily about point production.
It's about generating opportunities and making his presence known.
Kunitz wasn't available for Pittsburgh's first-round matchup versus the Columbus Blue Jackets. Ultimately, it didn't matter but the Capitals — boasting a few potent defensemen and a quick transition game — pose a completely different challenge. The Penguins needed their best forecheckers to apply punishment on Washington's blueliners every chance they get. Simply put, they needed Kunitz, as well as Carl Hagelin. On Monday night, when the series returned to Pittsburgh for what became a wild Game 3, his impact was very evident.
I'd expect that to be the case for the foreseeable future.
Well Rested and Fully Engaged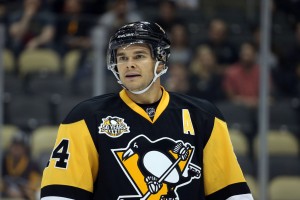 Kunitz's last regular season game was on March 31 when the Penguins faced the New York Rangers. He suffered a lower-body injury, adding to the list of injured Penguins down the home stretch of their regular season. That injury — more specifically, the time off that accompanied it — may have been a blessing in disguise for the veteran winger. He looks rejuvenated, refreshed, and fully engaged.
According to NHL.Com, Kunitz has been credited with 12 hits through three games, which places him second on the team in hits per game. While I'm not a huge fan of using hit metrics to measure a player's success — especially considering the more hits you accrue normally means the more you're chasing play — there's a positive impact stemming from his physicality. You could see that impact on Monday night as Kunitz turned things up a notch amidst a game full of questionable plays and controversial hits.
During his postgame media scrum, Kunitz was asked about Matt Niskanen's hit on Sidney Crosby and he didn't hold back. Opinions on the hit vary across the hockey world but he made it clear that he isn't a fan and felt that Niskanen targeted Crosby.
"It's obviously gut-wrenching. A guy that is the best player in the world playing in his prime, just dominating games, it's one of those things that you look at it once and you see what actually happened and I think the next thing is watching how deliberate it was when the guy cross-checks him in the face." – Courtesy, Tom Gulitti
Whether or not you agree with Kunitz is a discussion for another time, and honestly, whether or not Kunitz actually believes that is debatable as well. This series is heating up and he knows it. He's going to stir the pot and on Wednesday night when the Penguins and Capitals meet for Game 4, he's going to pick up where he left off on Monday night by throwing his body around. And for the Penguins' sake, hopefully, it will be just as effective.
Tangible Results
Despite the Penguins' late-game surge, the Capitals were able to score a powerplay goal in overtime and bring the series to within one. But as a whole, this may have been the best game Pittsburgh has played this postseason. Kunitz was a big part of that.
At even strength, Pittsburgh's trio of Evgeni Malkin, Phil Kessel, and Kunitz led the way when it came to shot attempts. Kunitz topped all Penguins' forwards with a 62.5-percent Corsi-for percentage, and all three of his credited shots came from between the dots — just a few feet from the net — according to HockeyStats.Ca. On a night where Malkin was very average for roughly 58-minutes — until, of course, he scored a goal and set up another in the dying minutes to send the game to OT — Kunitz was magnificent. According to NaturalStatTrick.Com, that trio also accounted for nine scoring chances. If you get that sort of production on a nightly basis, you'll see a better result in most cases.
Pittsburgh will need to collect themselves for Game 4, and avoid the temptation of chasing retribution for Crosby's injury. Kunitz will need to bring the same physical presence but keep it within the context of the game, which he's fully capable of doing. If he does, he'll continue to be a difference maker against the Capitals.