The list of German-born NHLers, both past and active, is a relatively short list. Just 24 names, to be exact, and a few you wouldn't think: Dany Heatley and Walt Tkaczuk for example.
On that short list, defenseman Christian Ehrhoff finds himself quickly rising up the ranks.
History
The 106th overall pick in the 2001 draft, Ehrhoff made his name in the Deutsche Eishockey Liga (DEL) playing with EV Duisburg. Attending the San Jose Sharks training camp after being draft, he impressed but was returned to the Krefeld Penguins back in Germany.  He was finally signed to a deal in June of 2003, making his debut on October 9th against the Edmonton Oilers.
Ehrhoff and teammate Jonathan Cheechoo were selected to the 2004 NHL YoungStars Game, helping the West to a 7-3 win.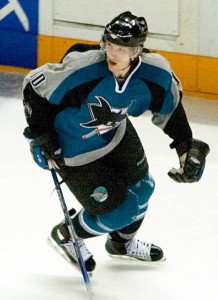 Despite this, he was shuttled back and forth between San Jose and their AHL affiliate in Cleveland quite a bit during his rookie season. Over the next few seasons, he would establish himself as one of the Sharks' better offensive-defensemen while improving in his own end, signing a 3yr/$9.3M deal in the 2008 off-season.
Just a year later, however, he was traded to the Vancouver Canucks with Brad Lukowich for prospects Patrick White and Daniel Rahimi. Ehrhoff's trade was widely viewed as a cap move by the Sharks, who had recently acquired star forward Dany Heatley from Ottawa.
His first season in Vancouver was a success as he set career-highs in goals (14), points (44), plus/minus (+36) and average ice time (22:47). He would up the ante during the 2010/11 season by hitting a career-high in assists (36) and upping his point total from 44 to 50, finishing seventh in the league among defensemen.
Aiding the Canucks on their run to a game 7 defeat at the hands of the Boston Bruins in the Stanley Cup Final, Ehrhoff entered the off-season as an unrestricted free agent and signed with the Sabres for 10 years and $40M.
What He Means To The Sabres
His 32 points and  -2 rating in 66 games last year were considered a disappointment. Not only that, but he looked lost at times defensively. Fans worried almost from the onset that the Sabres had locked themselves in for the long-term to a dud.
Ehrhoff alleviated those concerns with a strong rebound effort in the lockout-shortened 2012/13 season. His 22 points were about on the same pace as the year prior but his defensive game was leaps and bounds better than the year prior. He made smart decisions with the puck, routinely made big plays in his own end, and was generally the best defender on the team.
As he gets more comfortable, hopefully this will be the year where he bolsters the power play as he was supposed to when he signed on. Granted, the unit as a whole struggled mightily and losing Jason Pominville will no doubt hurt the unit over a full season.  Perhaps there's only so much he can do about that.
Looking Ahead: 2013/14
After averaging over 25 minutes a night, it's clear that Ehrhoff has proven himself to be one of the best defensemen on the roster. His 25:11/game led everyone on the team by a mile (Tyler Myers, Andrej Sekera, and the now-departed Jordan Leopold were the only ones to top 21 minutes) and with a pair of veteran defenders gone, he'll be asked to bear the burden even more.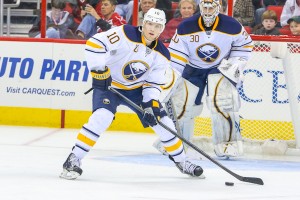 The talent on this team has been declining since the trade deadline and could see another steep drop-off in the event Ryan Miller and/or Thomas Vanek get traded at some point this off-season.
Not only will Ehrhoff have to step up his game on the ice but he'll be looked at to step up as a leader on a very young team with very view veteran leaders around.  Perhaps acting as a mentor for others, especially someone like Tyler Myers on defense, could have a huge impact on this year's team and beyond.
Last year was just the beginning of what Sabres fans expected out of Christian Ehrhoff? This year, he'll need to take a big leap forward if the Sabres want to play for anything other than the chance to draft first overall.
Follow me: @RWTFC
A long-time (and long-suffering) Buffalo sports fan. Sometimes optimistic, always weary. I write other stuff for a lot of other people.