The Boston Bruins were eliminated from playoff contention on Saturday, meaning that they will miss the Stanley Cup Playoffs for the second season in a row. Once again, the Bruins weren't able to perform when they needed to most, dropping nine out of their final twelve games to fall from the top of the Atlantic Division all the way out of playoff contention. It was a complete and utter collapse.
Unsurprisingly, this puts Bruins Head Coach Claude Julien back on the hot seat.
After last season's collapse, the Bruins overhauled their front office, parting ways with Peter Chiarelli and promoting Don Sweeney to become the new GM. For several weeks, the future of Claude Julien was uncertain, until finally, Sweeney announced that he had decided to keep Claude.
Fast forward to April, and here we are all over again. Boston has once again disappointed on the final day of the season, and there's a solid chance that Claude Julien will get the axe.
But he shouldn't. Plain and simple: Firing Claude Julien would be a mistake.
Just a few weeks ago, Claude Julien's name was being tossed around with regards to the Jack Adams award.
Our 3 on 3 blog today on Claude Julien, a Jack Adams Award candidate? I'd say so: https://t.co/6oXC6NWHuy

— Pierre LeBrun (@PierreVLeBrun) March 8, 2016
Now before you start losing your mind about why Claude should've been gone yesterday, take a step back and look at the forest instead of the trees.
Last fall, when Don Sweeney decided that Claude Julien would stick around, it was under one condition: that Boston's defensive-first playing style (which won them a Stanley Cup just five seasons ago, and won them a Presidents' Trophy three years later) had to be discarded in favor of a new, more aggressive style of play. That's not Claude Julien.
To make matters worse, Boston's defensive core is, for lack of a better term, almost non-existent. Anyone who watched the Bruins play this season can tell you that their defense was brutal – even painful to watch at times. And while the coach is certainly responsible for some parts of the equation, there's only so much you can do with that defense.
Up front, Boston's offense was inconsistent, lacking the tools it needed on the right-wing, and couldn't find their game when the team needed it the most.
Oh, and injuries impacted Boston once or twice too.
And yes, many of you are thinking "It's the coach's job to make his team work," or "Claude couldn't get his team ready for the big games." But is that really the issue?
WEEI's DJ Bean summed it up beautifully:
On the list of problems with this team/organization, ask yourself where the coach legitimately ranks. Far behind the defense, the lack of actual good right wings and the concern that it's too early to tell whether the president and general manager are steering the ship in the right direction.
Boston's problems aren't a result of Claude Julien's inability to coach. Their failure is a direct result of the guys above Julien, who took an elite Stanley Cup winning team and obliterated everything they had going for them. Tyler Seguin. Dougie Hamilton. Johnny Boychuk. Remember them? Look at the current Bruins team. Is that what you expected to see five years after winning a Stanley Cup? Nope – but that's not on Claude. He didn't assemble this team.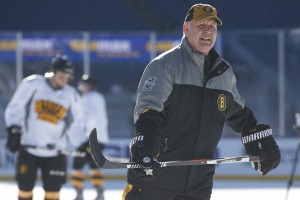 Long story short, there's only so much that a coach can do. And with the team that was put in front of him, Claude Julien did a pretty good job. He was forced to abandon the system that had turned Boston's organization around (for the better), and took a team that wasn't supposed to compete for a playoff spot and led them to the top of the Atlantic Division for some time.
He was over-achieving big time. He worked the team that the majority of the experts pinned to sit in the lower half of the standings and kept them alive until the final buzzer sounded. Most coaches wouldn't have been able to do anything close to that. Sure, it collapsed in the end, and Claude is responsible for something, but that has a lot less to do with him and a lot more to do with the guys wearing Black and Gold.
If you believe that Claude Julien deserves the axe, I'd say that you're stuck looking at the trees in the heat of the moment. But it's not the trees that need attention, it's the forest. Claude Julien is a fine coach when you give him a competitive team. But this Bruins team just isn't competitive – they're mediocre. It makes sense to be angry, or disappointed, but rushing to fire Julien isn't going to solve Boston's issues. There's no magic man to step in and heal things. There just isn't.
Was Claude Julien perfect? No. Does he deserve some criticism? Absolutely.
But you'd better think long and hard before you fire the only coach that's won you a Stanley Cup in 39 years.
Cam is a Broadcast Journalism student at the University of Maryland. He's the Boston Bruins Beat Writer at The Hockey Writers, and is an avid college hockey fan. Find him on Twitter @CamHasbrouck!