If you're a New York Islanders fan, life probably feels a bit backwards right now. Despite watching the team clinch its second consecutive playoff berth this week, excitement has been replaced by despair. A rash of ill-timed injuries has left the Isles a wounded bunch heading into the playoffs and their pursuit of the Stanley Cup suddenly seems like a futile mission. The team will show up, of course, and the players will give it their all, but the sounding of the death knell is impossible to ignore.
Hold onnnn just a minute. If the NHL playoffs have taught us anything over the years, it's that nothing's guaranteed. Predictions are meaningless. Here's what we know, for sure, on the eve of round one: in about two months, someone will win the Stanley Cup. That's it. Everything else is up in the air.
So before we go pronouncing the Islanders dead, let's remember there's a whole lot of hockey yet to be played. And believe it or not, there are still a few reasons to believe in this team. Let's run through them together, and see if we can't rekindle the optimism in Brooklyn.
1. The Isles Aren't Alone
Just about every team in the playoffs is banged up. It's the simple cost of getting there. The same feelings of doubt and deficiency plaguing Islanders fans are plaguing fans across the league. No matter who the Isles face in the first round, be it the Penguins or the Panthers, they'll be taking on a compromised squad. This team has incurred some heavy losses, to be sure, but the playing field isn't as slanted as it seems.
2. That First Defensive Pairing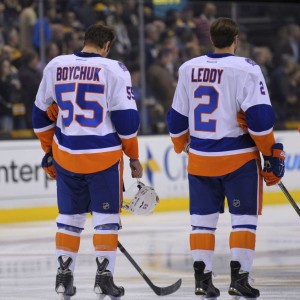 The Travis Hamonic injury weakened a once formidable blueline, but the Isles' top duo of Nick Leddy and Johnny Boychuk is arguably the best in the Eastern Conference. The two players seem to complement each other perfectly, Leddy providing the speed and the passing ability, Boychuk the physicality and the shot. Oh, and they've both won a Stanley Cup. Few players will feel as comfortable on the ice in late game situations; together, they'll help reduce the nail biting within this fan base.
3. The Captain
With all due respect to Jamie Benn, John Tavares is the best player in the NHL to have never won a playoff series. It's a blemish on his resume he's burning to erase. The Isles' captain has been a solid postseason performer to date, totaling 11 points in 13 games. "Solid" hasn't cut it, of course, and Tavares knows this. Expect him to really break out this time around, stacking a few teammates on his shoulders if he must.
4. The Captain's Sidekick
Kyle Okposo is another player tormented by a lack of playoff success. In what may be his final season in an Islanders uniform, the eight-year veteran seems especially geared up for this year's run at the Cup. This organization and the fans have always believed in Okposo, and he'll do all he can to reciprocate their faith this spring. Don't be surprised if he runs through the locker room wall on his way to the ice before game 1.
5. Fourth Line Depth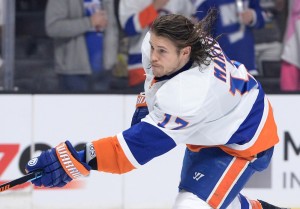 The Islanders may not have the same high-end talent up front as teams like the Penguins and Capitals, but no one in the Eastern Conference boasts a more imposing fourth line. With Matt Martin and Cal Clutterbuck set to rejoin Casey Cizikas for the playoffs, the "Bash Brothers" will be up to their old tricks. Depth and physicality go a long way toward determining a best-of-seven series, and the Isles' fourth line provides both.
6. Greiss Rebounding
After initially struggling in his newfound role as starter, Greiss has turned things around over the past two weeks. Beginning with a win against the Hurricanes on March 29th, he is 4-0 with a 1.71 goals against average and .943 save percentage. His hot run continued on Thursday night, when Greiss stopped 36 of 37 shots in a 3-1 win over the Rangers. Things were hairy there at first, but Isles fans should feel a restored sense of confidence in the team's starting netminder.
7. It's About Damn Time
In general, and especially in sports, streaks are more likely to be broken than prolonged. When a recurring event starts to seem improbable, it typically reverses course. Say, for example, an NHL franchise hasn't won a playoff series in 23 years, and say it has lost seven times in the first round during that stretch. Isn't it about time things turn around? Doesn't simple probability suggest the franchise is due?
You bet.
Will Burchfield covers all things 'New York Islanders' for thehockeywriters.com. A 2014 graduate of Boston College, he has extensive writing experience both online and in print.