Trade rumors are an ever-present facet of the sports world and at this time of the year, the NHL is no exception. When star players are mentioned in these speculations, it often ignites a flurry of discussions among fans, analysts, and even the players themselves. Most rumors tend to be wildly inaccurate, but there can be enough chatter that the players in question are actually asked about it.

One such rumor involving Arizona Coyotes' standout Clayton Keller recently captured the attention of an Arizona-based podcast. Asking in a jovial way and likely knowing the answer they were going to get, the interviewer, Steve Peters, managed to get Keller to open up a bit about his conversations with the Coyotes. In particular, he wanted to know if the trade rumors linking him to the Toronto Maple Leafs were true. Keller found the speculation rather funny.
The idea wasn't so much that going to the Maple Leafs was a laughable idea. It was more that Keller was chuckling at the trade rumors that surrounded him and that he had no idea where people come up with the trade proposals that make their way online and then turn into a real question.
Where Did The Clayton Keller Trade Rumor Start?
As far as I can tell, the rumor mill started churning in May of 2023 when Sportsnet reported that Clayton Keller's agents had met with the Arizona Coyotes to discuss the organization's future and where he fits in it. While no formal trade request was made at the time, Elliotte Friedman reported during that Friday's episode of 32 Thoughts that the meeting raised questions about Keller's future with the organization.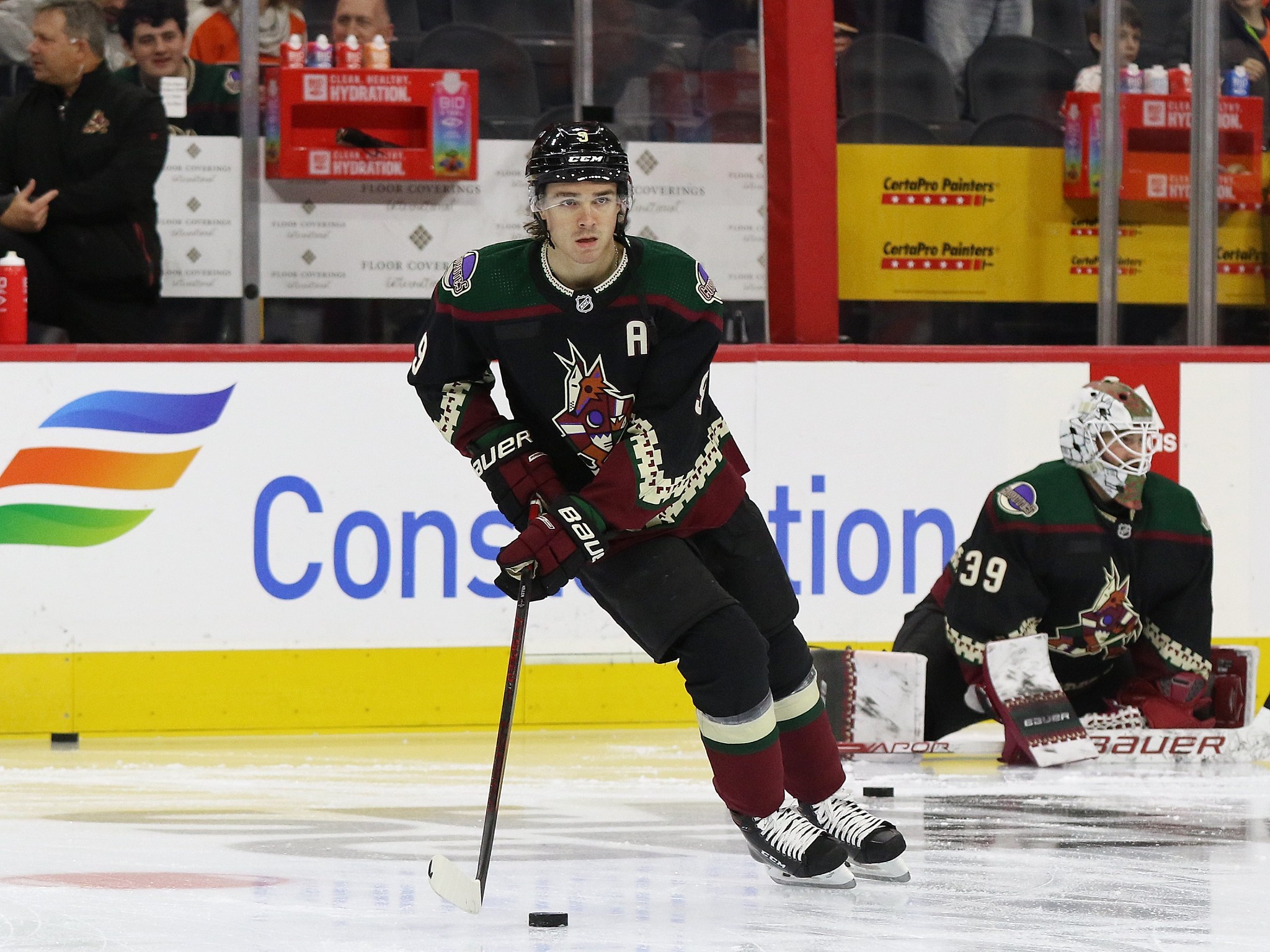 What made this report intriguing and probably gave the rumor extra legs was its timing—around the same period, speculation swirled regarding William Nylander's contract extension with the Toronto Maple Leafs. Nylander's name was coming up regularly in trade rumors and the talk was he was seeking a more lucrative deal than the Leafs were willing to offer (that's still rumored to be the situation). Essentially, he was at an impasse with the team.
This impasse sparked an intriguing idea: if Keller was unhappy in Arizona and Nylander was looking to secure a more substantial contract elsewhere, why not explore the possibility of a swap between the two talented players? Keller would get what he wanted, which was an opportunity to win. Nylander would get what he wanted, which was a big payday and a chance to be the top dog.
This is typically all it takes for a trade rumor to take on a life of its own.
Would This Trade Have Made Any Sense For Either Team?
Keller's contract, with a $7.15 million annual salary over the next five seasons, offered potential cost savings for the Maple Leafs if Nylander's negotiations exceeded $8.5 to $9 million per year. On paper, the trade seemed feasible, with Keller being two years younger and coming off a season where he recorded an impressive 86 points.
---
Latest News & Highlight
---
The Arizona Coyotes, having ample cap space and the freedom to make substantial acquisitions, appeared poised to accommodate a high-profile player. While they might not be considered a contender, their imminent offseason moves indicated a changing mindset and willingness to strengthen their roster and compete more effectively. Whether this was influenced by a desire to satisfy Clayton Keller or a new organizational philosophy remained uncertain.
On the surface, it made some sense that these two teams could make for an intriguing fit.
Keller Was Asked to Clarify the Trade Rumors
However, Keller himself recently addressed these trade rumors during an on-ice interview with PHNX Sports, providing clarity on the situation. When asked about the trade speculation involving him and Nylander, Keller chuckled and firmly denied its veracity. The host noted, "Have you demanded a trade? Is the Nylander for Keller rumor true? Can we finally put that to rest?" Keller's response was clear and resolute: "Yeah, no, that's not true. I'm just focused on myself and the team here, and I just love this group of guys. This is where I want to be right now."
The host said, "I can't imagine getting up every morning and have to deal with that." Keller just smiled.
Related: Maple Leafs News & Rumors: Kallgren, Reaves, Treliving & Brodie
With Keller's statements, the trade rumor loses much of its steam. Keller is shooting down the idea he ever asked to be moved by the Coyotes and it appears that, at least from Keller's perspective, he is unaware of any discussions involving a potential swap with the Toronto Maple Leafs.
As the NHL offseason continues, trade rumors will undoubtedly persist, but as far as a Nylander-for-Keller trade, that one can be put to rest.