The 2023-24 NHL season is just weeks away, which means people from across the world are getting ready for their fantasy hockey drafts. Going into those drafts, one question that will be asked is which Seattle Kraken players are a wise investment headlining into the upcoming season. With that in mind, here are five players that could help players win a fantasy league this season.
Honorable Mention: Adam Larsson (Defense)
While Adam Larsson may not put up monster offensive numbers, he is very valuable in fantasy leagues that track blocks, hits, and shots on goal. Starting with the shots category, the Swedish defender is surprisingly very good at getting the puck on the net. His 143 from last season ranked eighth on the Kraken, and he has surpassed the 100-shot mark in both of his seasons as a Kraken. While shots may not be worth a ton of points, over time, they add up and could be the difference between winning a week and losing by just a few points.
Related: Taylor Hall for Adam Larsson Trade Revisited
When it comes to hits and blocks, this is where Larsson really shines. Last season, he recorded a career-high with 173 blocks while recording his first 200-hit season in Seattle. A valuable player to the Kraken, he should be a solid late-round addition to any fantasy team looking to strengthen their defensive core.
5. André Burakovsky (Left Wing)
After missing most of the season and playoffs in 2022-23, André Burakovsky looks fully healthy and ready to become a consistent contributor in Seattle. A forward who was on pace for over 70 points prior to his injury, he should be able to set new career highs in goals and points as part of the Kraken's top-six heading into the 2023-24 season. One of the team's top offensive talents, he should also help with shots on goal and power play points, adding to his overall value in fantasy.
Regarding fantasy drafts, Burakovsky may slip because of his time missed last season. This makes him even more valuable, as he may still be available after the first 150 picks. If there is an opportunity to add him, it would be a smart gamble, as he is expected to have a massive year in terms of production and fantasy points for Seattle this season.
4. Jordan Eberle (Right Wing)
Coming off his first 60-point season in eight years, Jordan Eberle will once again be a player fantasy team owners should invest in. He has hit the 20-goal mark in each of his last two seasons and is expected to be on the Kraken's first line once again this season. A player who is also expected to hit the 1,000-game mark for his career this upcoming season, he should once again be near the top of Seattle's scoring list at the end of the year.
Related: Pacific Division Will Be Ultra-Competitive in 2023-24
Shots on goal is also an area Eberle can help out fantasy owners. He has been over the 160 mark in each of his first two seasons as a Kraken and only has one year where he was under 130. He is an overall smart pick and would be a great addition to the lineup if available around the 110th overall selection.
3. Jared McCann (Left Wing)
Jared McCann's production since joining Seattle has made him an extremely valuable player in fantasy. He is coming off his first 40-goal season while also eclipsing the 200-shot mark in 2022-23, making him an enticing selection for any team looking to add some offensive punch to their lineup. He also has been successful on the power play and, while shorthanded, boosting up the total points he collects in fantasy.
While McCann is a must-draft, the biggest question is whether he will be able to replicate his production from last season. With the return of Burakovsky, he may be dropped down the lineup, limiting his opportunities at five on five. Regardless, he is still a valuable asset in fantasy, as he should be above 30 goals and 55 points this season.
2. Vince Dunn (Defense)
After coming off a career year, Vince Dunn is once again projected to be the Kraken's top point-producing defenseman. He led all players with 50 assists while also contributing 15 on the power play. A good value pick around 75th overall, he should be able to replicate his strong season in 2023-24.
Related: Kraken's Vince Dunn Contract a Win for Both Sides
---
Latest News & Highlights
---
While most of the focus surrounding Dunn will be in the offensive zone, his defensive statistics will make him even more valuable when it comes to fantasy. Last season, he surpassed the 100-hit mark while also recording 80 blocked shots. Overall, it is fair to expect the newly extended defender to rack up the fantasy points at both ends of the ice.
1. Matty Beniers (Center)
The reigning Calder Trophy winner, Matty Beniers, is projected to once again take a step in his development this upcoming season. After putting up 24 goals and 57 points in 80 games, fantasy owners should expect a big season that could see him finish near the 70-point mark. He is also expected to be a key contributor on special teams, creating more opportunities to provide fantasy points throughout the year.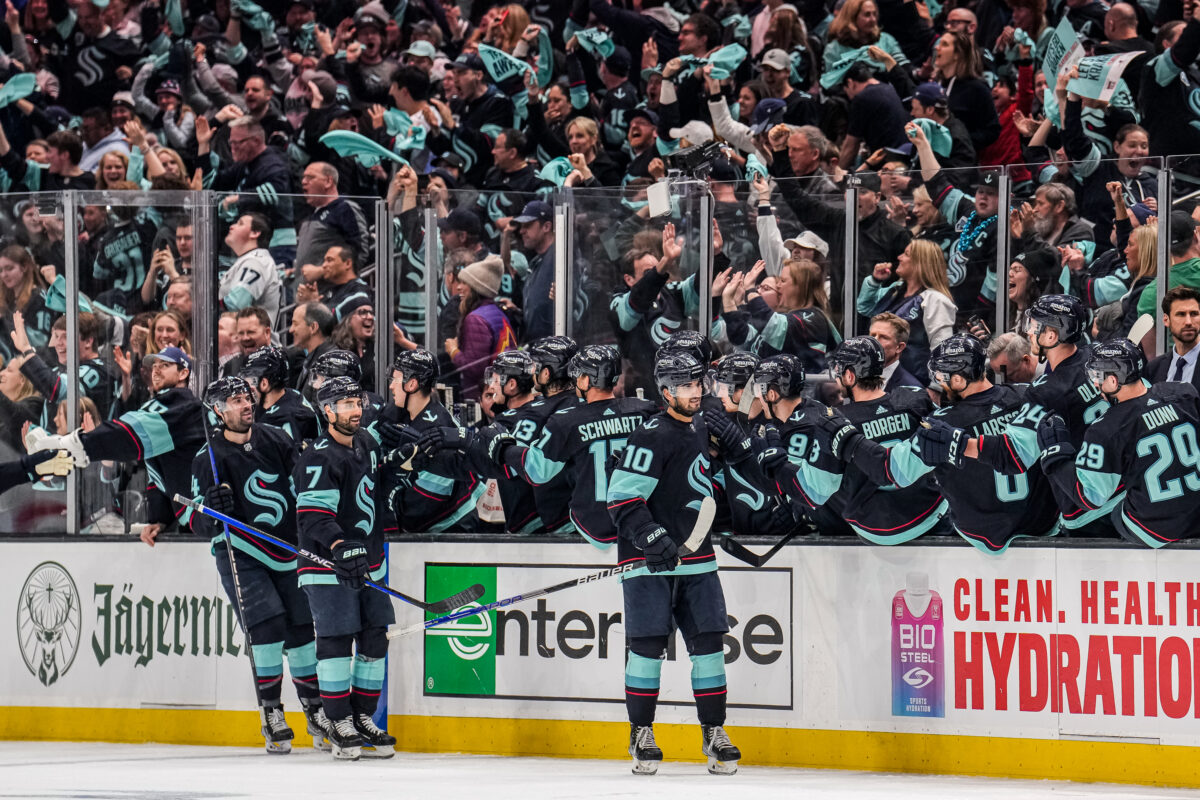 While he may not be a top-50 pick, Beniers should provide plenty of value as the season goes on. He recorded 148 shots and 79 hits in 2022-23, with those numbers expected to grow during 2023-24. Overall, he is a great investment and is consistent enough to provide solid fantasy points on a weekly basis.
Kraken Players Should Provide Plenty Of Value This Season
When breaking down the Kraken's 2023-24 roster, there is plenty of potential for fantasy production. Brandon Tanev and Jamie Oleksiak would be good additions to any team looking to add hits, while Yanni Gourde and Jaden Schwartz should be able to help out in the shots-on-goal category. This Seattle team is very strong, so expect solid performances on the ice and in the fantasy world throughout the 2023-24 campaign.
---
---