The Seattle Kraken don't have any elite superstars on their team. At least, that's how it appears from the outside looking in. I genuinely wonder, would most hockey fans outside the realm of Seattle know that Jared McCann is a 40-goal scorer? Let alone the first one in franchise history. How about Vince Dunn; who probably isn't getting as much love as other defenders regarding the Norris Trophy?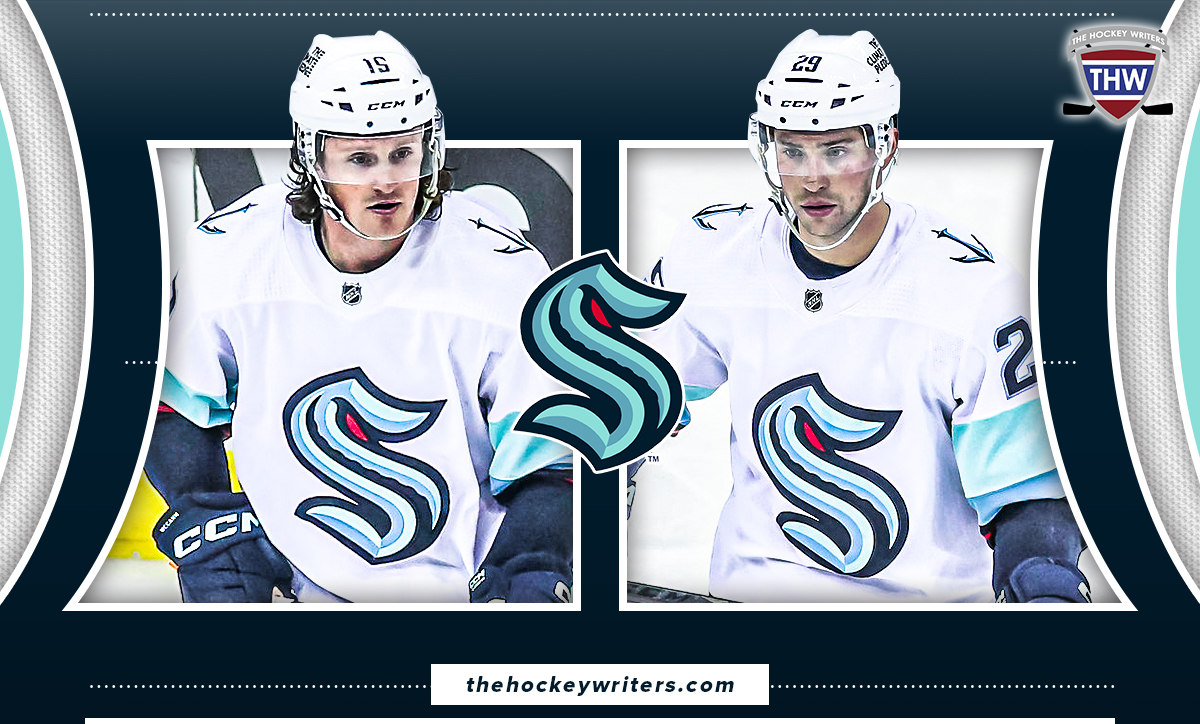 The Kraken win by committee, and their offensive depth highlights that. For example, they have a fourth-line 20-goal scorer in Daniel Sprong. However I'm here to say that McCann and Dunn have played themselves into the "elite player" conversation. Let's talk about it.
The Case for Jared McCann
We saw it building. Since joining the Pittsburgh Penguins during the 2018-19 season, McCann's production has been on the rise. At that point, he'd scored eight goals in 46 games, good for .17 goals per game. He finished that season by scoring 11 goals in 32 games for the Pens, which brought his per-game metric to .34.
Related: Kraken vs Avalanche Series – Everything You Need to Know
---
Latest News & Highlights
---
The number dropped back down to .21 goals per game the following season, and has been on the rise ever since. His final season with Pittsburgh, the 2020-21 season, saw it rise to .33; then during the Kraken's inaugural season, .36, before settling at .51 this season.
He broke out for 27 goals and 50 points in 74 games last year, and finished at an aesthetically pleasing 40 goals and 70 points in 79 games to close out the regular season. Those 40 goals come with a shooting percentage of 19 percent. 
McCann is the sniper that Kraken faithful have been praying for, but is that enough to be considered elite? On its own, you could argue either way. Scoring 40 goals in the NHL is no easy feat, whether it be the 1980s or 2023. However, he's developed into more than just a goalscorer; he's a three-zone, all-situation player.
He's played a career-high 78:51 on the penalty kill and scored three shorthanded goals. Likewise, he played 211 minutes on the power play and scored seven goals and 16 points. He's a player you can trust in all situations and circumstances, whether it be on special teams or to ice a game in the waning seconds.
The Kraken needed an elite scorer, and McCann emerged from the shadows. He took a leap forward last season, and showed this year that he's capable of consistently meeting those expectations. 
The Case for Vince Dunn
If McCann has already walked through the "elite player" door, Dunn has placed one foot inside it. I've said in the past that he needed to have a big year, and have since been proven wrong in the best way possible. He exploded offensively this season and set career highs across the board. In 81 games he scored 14 goals and 50 assists for 64 points. He led the team as a plus-28, which was a massive turnaround from his minus-21 rating last season; then sixth worst on the team.
Dunn has performed at a high enough level to warrant some talk of receiving votes for the Norris Trophy this season. He's not going to win, I'd say Erik Karlsson likely has that locked up, but it says something that he could see some votes next to his name.
When looking at the Money Puck statistics among defensemen with a minimum of 400 minutes of ice time, Dunn's 1,917 minutes rank 13th; just four slots lower than his defensive partner Adam Larsson. He was also 11th with 4.3 goals above expected, trailing seventh-place teammate Jamie Oleksiak's 5.2. He split his 50 assists nearly down the middle; 24 primary and 26 secondary, and 35 came at even strength with the other 15 on the power play. Considering their power play has struggled at times, that even strength scoring has been huge for the Kraken.
He more than tripled his career high in shorthanded minutes as he finished the year with 49:03 on the kill. His power play time also eclipsed 200 minutes for the first time in his career as he spent 229:40 playing with a man advantage. Finally, his 23:40 average time on ice led all Kraken skaters, and showed that he ran with the trust and opportunity head coach Dave Hakstol had given him.
Related: Kraken's Complete Turnaround Has Them Into the Playoffs
The reason I say that Dunn has only one foot in the door, a step behind McCann, is that McCann backed up his breakout season with this season. Dunn will have to first, have a consistent postseason performance, and secondly back up his play this season next season just like McCann did.
Kraken Didn't Buy Star Players, They Found Them
Just as the heading says, the Kraken didn't buy their star players. They found players who needed an opportunity to reach their potential, and struck gold. This is part of the reason the team is as deep as it is. It brings me back to that scene in "Miracle" where Herb Brooks says he's not looking for the best players, he's looking for the right ones. In general manager Ron Francis' case, he found the right players, and in turn, they found the right opportunity, and have played themselves to the precipice of joining the elite.
---
---