About 18 months ago, I ranked the Vegas Golden Knights by contract value. Since that time, plenty has changed, most notably last season's Stanley Cup triumph. The effect of the Cup is an interesting one when it comes to contract value, making just about every contract seem largely justifiable but also complicating proper evaluations of their worth.
For years now, the Golden Knights have boasted one of the league's most-discussed cap sheets, carrying a large number of long-term mega-deals that have kept them up against the cap ceiling. Much to the chagrin of many hockey fans, this has prompted the club's front office to get creative and find ways to employ long-term injured reserve (LTIR) and other tools to hide salaries in order to remain cap compliant.
In the aftermath of the Golden Knights' Cup, their cap sheet remains tight. This summer, that meant sacrificing Vegas original Reilly Smith as a cap casualty. Winning a championship buys an awful lot of goodwill, but it doesn't erase any mindfulness over cap concerns. With that in mind, we're going to use this space to look at some key contracts on the team and how they look relative to comparably paid players.
While we've omitted Mark Stone based on how much injuries have affected his value, here are five key Golden Knights with significant, long-term contracts and their similarly salaried contemporaries.
Jack Eichel – $10 Million Cap Hit
There are 11 NHL forwards who will be paid eight-figure salaries over the upcoming 2023-24 season. Of those forwards, Jack Eichel finished 10th in scoring last season, managing just 66 points in an injury-marred 67-game campaign (Jonathan Huberdeau recorded 55 points with a $10.5 million cap hit). Of course, we all know that Eichel's true value was proven in the playoffs, where he notched a league-high 26 points in 22 games during what was his first career postseason.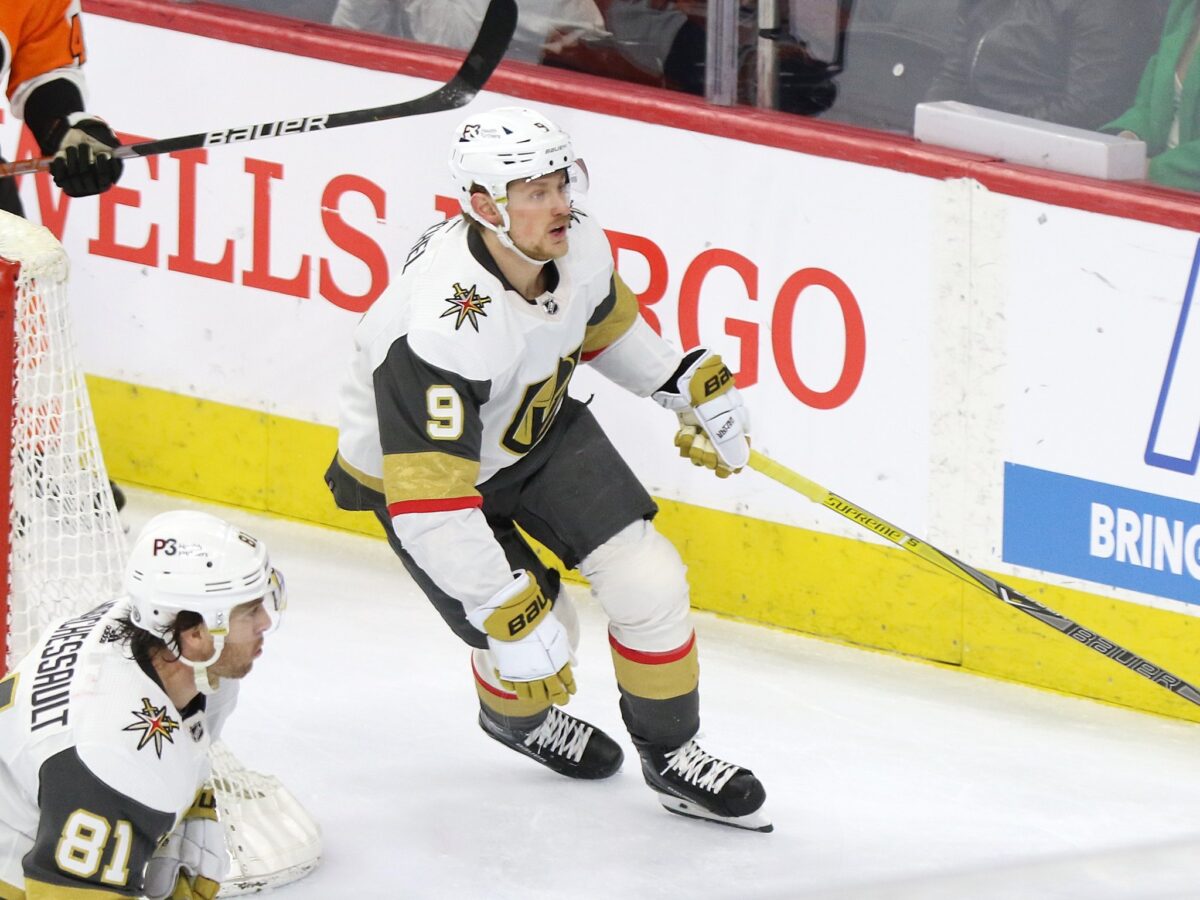 Any questions about Eichel's contract or the blockbuster trade that saw him complete a bitter split from the Buffalo Sabres were basically rendered moot in the postseason. That being said, he is still owed $30 million across the next three seasons. The rest of that contract will look a whole lot better if he can maintain the superstar form from last spring rather than earning the dubious distinction of being among the least productive of the league's high-salaried stars.
Alex Pietrangelo – $8.8 Million Cap Hit
In 2020, the Golden Knights furthered their star-chasing reputation by landing Alex Pietrangelo, arguably the biggest name on the free-agent market, to a seven-year, $61.6 million contract. With the stud blueliner having already hit his 30th birthday at the time, the management team was aware that the deal, which carried an annual cap hit of $8.8 million, ran the risk of not aging well.
That certainly appeared to already be the case in 2021-22, Pietrangelo's first full season with the club. He managed a rather pedestrian 44 points and a plus-7 in 80 games while spending nearly 25 minutes per night on the ice. Last season, however, the three-time All-Star found his game, recording 54 points to tie a career-best despite playing in seven fewer games and averaging 40 fewer seconds per game on the ice. That continued in the playoffs, albeit at a more modest clip of 10 points in 21 games.
You Might Also Like
With four years remaining on Pietrangelo's contract, the question of whether his next few seasons more closely resemble 2021-22 or 2022-23 looms large. Even last year's 54-point output kept him well behind the pace of fellow high-earning defensemen like Erik Karlsson, Dougie Hamilton and Adam Fox (to be fair, he did finish ahead of Drew Doughty, Seth Jones and Charlie McAvoy). Though not a steal, Vegas isn't exactly regretting signing their No. 1 rearguard on what is a very impressive blue line.
William Karlsson – $5.9 Million Cap Hit
The Golden Knights have a handful of players in the $5-6 million salary range, but few have been as polarizing as William Karlsson. While the Vegas original will always have a place in the heart of fans for his 43-goal effort in the club's expansion season, the Swede's uneven play in the seasons since, which happen to coincide with the eight-year, $47.2 million contract he signed in June of 2019, have prompted questions about his value.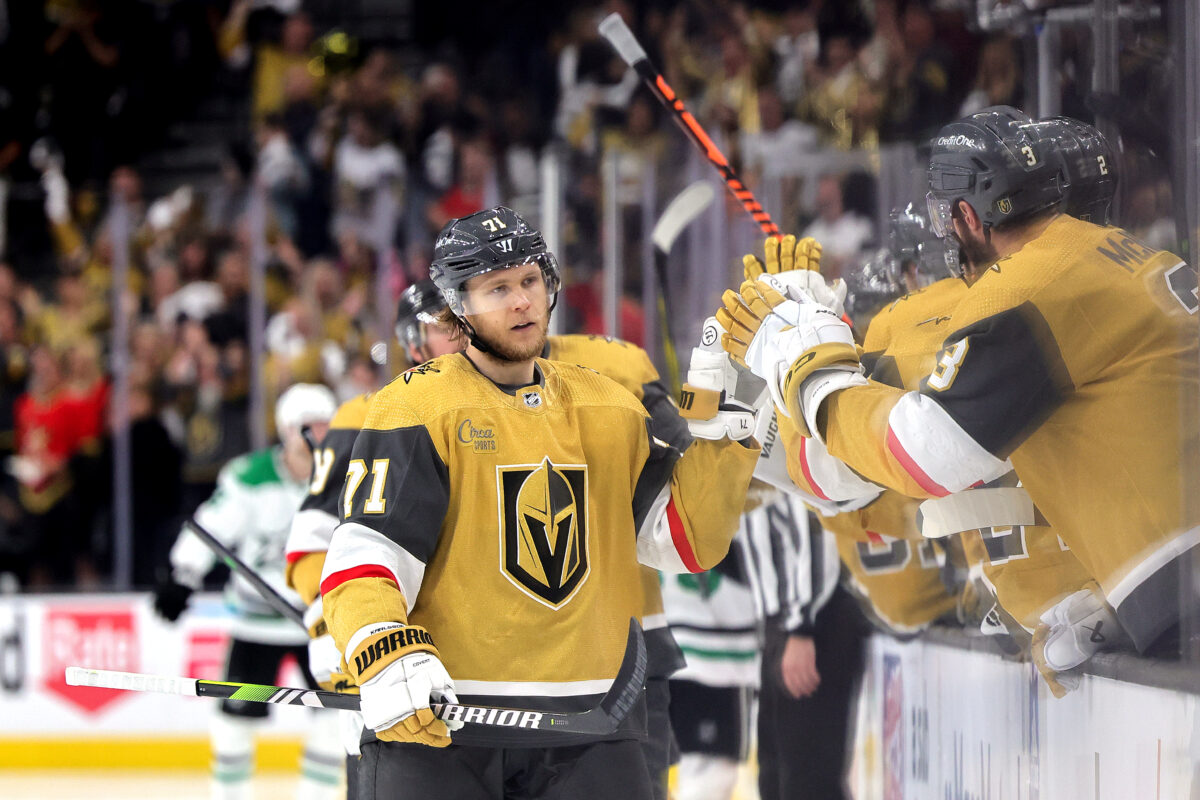 Like so many of his teammates, Karlsson made his contract look a whole lot better over the Cup-winning 2022-23 season. After posting 53 points in the regular season, his most productive campaign since 2018-19, the 30-year-old stepped up in the playoffs with 11 goals — 10 of which came at even strength — and 17 points.
Not including the injured Cam Atkinson and his $5.875 million LTIR-bound cap hit, there are 11 forwards set to make between $5.8 and $6 million this year. On average, those players recorded 52.8 points last season. Granted, this is a very rough exercise that doesn't take into account age, injury or any extenuating factors, but it's nonetheless interesting to see Karlsson's production amount to almost exactly the average of those in his salary range.
Shea Theodore – $5.2 Million Cap Hit
My aforementioned contract value rankings identified Shea Theodore as the organization's top value contract. Now 28 and heading into his seventh season in Vegas, the blueliner hasn't broken out as a Norris Trophy candidate as hoped, but he remains a top-pairing mainstay who continues to deliver consistent offense while logging well over 20 minutes per night.
---
Latest News & Highlights
---
In today's NHL, that back end reliability carries plenty of value, certainly more than the $5.2 million he's owed over each of the next two seasons. In a broader context, eight defensemen will earn between $5 and $5.5 million this year and only Carolina's Jaccob Slavin, widely considered as having one of the league's best contracts, earns more ice time. None of the other seven can even approach Theodore's 93 points over the past two seasons. In other words, it still holds up.
Adin Hill – $4.9 Million Cap Hit
It's a bit of a misnomer to suggest that Adin Hill's new two-year, $9.8 million contract will only be proven worthwhile if he can regain the postseason form that saw the goaltender go 11-4 with a .932 save percentage (SV%) and 2.17 goals against average (GAA) as an unlikely Cup hero. That would obviously be great, but value can be found in his $4.9 million cap hit with even a step down in production between the pipes.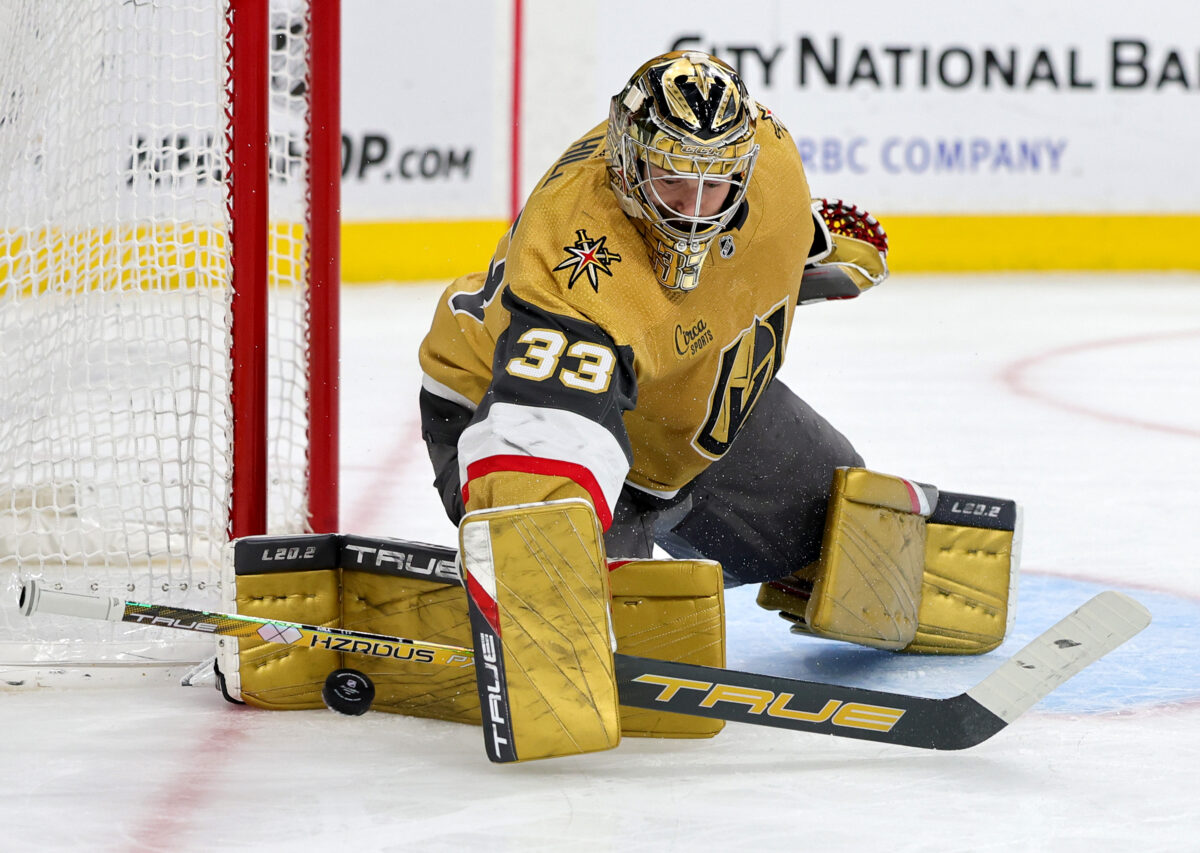 By simply looking at Hill's regular-season numbers (16-7-1, .915 SV%, 2.45 GAA), the 27-year-old compares favorably to the class of similarly priced goalies around him. Among a group of netminders in the $4.5-$5 million cap range (one that includes Robin Lehner), Hill ranked third in SV% and second in GAA. Beyond an incredible campaign by Vezina winner Linus Ullmark, his stats were similar to Juuse Saros and well ahead of other contemporaries in the tax bracket he just joined.
If contract steals can't be planned (apart from fluking into landing a Connor Bedard on a rookie-scale deal), then finding fair value is the next best thing. It's a credit to the Golden Knights' management that the club boasts such a strong track record of identifying the right players and achieving reasonable value in long-term contracts. Not only did that help deliver a Cup, but it has the organization positioned nicely to defend it, too.
---
---