The Winnipeg Jets are set to begin training camp in just over a week, with plenty of question marks surrounding the roster's makeup. The second-line centre role is up in the air, the defensive core remains the same, and after a summer full of speculation, Mark Scheifele and Connor Hellebuyck are set to enter camp as members of the organization.
The main core remains the same. The Pierre-Luc Dubois trade, and the assets that returned, will give head coach Rick Bowness a new look heading into 2023-24, and could make the Jets a more well-rounded group up front. Despite the new faces, the team's success this season lies squarely on the shoulders of their man core, and those names present themselves throughout our predictions for the 2023-24 team awards.
Most Valuable Player: Josh Morrissey
If there was ever a clear-cut Most Valuable Player (MVP) for the Jets' 2022-23 season, Josh Morrissey would have won it with ease, which makes this a fairly boring pick. Morrissey enjoyed an incredible campaign as he scored 76 points in 78 games, finishing second in points for a defenceman and top-five in Norris Trophy voting.
Morrissey's previous career high was 37 points, which he posted in 2021-22. This makes him a prime regression candidate heading into this year, but even a slight regression from a top-five defender in the league should see him finish as the team's MVP.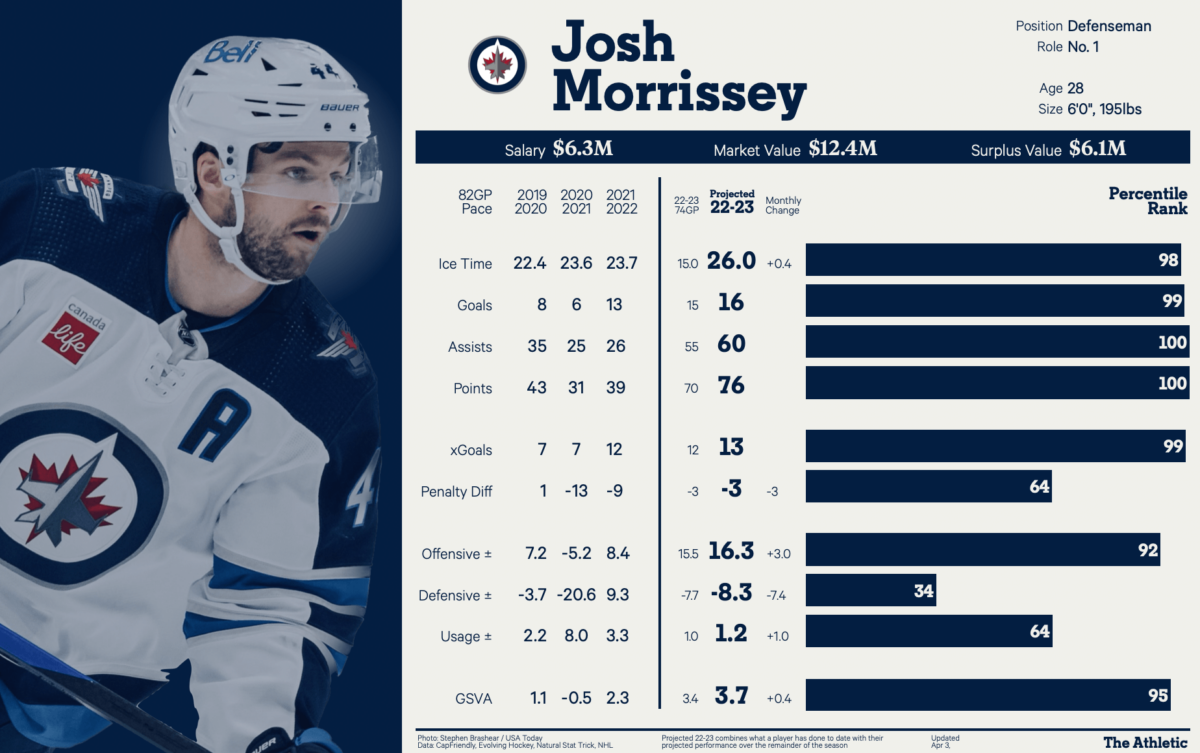 His player card from The Athletic has him posting $6.1 million in surplus contract value, which gives him one of the best contracts across the entire NHL. There has been plenty of chatter about who the next captain of the franchise will be, and given Morrissey's age and on-ice dominance, he would be a slam-dunk selection.
Bowness did not shy away from playing Morrissey big minutes last season, and the expectation is that he will continue to lean on his top defenceman. Morrissey finished 13th among all skaters in even-strength time-on-ice (TOI) last season, and combining that with premium power-play minutes will see him repeat among the league leaders in TOI.
Most Improved Player: Cole Perfetti
It feels as though the potential for a breakout season from Cole Perfetti has been written a handful of times, but he is an obvious choice for the Most Improved Player award. This is not an official NHL award, but year after year there are major breakouts across the NHL that cannot go unnoticed.
Related: Winnipeg Jets Fans' Expectations for 2023-24 Season
---
Latest News & Highlights
---
According to Natural Stat Trick, Perfetti posted rates above 50 percent in shot-share analytics such as expected goals percentage, Corsi percentage, and high-danger chance percentage. He has a play style that meshes well with his linemates and makes him a prime candidate to retain top-six minutes.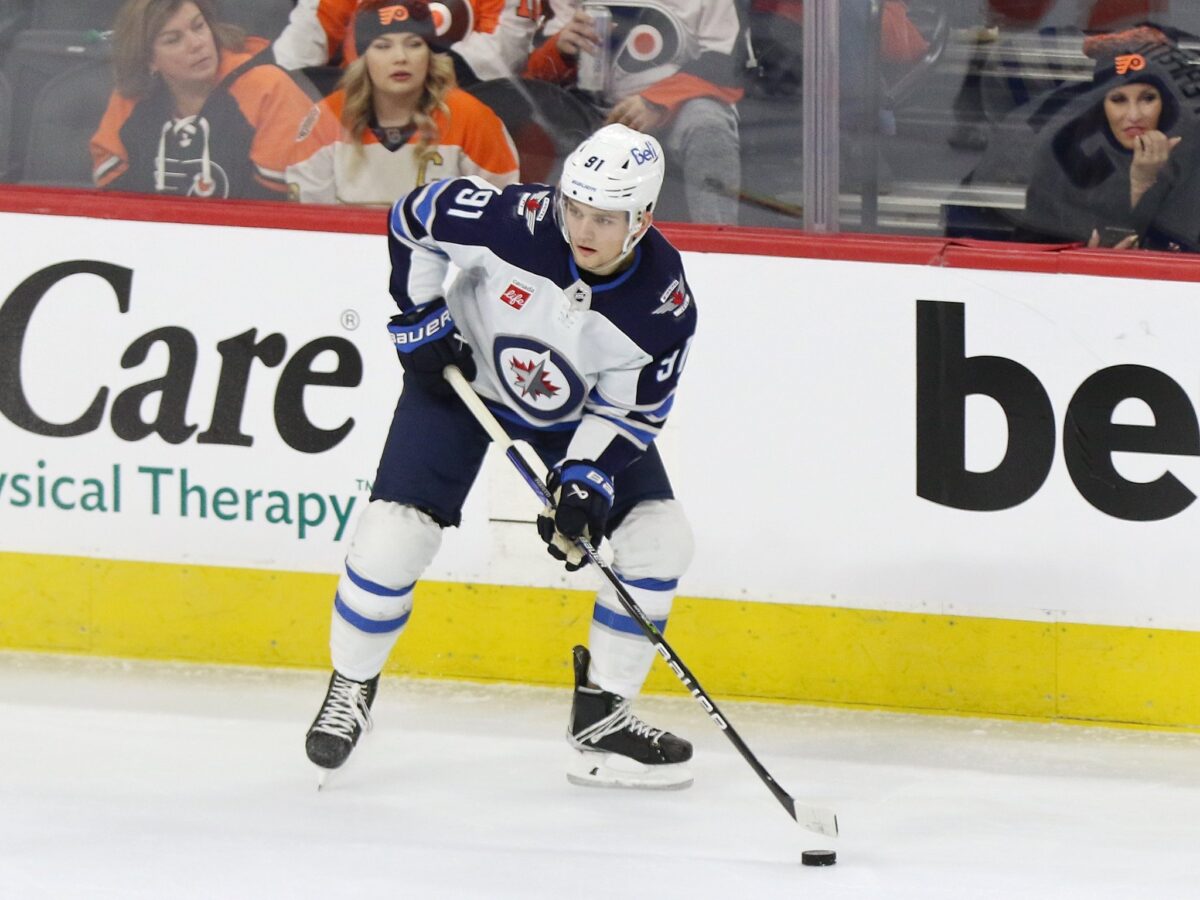 He is a gifted passer who posted 22 assists in 51 games last season in a top-six role. As previously mentioned, the Jets have a glaring hole at second-line centre, and Perfetti could be the name to fill that role. He was originally drafted as a centre but has only played wing at the NHL level to this point. Now with two major injuries derailing his development, maybe moving him to the middle, a spot where he is theoretically more comfortable, may keep him healthy for a full season.
Maurice "Rocket" Richard & Art Ross: Kyle Connor
Kyle Connor won the Jets' Art Ross Trophy last season as he led the team with 80 points, but fell 11 goals short of the team's Maurice Rocket Richard Trophy as Scheifele finished with a career-high 42 goals. Simply put, Connor is due for some positive shooting regression (or luck) in 2023-24. His career shooting percentage (S%) is 14.5 percent, and last season when he scored only 31 goals, his S% was 11.4 percent. He has been around 15 percent his entire career and he should see that number climb back up to his regular levels this season.
Scheifele could repeat with the most goals, but he saw the opposite fortunes that Connor did. He enjoyed a career high in S% at 20.4 percent when his career average is 16.8 percent. Both of these snipers could repeat what they did in 2022-23, but the positive and negative regression is likely to strike.
Biggest Surprise: Gabriel Vilardi
The main piece that the Jets got in return for Dubois was Gabriel Vilardi, and he is primed to take another step forward from his breakout season in 2022-23. He finished last season with 23 goals, 18 assists, and 41 points in 63 games and played a prominent role in the Los Angeles Kings' lineup.
His analytics were even more impressive, as Natural Stat Trick had his expected goals percentage at 57.58 percent, his Corsi percentage at 53.71, and his high-danger chance percentage at 58.01 percent. Those are incredible numbers, and they could climb even further with a bigger role with the Jets.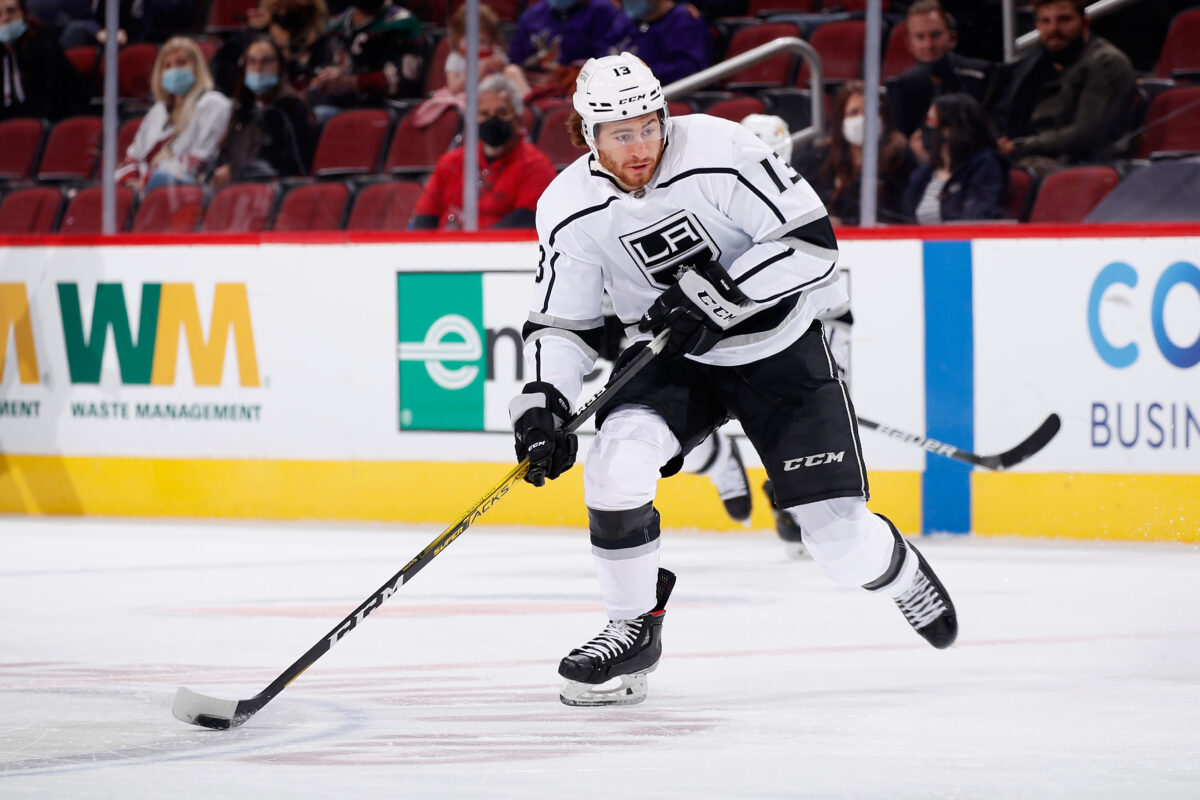 Training camp will be our first look at potential linemates for Vilardi, as the previously mentioned Perfetti has a skill set that would complement the former King well. Perfetti's vision and passing ability could be a major boost for Vilardi, who finds space well and has a lethal shot. If the 24-year-old centre gets significant playing time both at even strength and on the power play, he could surprise not only the local fans but the national media as well.
Rookie of the Year: Chaz Lucius
This is admittedly a long shot given the fact that outside of injury, the Jets' rookies could remain in the American Hockey League (AHL) for the entirety of the season. However, injuries are inevitable, as we saw last season with Nikolaj Ehlers and Perfetti missing significant time throughout the regular season.
By posting 15 points in 6 Western Hockey League (WHL) games, and showcasing his talents on the national stage at the World Junior Championships, Lucius projects as the most NHL-ready prospect of the recent first-round selections.
He outperformed fellow first-round prospect Brad Lambert in their limited AHL games last season and is the oldest prospect of the group. He could be the first call-up within the organization, and it could even be a performance-based call-up if the Jets struggle offensively out of the gate.
Training camp will answer a handful of these questions, but some of them won't be answered until deep into the season. However, look for a potential regression for Morrissey and Scheifele, and a potential return to 35 or more goals from Connor. The Jets begin practicing in two weeks, and plenty of storylines will be needing answers, such as the status of the Scheifele and Hellebuyck contract negotiations.
---

---