In today's NHL, negotiating team-friendly contracts is one of the toughest areas to navigate for a general manager. Some teams like the New York Rangers and Colorado Avalanche have maneuvered through those waters successfully, and have begun to build a deep roster of talented young players. Others, like the Edmonton Oilers and Toronto Maple Leafs, are suffering with little cap space to address glaring areas of concern.
When it comes to the Carolina Hurricanes, they sit in about the middle of that pack. In the past few years, they've grown from a young team with a smaller payroll, to now a true Stanley Cup contender. But with that success, the Hurricanes are also seeing their cap space gradually dwindle.
With Andrei Svechnikov and Dougie Hamilton entering the final year of their contracts, managing salary cap space is more important now than ever. That's why they can count themselves lucky that the three best contracts for the Hurricanes are all linked to players of great value.
Brett Pesce
The spotlight has finally found Jaccob Slavin and the NHL has come to truly appreciate his defensive acumen, but it also seems Pesce is beginning to turn some heads as well. And with the number of recent trade rumors that have included Pesce as a potential target, it's clear other teams recognize his value.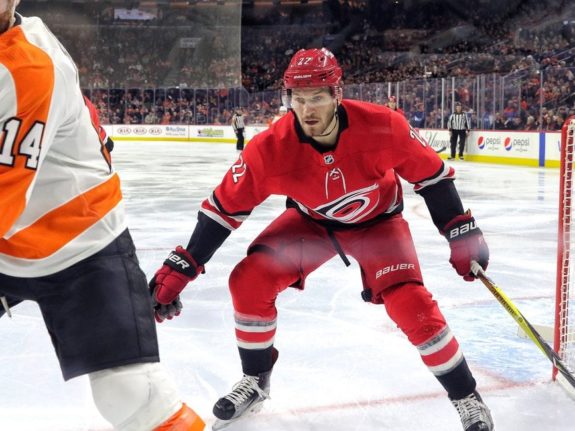 Pesce is a five-year veteran with the Hurricanes, having been drafted by Carolina 66th-overall in 2013. The 26-year-old blueliner is signed at a palatable cap hit of $4.025-million for the next four seasons.
Pesce has clocked the third-highest ice team and has finished top-three in blocked shots each of the past three seasons. He's also finished in the top three of the Hurricanes' best shot blockers over the last four years.
He mostly makes his living as a stay-at-home defenseman who's tough on pucks and along the boards, but his offensive output is underrated. In 350 NHL games, Pesce has recorded 102 points – all with virtually no power-play time.
For a No. 3 defenseman with a right-handed shot, good puck-moving ability and dynamite on the penalty kill, Pesce's contract comes at a bargain, especially when you realize the Hurricanes will have him on their blue line for the next four seasons. However, it's also that affordability that makes him such a coveted trade target for cap-tight teams seeking their own upgrade on defense.
Teuvo Teravainen
The Hurricanes had a few candidates for who their most valuable player was last season, and Teravainen was one of them. While Sebastian Aho is undoubtedly the Hurricanes' most gifted offensive player, Teravainen is one of the only guys on the team who can keep stride with him.
It took some time for the former 18th-overall pick to evolve into the creative playmaker he is today. When he signed his five-year, $27-million contract with the Hurricanes in January of 2019, he was in the midst of a career season. Since securing that deal, he's only gotten better.
In 150 games over his last two seasons, Teravainen has pocketed 139 points, which places him 27th in the league. Beyond that, the Finnish winger is a huge catalyst on the power play and logs crucial ice time on the penalty kill as well. In late-game situations, you can often find Teravainen on the ice to defend leads, or to score the tying goal. He's used in all situations by head coach Rod Brind'Amour, and he does all that at a cap hit of $5.4-million.
He's in the midst of his prime and he's still signed for four more years. Teravainen is clearly one of the most valuable players on the Hurricanes' roster, and if he could negotiate a new contract today, he could command upwards of $8-million. He's the only player on this list to be signed by the current GM Don Waddell.
Jaccob Slavin
Term has become a major theme of the Hurricanes' best contracts, and Slavin takes the No. 1 spot both because of his value and term. With five seasons remaining at a cap hit of $5.3 million, Slavin's contract is an absolute steal for the Hurricanes and a huge reason why they've been able to build such an impenetrable wall on defense.
The 6-foot-3, 207-pound blueliner is elite defensively, and a nearly guaranteed bet to net you 30-to-40 points a year. He's also half of what's become one of the NHL's best defensive duos with the offensive powerhouse Hamilton.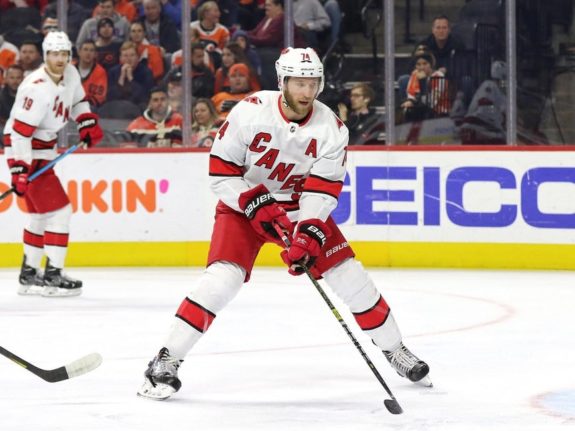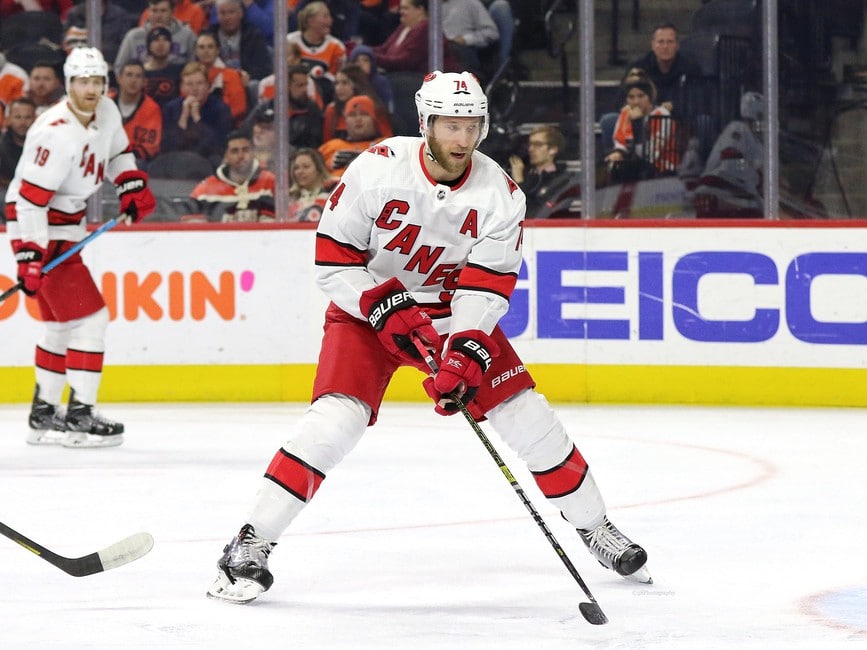 Whereas Pesce could theoretically be a trade chip for GM Waddell, Slavin should be untouchable and remain a Hurricane at least until his contract expires in 2025-26. The 26-year-old Slavin is by far one of the most affordable No. 1 defenseman in the entire league, and his contract will only allow the Hurricanes to further insulate him with enough support to win a championship.
Two New Challengers Approach
The final two pieces of the Hurricanes' core are Hamilton and Russian sniper Svechnikov, and both are in need of new contracts soon.
Waddell has recently stated the importance of getting a Hamilton deal done soon, as he'll be an unrestricted free agent at the end of next season. With the upcoming salary cap expected to be stagnant, and Hamilton seeking a big raise, it could be difficult to get a deal done.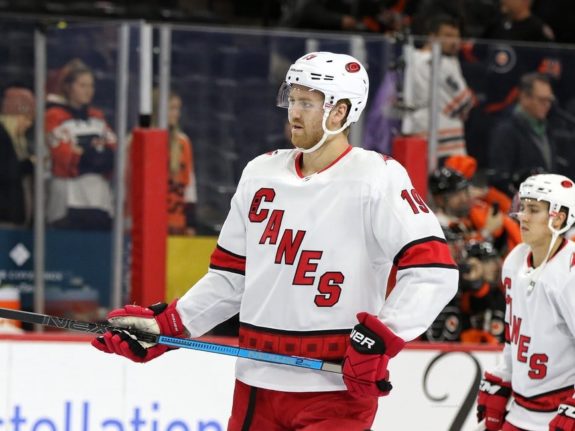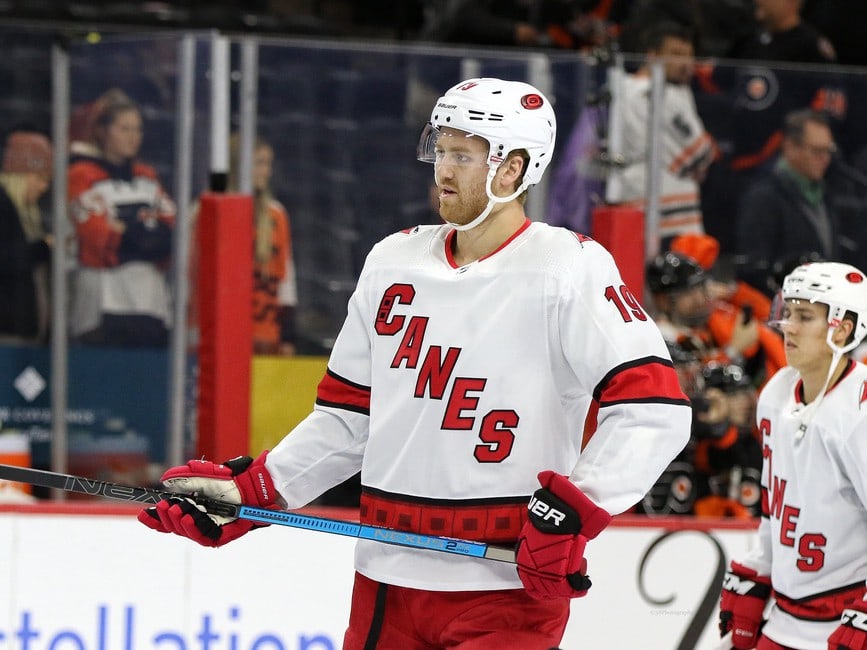 In saying that, Hamilton has already been traded twice in his young career, and he's fit in exceptionally well in North Carolina. A long-term contract could still be on the table for the Toronto-born defenseman.
As for Svechnikov, he's approaching the final year of his entry-level deal with the Hurricanes. He's poised to have another big breakout year, so Waddell will once again be looking to secure his young superstar early. While Hamilton may seek long-term security, Svechnikov could likely be more open to a bridge deal, as the coronavirus pandemic continues to complicate the financial state of the league.
If Waddell is able to weave some magic, he could land Hamilton or Svechnikov on a good-value contract, but it will certainly be difficult to beat the bargains the Hurricanes have with Pesce, Teravainen and Slavin.
---
---