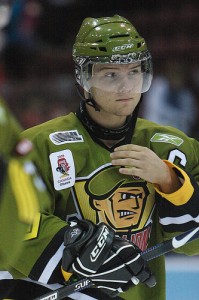 There were plenty of heroes in Wednesday's win by the Buffalo Sabres in their 2-0 win over the Anaheim Ducks. Ryan Miller in particular had a sparkling display with 43 saves and a shutout keeping the game in hand for the Sabres the entire time. Christian Ehrhoff's goal was skillful, and Derek Roy's had grit to it as well. One name you won't be seeing get into the top three stars for that game was new addition Cody Hodgson, but he had a fine display in his first game in Buffalo.
The Sabres traded for former Canuck Hodgson to add some new flair and some goal scoring ability to the squad, and he brought both of them to the ice last night. His passing was crisp, his defending as a forward wasn't bad and even his occasional forechecking looked pretty good. Oh yeah, and he almost scored several times; the man who was brought in to essentially replace Paul Gaustad replaced him wonderfully.
On the stat sheet, he was +1 — Gaustad on the season was -1 so far and Hodgson is a +9, though that could be in part because he played on the top class Canucks — and put four shots on goal, a few of them requiring super saves from Hiller to keep out. We knew he had more goalscoring ability than Gaustad does but he looked like a threat to score every time he had the puck near the net. That's not something we've seen much from this Sabres team, who up until this point only had four players with more than 30 points all year.
Cody Hodgson isn't the type of player who will be able to take the Sabres singlehandedly to the playoff this season, but he wasn't brought in for that purpose. He will be able to help out the Sabres on their quest to get there though, and at this point with the Sabres in 12th in the East, any little bit will help.