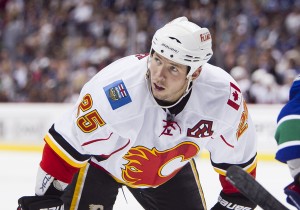 The Calgary Flames open up the month of March with a mini road trip on back-to-back nights. First up tonight it will be the Phoenix Coyotes, followed by the Anaheim Ducks on Friday.
These are important games. Yes, that gets said a whole lot this time of year, but it's pretty obvious when you're talking about a Flames team that went winless, (0-2-2), in their previous four games, all at home.
I'm not sure if it's the calendar turning to March, or that the Flames' winless skid put them 11th, but these games feel pretty big. The two teams in 8th and 9th, Dallas and Colorado, are winning games at a regular rate. Being four points back is one thing, but the Flames also need to make up regulation wins on their Western Conference rivals. Through 64 games, Dallas has 29, compared to 26 for Colorado. The Flames have 25 regulation wins, although they do have a game at hand. (Can we ignore LA and assume they'll keep losing?) It goes without saying that those regulation wins would make a difference should we encounter a point total tie at the end of the season.
Facing the Coyotes, a team who didn't lose in regulation in the month of February, the Flames will need some big efforts from their top two lines. It needs to be an Iggy-show, Cammie-show, Olli, Glennie, a whoever-show, it doesn't matter. NOT a Kipper-show. In the words of a famous but not-well-known Flames analyst, (my brother), "if it wasn't for Kipper doing the scorpion every other night, the Flames would be 12th", at the time the team was 9th, now even with Miikka's superb goaltending, they're almost in that quoted spot.
If the Flames do manage a win, it'll be short-lived and a short victory flight to Anaheim to face the Ducks less than 24 hours later. This is a building that has confounded every edition of the Calgary Flames since their last win at the Honda Center on January 19, 2004. Most people would tell you that there's no particular reason for this and I'd have to agree. It's just a date. The only people talking about it will be those sitting or watching from the other side of the plexiglass. However, against a somewhat surging Ducks team the Flames will have to be good. As Brent Sutter commented after the team's full practice on Wednesday, "a big part of the game is about emotion, we need to have that, I was us to have that." Certainly, to overcome those tired game legs, it'll be all about emotion in California on Friday.
It's a critical potential four points for the Flames because it doesn't get any easier from here. Example? On Sunday they'll be back in the 'Dome for another pretty important game. An afternoon tilt with none other than the Dallas Stars. Depending on the next 48 hours, it could be a battle for 8th, or not.
Callum Ng covers the Calgary Flames for The Hockey Writers, follow him on Twitter: @CallumNg for more Flames banter.