We all know the old saying, "If you are good at something, never do it for free!" I'd like to add on the fact that if you make a career out of it, you should do it for as long as you're able to. 31-year-old center Colin Wilson officially retired from the National Hockey League on Jan. 5, 2021, before the start of the current NHL season. (from 'Colin Wilson retires from NHL after 11 seasons,' The Guardian, 01/05/2021)
Let's take a look at his lengthy career which spanned 11 seasons as long-time Nashville Predator turned Colorado Avalanche and all that he accomplished.
Before the Big League
Wilson was already an accomplished player before lacing up for a single game in the NHL. His talents and tough nose style of play showed through during two seasons with the U.S. National Team Development Program. It was immediately followed by two explosive years at Boston University where he recorded 90 points in 80 games.
He was named to the 2009 Frozen Four All-Tournament Team while also being anointed the 2008-09 USA Hockey College Player of the Year for his outstanding play securing a national championship win with the Terriers.
Starting in Nashville
The Greenwich, Connecticut product who was raised in Winnipeg, Manitoba, was selected by Nashville with the No. 7 overall pick in the 2008 NHL Draft. He followed the footsteps of his father Carey, and grandfather, Jerry, making him a third-generation NHL player.
Wilson made his NHL debut during a tilt versus the Edmonton Oilers on Oct. 12, 2009. Although he was held pointless in his first couple of games in the league, he scored his first goal on Oct. 21 at Boston. He finished the campaign with 8 goals and 15 helpers after 35 games played.
The Predators were playoff bound that year as they finished with 100 points which were good for third in the Central Division. Wilson got to witness first-hand the uber-competitive landscape of the NHL playoffs. Nashville was against the first ranked team in their division that season, the Chicago Blackhawks. Chicago won four of the six games during that year's regular-season series, and also came out on top after clinching the series 4-2.
Wilson participated in all six postseason games and finished with only one assist to show for it. However, he would go on to be quite the consistent point-getter for years to come. He was more than ready to remedy the lack of point production during the 2010-11 campaign, his first full NHL season. After playing in all 82 games, he racked up 16 goals and 18 assists which were good for 34 points.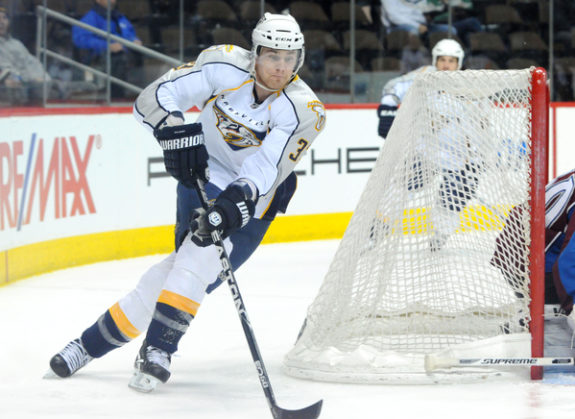 He continued to be a reliable contributor the following season as he finished with 15 goals and 35 points. He tied for second on the team in game-winning goals with five, which helped the Predators qualify for the playoffs for the third straight season. Wilson was off to a hot start during the lockout-shortened 2012-13 season when he scored 19 points in 25 games before shoulder surgery ended his season.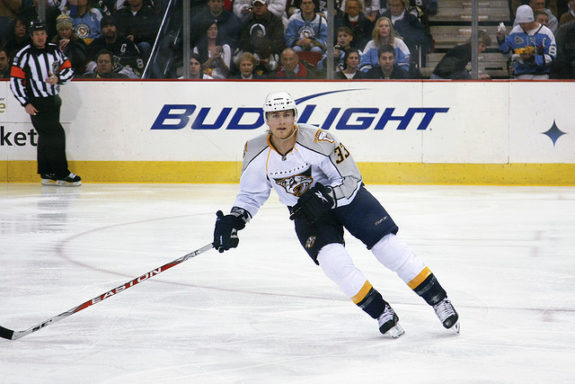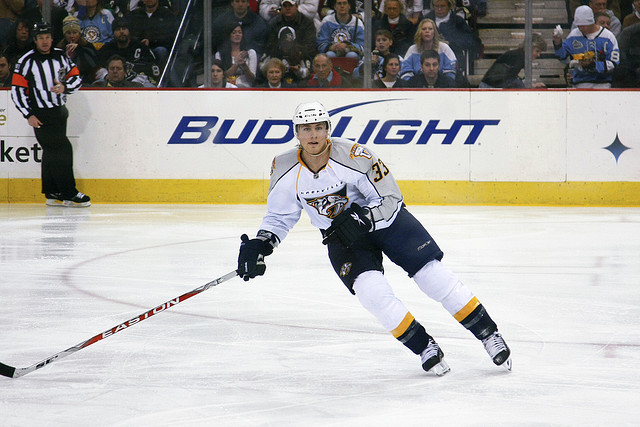 He continued to stay in the 30-point ballpark as he finished the 2013-14 season with 33 points in 81 games. During the 2014-15 season Wilson reached his career-high in goals with 20, and 42 points in just his sixth season in Nashville. He finished third on the team with five game-winning goals that season. The Predators once again appeared in the postseason after a two-season hiatus.
Related: Avalanche Need More Consistent Goaltending for Deep Playoff Run
Wilson, already being an established reliable contributor on the team, recorded a career-best 23 assist in the 2016-17 regular season. He carried that momentum into the playoffs as he played an important role for the squad during Nashville's 2017 Stanley Cup Final appearance versus the Pittsburgh Penguins. He led the Predators in points with 13 and was tied for first in the assists column with 8 in just over 14 games. During those playoff games, he tied a franchise record with his seven-game point streak. Despite his heroics, the Predators lost to the Penguins in six games.
Wilson was relied upon as a lineup regular in Nashville throughout his eight seasons. He tallied 502 games played which was good for the second-most on the team and third-most playoff games with 47 from 2009-10 through to 2016-17. During that time he recorded the third-most assists with 142 helpers, was tied for third in points, at 237, and hammered home the fifth-most power-play goals with 22, while also boasting the second-most game-winning goals with 19. He remains tied for 11th in franchise history among all skaters in games played.
Heading to Colorado
Wilson was traded to Colorado on July 1, 2017. Avalanche fans were excited to see what he could bring to the table for the team considering his performance during the playoffs the season prior. However, injuries plagued the rest of his career forcing him to only play 130 games in three seasons with Colorado. In his first season with the Avs, his point total dipped to 18 points in 56 games, which was the third-lowest total in his career since entering the league at that time. Not since the lockout-shortened 2012-13 NHL season did he finish below 20 points in a season, where he only played 25 games and ended with 19 points.
Related: Joe Sakic's Offseason Moves Set Avalanche Up For 2020-21 Success
The 2018-19 NHL regular season and playoffs saw Wilson return to form as he finished with 12 goals and 15 assists for a total of 27 points through 65 games of action. The Avalanche were on the verge of a Western Conference Final appearance, however, the Sharks had other plans for the Avs and won the series in seven games. Wilson finished with four goals and four assists over 12 games.
This past season, Wilson's health relegated him to play in only nine games with Colorado before undergoing double hip surgery, which would ultimately end his career.
Celebrated Accomplishments Along the Way
Wilson retires with netting 113 goals and 173 assists which is good for 286 points in 632 regular-season games in Nashville and Colorado. In the postseason he posted 17 goals and 16 assists for a total of 33 points through 65 playoff games.
"At this time, I am left to reflect on the 8-year-old kid from Winnipeg who couldn't be dragged off a pond or outdoor rink. I can only imagine his excitement in learning of his career he would have in the NHL," he said Tuesday in a statement issued by the NHL Players' Association. "I would like to thank the game of hockey for the incredible experiences and amazing people I was exposed to along my path. It is very bittersweet to retire as I leave my childhood passion behind but look forward to what comes next."

Colin Wilson said on Jan. 5 in a statement issued by the NHL Players' Association
Related: Avalanche Face New Threats in 2020-21 Division Realignment
Despite not bringing the Stanley Cup home to Winnipeg, he still got his chance to play his heart out multiple times during the playoffs and shine on the biggest stage in the NHL during the 2017 Stanley Cup Final with the Predators. He eclipsed the 30-point mark five times in his career. During his time in Nashville, he was actively involved in the NHLPA and served as a Player Representative for three years.
---
---