A new era has dawned with the Colorado Avalanche. Today the players took the ice with their new head coach, Patrick Roy, for the first time. Players were greeted with cheers from fans who braved the horrible weather in Denver this morning to see their favorite players and their brand new coach, and nobody was disappointed.
New Coaching Environment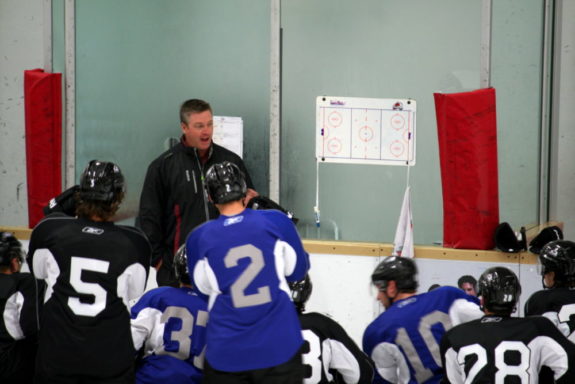 I brought this up in both my rookie camp articles from early this week, but today was the first day that Roy was actually out on the ice with the other players and, my goodness, what a difference. The most notable difference fans saw, and remarked on constantly during camp today, was how engaged and involved Roy is with the players while they are running drills. Skating alongside them as they pass, yelling what he wants them to be focusing on as they go by. Multiple times he was heard yelling at players to keep their heads up as they skated through the neutral zone. Other times moving players into position while the drill was running. When something happened that required Roy to address everybody, the drill was stopped and he brought all the players around him to discuss it and address it.
The other amazing thing that Avalanche fans have not seen in years is the presence of goalie coaches. As Roy was running practice with the players, Francois Allaire would pull aside the goalies and start working with them on various techniques. This is so important in the development of the several young goalies that are a part of the Avalanche system that has been ignored for far too long. To see this being addressed is incredibly encouraging.
Coaching can not possibly be more different now than it was a season ago. Rather than drifting around and allowing the assistants to do all the actual coaching, the head coach is the most involved person on the ice. It seems like something that most coaches would just naturally do, but this is exactly what was missing from the previous coaching staff. What an encouraging start from the coaches.
Impressions From the Day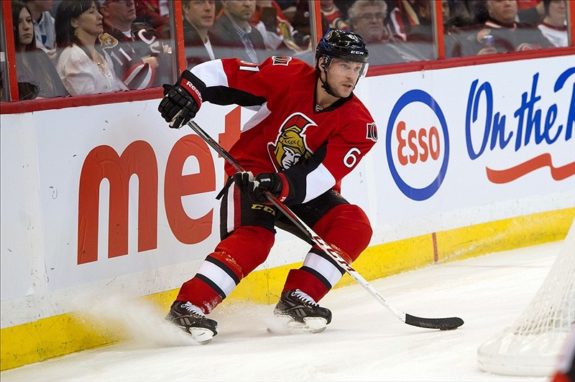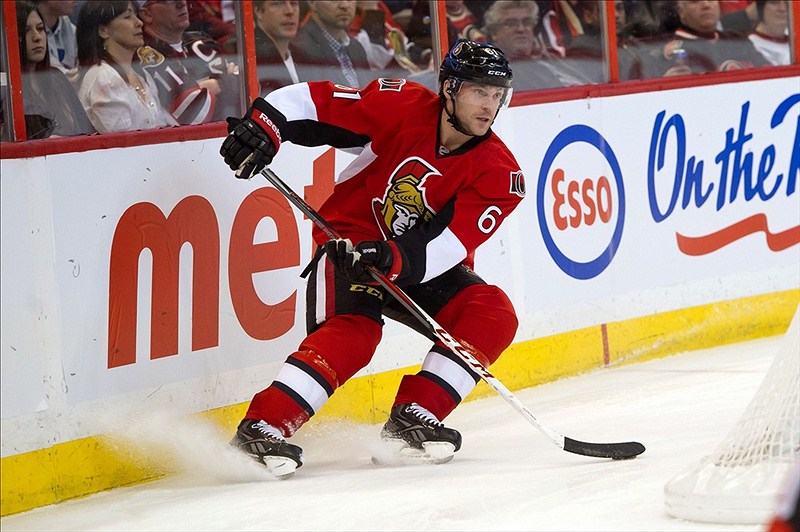 The day started off with several drills, many of which focused on defensive positioning and responsibility. Roy obviously is well aware that the defense's frequent lapses in their own zone was a huge reason why the Avalanche finished where they did in the standings a season ago. Roy had drills featuring 1-on-1 battles, 3-on-2 in front of the net and 3-on-3 in the defensive zone. In addition to proper positioning, Roy frequently encouraged all the defensemen to make certain to give some kind of physical contact with their opposing forwards. If nothing else, this at least reminds the forwards that the ice covered will always be contested, something that was not always true a season ago.
New Avalanche defenseman, Andre Benoit, played all of the drills very well. His positioning and stick play was very solid throughout, and he seems to have a solid understanding of his defensive responsibilities. The player who had the worst time with these drills was Matt Hunwick. During his first time in the 3-on-2 drills, he constantly heard from Roy and the other coaches for being out of position or getting beat too easily. Earlier in the day he was beaten badly by Jamie McGinn in a 1-on-1 situation.
One of the strongest impressions that I have gotten from this coaching staff is that there is going to be a large emphasis placed on proper execution and that they are not going to settle for anything less than the best. Ever since the start of rookie camp, when things weren't done right by a certain player or group they were immediately expected to go back and do it again until they got it right. A wise gentleman that I used to teach with used to tell our students that the old adage "Practice makes perfect" should be changed. Instead, it should be "Practice makes permanent" because you will perform the way you practice. I believe this extra focus on doing things right in practice will translate to game situations.
Players Who Stood Out Positively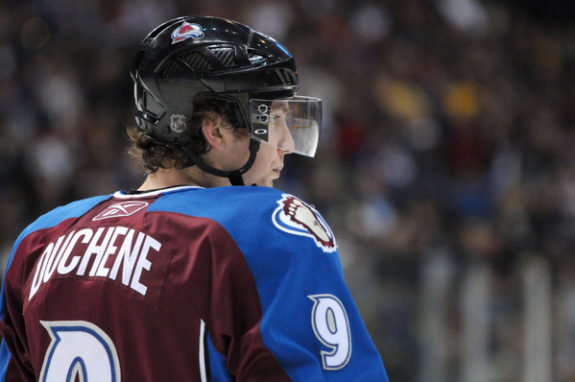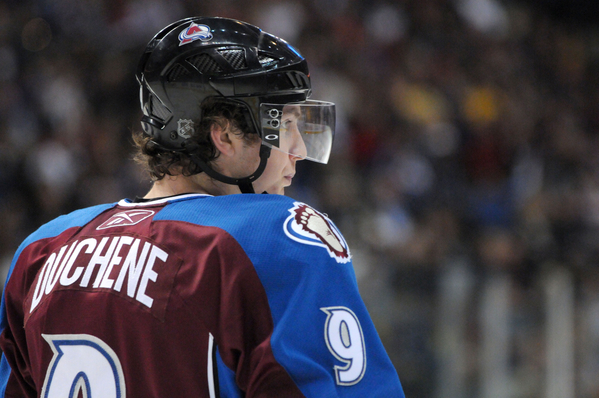 Matt Duchene was the best player on the ice during the scrimmages that took place today. He only ended up with one goal, but he was absolutely electric while on the ice. He also has a great natural chemistry with new line-mate, Ryan O'Reilly. He only ended up with one goal today, but he was all over the place. He looks every bit as strong and fast as he did a season ago when he had the fantastic year that earned him a contract extension. Look for Duchene to have another strong season.
Duncan Siemens looks ready. One of the biggest questions that Avalanche fans had coming into this training camp was where Siemens stood in his progression. A couple things in specific really made him stand out to me today. First, every single person that came near Siemens today was given some kind of shot. A little slash with the stick, a shove in the chest, a rough ride to the boards or whatever else. He is the type of defender that makes things just that much more difficult for his opponents because he is so physical. Second, multiple times he found himself being chased by Ryan O'Reilly, perhaps the best defensive forward on the Avalanche, and each time he stayed calm and made all the right choices. He didn't panic, never reacted too fast, he was collected and managed to put himself in the position to get the puck out of danger. Third, he went head to head with Duchene and his line for the majority of the second scrimmage and was equal to the challenge. Several times he was one on one with Duchene and never gave Duchene anything. If he can stick with Matt Duchene, he can stick with most anybody.
Garrett Meurs is fearless. Meurs is all of 5'11" and 169 pounds, but don't tell him that. He just goes flashing into the dirty areas of the ice and absolutely battles every single second that he is on the ice. He gets knocked down a lot, as you might expect from a guy that is a good 30 pounds less than most of the other players on the ice, but he pops right back up every single time. He is the type of player that will drive opponents absolutely insane because you just can't get rid of him without doing something that will cause you to take a penalty. Very impressed with this kid.
Mason Geertsen was another player that had a solid day. After struggling a bit at Tuesday's rookie camp, he looked very solid today. He opened the scoring with the first goal of training camp and really used his size well today. He was out of position a couple of times, but nothing glaring that would cause one to ask what the heck he was thinking. He also traded some slashes with Duncan Siemens early in the scrimmages, he's not afraid of anybody out there, and why should he be? He's huge! He's going to be a player Avalanche fans will want to watch develop.
Other players that stood out for all the right reasons were Markus Lauridsen, Karl Stollery, Mitchell Heard, Paul Stastny, Chris Bigras and Stefan Elliott.
Players Who Struggled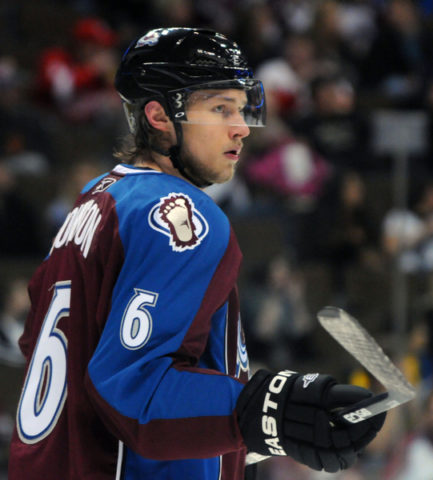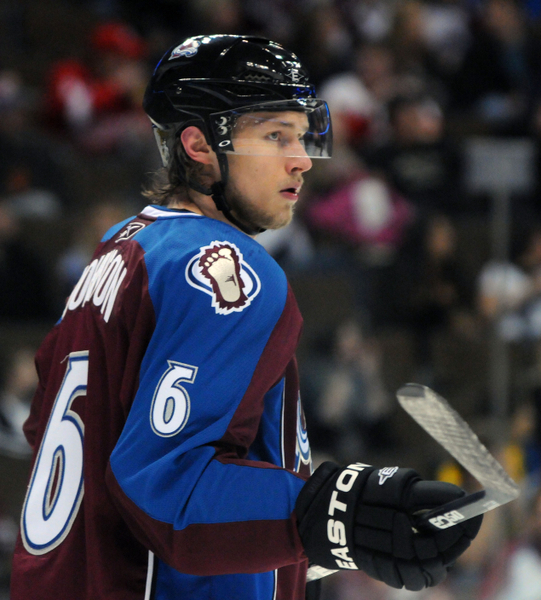 Unfortunately, Erik Johnson did not have a good start to camp today. Early on it looked like he was fighting off some rust and made a few pretty bad passes that turned into turnovers. He picked it up a little bit but nearly hurt himself and Alex Tanguay a bit later when he tried to go for a big hit that ended up as a knee-on-knee collision. Everybody held their breath for a bit, but both Johnson and Tanguay were fine. Johnson will need to pick things up moving forward.
Matt Hunwick was just plain bad today. I mentioned above about his struggles with the defensive positioning drill, something he has struggled with in general since arriving in Colorado. He also took a few penalties in scrimmages and just looks not that great at the start of camp. If he keeps this play up, he might not make the team.
Mikael Tam had an incredibly physical rookie camp, and that didn't stop today at training camp. Normally this wouldn't be considered a bad thing, but he needs to cool his jets a bit. Obviously young players like to try and make an impression and show the coaches what they can do at training camp, but the impression that Tam is currently sending is that he'll run all of the players above him on the depth chart in order to make the team. He's the one that sent Mitchell Heard crashing into Sami Aittokallio on Monday, and he boarded Matt Duchene dangerously today. Coaches need to get in his ear and tell him to find the edge, because right now he's way over it.
Other players who had a rough time today were Kieran Millan, Michael Sgarbossa and Joseph Blandisi. Nathan MacKinnon did not scrimmage today but was very active in drills. Joey Hishon also remains out with a groin injury.
I'm a Denver native who has been a fan of the Avalanche since they came to town and a fan of the game before that. I started writing my own blog a couple years ago before moving to Bleacher Report and becoming a Featured Columnist there. You can also find me the Burgundy Brigade Podcast