"It feels good," said Hall. "It's a lot different accepting passes in the middle of the ice and not having the boards to my left. But I am excited about it. It's a great time to make that switch, I don't think there's a better time in the year than training camp to get really used to a position that you're not totally comfortable playing." (Oilers.com)
That was Taylor Hall on Thursday at Oilers training camp, as the latest experiment in Edmonton saw Hall playing center in between Ryan Smyth and Ales Hemsky. Possibly the next captain of the storied Oilers, Hall is more accustomed to playing wing, a position he's been at for many years. But with injuries and lack of depth down the middle, the Oilers are forced to put Hall at center. Be sure to pick up some Oilers tickets to see him in action this season.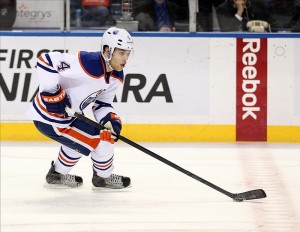 For a team looking to fight for a playoff spot, having one of your best wingers playing a position he isn't comfortable with, and an important one at that, probably isn't the best way to start a season.
The team's usual top center, Ryan Nugent-Hopkins, is sidelined after undergoing shoulder surgery. There's still no timetable for his return. RNH had a disappointing sophomore season, but Oilers brass are hoping that was due to the lingering shoulder issue. Sam Gagner re-signed in the offseason, meaning he'll be up on the first line with Jordan Eberle. After that, however, the middle of ice gets pretty thin in Edmonton, with Boyd Gordon and Anton Lander rounding out the list.
The Oilers currently have the ninth highest cap hit in the NHL, so there is a little wiggle room, but not a ton, especially with Ryan Nugent-Hopkins and Justin Schultz set for restricted free agency in 2014.
Should Oilers fans feel comfortable with their teams' options at center ice?
The free agent market doesn't have any high-end talent available, with guys like Tim Connolly, Kyle Wellwood and Manny Malholtra as the best options. Not exactly names that jump off the page, but they are all veteran guys who can provide a little depth, especially with RNH out of the lineup.
The Taylor Hall experiment may end up paying big dividends. After all, David Perron was brought in via trade, and he would probably take Hall's place as the top line's left winger. The left wing position is definitely the deepest for the Oilers, as Linus Omark could finally have a spot in the NHL, and veteran Ryan Hamilton was signed as well.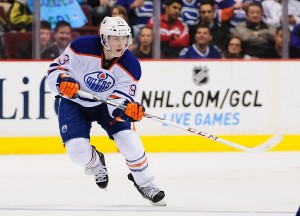 If Hall ends up being effective, he can provide a big boost down the middle. At 6 foot 1, Hall is taller than both Gagner and Gordon, and his tough style of play will help create some space. He played a little center while in Junior, though Jim Matheson of the Edmonton Journal doesn't have his hopes high on this working out.
"Learning on the job as a centre at the NHL level is a very, very tough chore. If the Oilers want Hall, who likes roaring up the wing with the puck, backing checkers off,  to give it a try for the exhibition season because RNH is out, is the experiment worth it? Sure.  He's a very talented, strong kid. Is that enough time to learn the intricacies of the position? No it's not. To be honest, I can't remember how Messier was in the early going as an NHL centre after being a second-line Oilers LW. We're talking almost 30 years ago. I do know how Jamie Benn was in Dallas, though. Every time I saw him, I thought he belonged on the wing. But that's just me." (Edmonton Journal)
The Oilers probably hope Hall will be more like a Messier and less like a Benn. Or maybe they just hope the Oilers can tread water until Nugent-Hopkins comes back. Hall at center may be a rousing success, or an epic fail. Unfortunately, the Oilers simply don't have any other options. And that's the bigger problem.