This year all eyes are going to be fixed on the Colorado Avalanche defense. It's the one thing many people point to as the team's big weakness. The Avalanche made some moves this offseason, but largely the defensive corps remains very similar. Patrick Roy showed last season that he can get the most out of a group of players. But his system this year will come under a lot of scrutiny if it doesn't get results. A lot of people have predicted some form of regression for Colorado, whether it's just dropping back a few spots in the standings or a full on return to the top of the NHL lottery pile. On paper though this defense can be better than last season. It's another year, for some of them, working with Roy's system. Keeping play to the outside and allowing shots from low percentage areas worked last season, party because of Seymon Varlamov's terrific play. Avalanche fans will tell you, that while he was spectacular at times, he didn't need to be any more than average a lot of the time because the defense in front of him was keeping the opposition to the outside.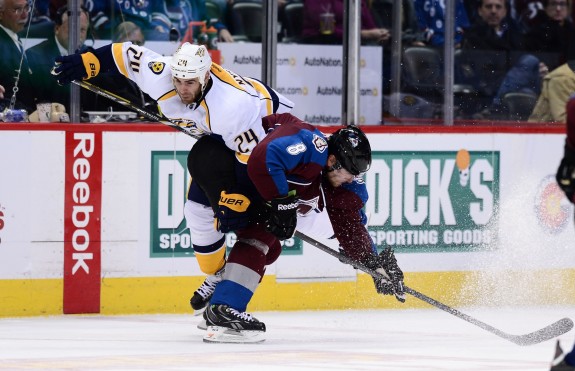 Whatever the case for success last season, Roy will have to ensure his team isn't slaking off in their own end. The Avalanche did not have a good preseason, posting a 1-5-2 record. Though ironically most games the offense was more of the problem. Now that the season is days away the Avalanche have their roster set for opening night (some moves can still be made depending on the health of Jamie McGinn and John Mitchell), the question is now who plays where. Roy has said that he expects to go with eight defenders on the roster. There are some nights that seven could dress for games, but for the most part, eight defenders means two each night sitting in the press box. This is what the preseason is for, competition can be healthy for a team, and the eight defensemen on the roster have been fighting to be in that spot for weeks now. In all honesty some roster spots are really not up for discussion. For those players the preseason is more of a tune up than anything else.  Here is a look at the eight defensemen on the Avalanche roster, and what their outlook is for being in the starting line up in Minnesota come October 9th.
1. Erik Johnson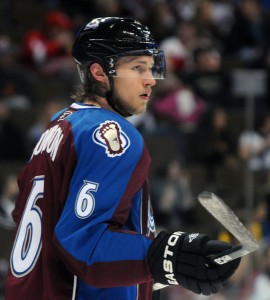 Erik Johnson is Colorado's number one defenseman. Last season he had somewhat of a breakout year. To many Avalanche supporters, Johnson is grossly undervalued across the league. He averaged 23 minutes a game last season and put up 39 points. Some still have him as a number 2 pairing defenseman on most teams. But that's a little unfair considering how well his defensive game has evolved and how much potential he could still tap. He's still only 26, and with Patrick Roy trusting him more, and the confidence from last season he has the ability to take his game to the next level. During the off-season he worked with trainer Andy O'Brien, the same trainer that worked with Matt Duchene. Johnson during the preseason seemed fitter, and faster. If Johnson is indeed quicker on his skates then he has the potential to go from border line top pairing guy, to a legit number one in the NHL. Verdict: He's a 100% lock to start the season on the top pairing.
2. Tyson Barrie
While Johnson, had a nice breakout season, so to speak, Tyson Barrie really exploded onto the scene as a dynamic offensive defenseman. Losing him to injury in game 3 in the series against the Wild was a massive blow to the team. He's able to control the puck exceptionally well, and he has a terrific shot for someone of his size. He averaged around 18 minutes of ice time last season, but that number could have been higher. Last season he had to gain the trust of Patrick Roy. Early in the year he spent time in the AHL, and when he was with the Avalanche early he didn't average as many minutes. But as his play improved so did his ice time. As the season wore on Barrie started getting 20+ minutes a game. This season he should see his time hang around 18-20 minutes a game. His defensive game still needs polishing, but he's easily one of Colorado's most exciting young defensemen. Verdict: Will start the season on the second paring.
3. Jan Hejda
Jan Hejda had a good season for Colorado last year. He was a reliable partner for Johnson for most of the year. He had some injury trouble, but he always had a good veteran presence on the ice. He has a great point shot, and registered 17 points last year. He has slowed over the years, and that lack of speed will probably see him off the top pairing this year. But he's still a smart hockey player. Paring him with one of Colorado's less experienced, and younger defenders could be a mutually beneficial partnership. Verdict: Should start on the second paring, but could be down to the third now and again.
4. Brad Stuart
Avalanche fans were a little surprised when the team made a deal for the aging defenseman, and even more surprised when the team signed him to an extension. It's a risky option for the Avalanche, especially since there were some better(albeit more expensive) options in free agency. But by all accounts, Stuart has impressed in preseason. The last game against the Kings, he was always around to make the right play. His foot speed isn't what it used to be, but much like Hejda he appears to be the kind of player who always knows where to be. As the season goes on it will be interesting to see if Stuart's body will be able to keep up. If not the Avalanche will have to turn to some less experienced options. Verdict: Should start on the top pairing with Johnson, if Roy is to be believed.
5. Nick Holden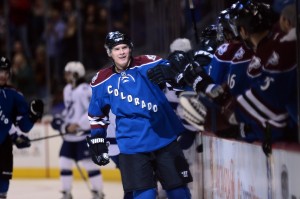 Nick Holden was the surprise pick up last season. He started last year as a healthy scratch, but when he eventually got into the lineup he made it impossible for Roy to take him out. He scored 25 points in only 54 games. His defensive game still needs some work, but he fits Roy's system really well.  He is also a key figure on Colorado's powerplay, as evident by his seven powerplay points. If his skating improves and his defensive game takes as big a step forward as his offensive game last year then the Avalanche could have a undrafted gem. Mike Chambers of the Denver Post recently wrote about how Nick Holden has taken a big step forward in his career. Verdict: Probably should be starting on the third paring, but could be paired with Barrie on the second.
6. Nate Guenin
A surprise inclusion in last year's opening night lineup, Guenin had a decent season in Denver. This season though, during the preseason games he hasn't looked terribly convincing. There have been some bad turnovers in games, and he hasn't contributed much offensively. If he can show he can have a solid defensive game then he could get time in the Avalanche lineup. The one thing he really has going for him is that he understands Roy's system well. If Roy trusts him more than others then he could be a regular bottom pairing guy. Verdict: Based on play should probably start in the press box, but his familiarity could see him as a third paring defender.
7. Zach Redmond
A lot of Winnipeg Jets' fans seemed rather upset to see Redmond sign for Colorado. On the basis of his play in the preseason, he could be the perfect person to slot into one of those bottom pairing rolls. He only played 10 games last season, but he's looked good in the few games he's played in an Avalanche sweater. He has a nice shot and he's moved the puck well. A puck moving defenseman is something Colorado could use more of. The draw back for Redmond though, is that he's a relatively inexperienced player, and he is new to Roy's system. If  Roy doesn't trust him yet he could be scratched until he's more familiar with the team's style of play. Verdict: Impressive in the preseason and good enough to start on the third pairing, but his inexperience could hold him back a little.
8. Ryan Wilson
Ryan Wilson has had a tough few years. Injuries have really kept him back, and he seems to have lost a good bit of speed. He only played 26 games last season. You can tell Roy wants him to succeed, but he's not been able to live up to his early expectations. He hasn't had a very strong preseason either. He can still hit but considering his susceptibility to injuries, this might not be a good thing. He's still young , but not as young as some of the other Avalanche defensemen waiting in the wings. This will be a big year for Wilson, he comes to the end of his contract with the Avalanche at the end of the season. If he wants to make an impression he needs to improve. Verdict: Will probably start the season watching games from the press box.