The Detroit Red Wings trimmed their roster to 26 players on Monday, when they waived Mitch Callahan, Landon Ferraro and Kevin Porter. All of them cleared waivers and will be sent to Grand Rapids.
However, the Red Wings still need to get down to 23 before 5 p.m. Tuesday. Andrej Nestrasil, Xavier Ouellet and Petr Mrazek still remain with the club.
Detroit has to make some moves in the next 24 hours. Here are the most likely scenarios for each player.
Andrej Nestrasil
Nestrasil has been impressive during the preseason. The third-round draft pick in 2009 scored two goals and added two assists in five games this preseason.
Nestrasil came into this offseason needing to make the team or risk facing waivers. He has taken full advantage of his opportunity and will give Mike Babcock and Ken Holland a tough choice.
Luckily for them, they won't have to make that choice until Pavel Datsyuk returns. Datsyuk is on short-term IR right now, and he will not count for the 23-man roster.
Nestrasil split time between the ECHL's Toledo Walleye and the AHL's Grand Rapids Griffins in 2012-13, but really stated to come into his own at the end of last year with the Griffins, where he registered 16 goals and 20 assists in 70 regular-season games and four goals and two assists in 10 playoff games.
I'd rather see Nestrasil on the team over somebody like Luke Glendening. The team has enough centers as it is, and Glendening doesn't do anything that Joakim Andersson or Darren Helm can't do. However, with Glendening getting a contract extension this summer, I have a hard time believing he will be waived to start the season.
The Red Wings could send Tomas Jurco back to Grand Rapids, as he is still exempt from waivers, but Babcock has said he would be opposed to that move.
Andersson will probably end up being waived, as Babcock wasn't too high on him near the end of last year. I don't think the team would subject Nestrasil to waivers after the promise he has shown at the end of last year and early this year.
Xavier Ouellet
This move surprises me quite a bit. After re-signing Kyle Quincey and Danny DeKeyser, it appeared the Red Wings blue line was going to look the exact same as last year.
However, Ouellet still is on the roster and has looked better than both Jakub Kindl and Brian Lashoff. Ouellet can be safely sent to Grand Rapids without being subjected to waivers, but has he earned a spot with the Red Wings?
Frankly, I thought he and Nick Jensen looked better than Lashoff and Kindl. However, Jensen was recently sent back to Grand Rapids and Lashoff and Kindl remain in Detroit.
Babcock has stated if they keep Ouellet, it won't be as the seventh defenseman — he will play every night. Therefore, Kindl or Lashoff would need to be waived or traded to make room for Ouellet. I don't see any team having any desire for Kindl or Lashoff, so waiving them would be more likely.
However, I see Ouellet being sent back to Grand Rapids. I don't think the Red Wings are quite ready to hand over the reigns the youngsters, at least on the blue line. Ouellet will probably be the first call-up this season, and he might stick around should Kindl or Lashoff faulter, but he will most likely start the season in Grand Rapids.
Petr Mrazek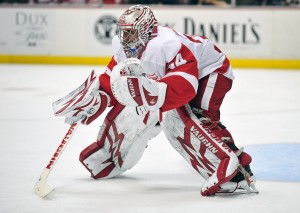 This one is easy: Mrazek will start the season in Grand Rapids. That much was apparent when the Red Wings re-signed Jonas Gustavsson to a one-year deal this offseason. Whether or not Mrazek deserves to be backing up Jimmy Howard is another story.
I think he has nothing left to prove in the AHL, but Babcock and Holland want him to play another full season in Grand Rapids, rather than playing sparingly in Detroit.
The Red Wings are stocked with great prospects. The problem is they don't have enough roster spots for all of them to play. A trade to acquire a top-four defenseman or a top-six forward at the deadline would be ideal, but Holland has yet to show any willingness to deal his better prospects, minus Calle Jarnkrok.
It will be interesting to see how the Red Wings manage their roster, and if some more players get subjected to the waiver wire to make room for the youngsters.
Tom Mitsos is a writer from Michigan who covers the Red Wings and the Red Wings' AHL affiliate, the Grand Rapids Griffins, for The Hockey Writers.