In 2013 the Colorado Avalanche selected Halifax native Nathan MacKinnon with the first overall pick. He was deemed to be the saviour the Avalanche desperately needed to get back to their glory days of the early 2000's.  MacKinnon came into the struggling organization fresh off of a 1.75 point per game season (75 Pts in 44 GP) and a Memorial Cup victory with the Halifax Moosehead of the OMJHL.
Sadly, since being selected first overall, MacKinnon has taken longer than expected to develop, but it seems the worries of a potential bust draft pick are starting to go away after the first quarter of the 2016-17 season. Through the first 20 games, MacKinnon's flashes of brilliance have been a small bright spot to an otherwise let down of a season for the second-worst team in the Western Conference.
MacKinnon in 2016-17

So far this season MacKinnon has recorded a respectable five goals and 10 assists all while shooting a career-low 6.8%. While MacKinnon's shots have been struggling to reach the back of the net, he is shooting at the highest rate of his young career as his 74 total shots have him on pace to put up a very impressive 303.5 shots. That would surpass his previous career high of 245 from a season ago.
If MacKinnon were to increase his shooting percentage closer to his career high of 8.5  for the rest of the season he would finish the year with close to 24.5 goals, which is tied with his career high of 24 from his rookie season in 2013-14. Pair that with his current highest paced assist total and MacKinnon would be on track to finish the year with 25 goals and 51 assists for 76 total points and very respectable fourth season. Imagining MacKinnon's shooting percentage rising is more a matter of time situation rather than wishful thinking, so expect the goal totals to rise as the season continues.
@Mackinnon9 led @NHL w/ 61 shots in November, setting #Avs record for that month. Most by Avs player in any month since Sakic (67) March '01

— Brendan McNicholas (@bmcnich) December 1, 2016
Following in Other 1st-Rounder Footsteps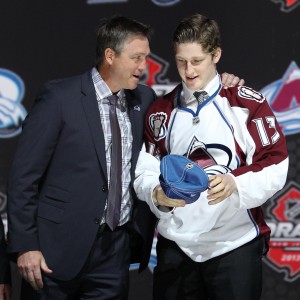 Following in the footsteps of Sidney Crosby, Alex Ovechkin and other successful recent first overall picks, MacKinnon has always had a large amount of pressure to perform up to the standards of his fellow first round selections. With Connor McDavid and Auston Matthews being picked in the two years following MacKinnon, the hype and expectations seem to have overshadowed the young speedster and what he is truly capable of.
With 168 points in 238 career games, Nathan's 0.705 points per game are only better than two former first round forward picks since Alex Ovechkin was selected first in 2004. That being Edmonton's Ryan Nugent-Hopkins, who has averaged 0.69 PPG since being selected first overall in 2011 and fellow Oiler first overall pick Nail Yakopov, who after being taken in 2012, has struggled to find success in the league to the beat of 0.433 points per game.
At the young age of only 21, MacKinnon is bound to improve his career average points per game as he continues to mature and heads into the prime seasons of his career.
MacKinnon on the Power-play
MacKinnon is currently averaging 2:51 power-play minutes on a nightly basis,  just four seconds below his career high of 2:55 power-play minutes per game from last season which saw him accumulate 16 power-play points.
The young forward's power-play time has been on the increase in recent weeks as he continues to raise his average total time on the Avalanche's struggling 20th ranked power-play (15.6%). Much like MacKinnon's low shooting percentage, with a little bit of luck and the right bounces, the Avalanche power-play is bound to improve, which in turn will improve MacKinnon's overall season numbers. With top end talent surrounding him in the likes of Matt Duchene, Tyson Barrie and veteran sniper Jerome Iginla, it is only a matter of time before the overall success of the unit increases as they continue to get comfortable with each other.
With top-end talent surrounding him in the likes of Matt Duchene, Tyson Barrie and veteran sniper Jerome Iginla, it is only a matter of time before the overall success of the unit increases as they continue to get comfortable with each other.
Once captain Gabriel Landeskog returns from his current lower body injury which has him shelved indefinitely, the core five that head coach Joe Bednar put together to run the power-play at the beginning of the year will be back together, again further increasing MacKinnon's chance at bettering his overall numbers.
What' Next from Nate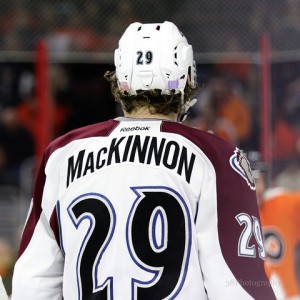 As the 2016-17 season continues, Avalanche fans will be hoping MacKinnon continues to demonstrate his greatness, as he's well on his way to becoming a major leaguer. With a large abundance of young talent surrounding him, coach Joe Bednar will continue to shake his lines up nightly in hopes of truly tapping into MacKinnon's high level of potential.
Currently lined up on the Avalanche's top unit with 2015 10th overall pick Mikko Rantanen and PTO standout Rene Bourque,  MacKinnon may have finally found a pair of suitable wingers in the odd bunch that can truly elevate his game. This is something he has struggled to find since his inaugural 63-point season.
Averaging over 20 minutes of ice time per game for the first time in his career MacKinnon is slowly establishing himself as the top all situations' forward, further pushing his development and expectations for the rest of the season.
Better days are sure to come for the extremely talented forward and fans can only hope the increased minutes, as well as the performance by MacKinnon, may finally translate him into the superstar they've long waited to see and will continue to hope the Halifax native can carry them back to their glory days of the early 2000's.
(*All stats and projections prior to November 29th – 20 game/quarter season mark)