The Colorado Avalanche sent a message as they released a slew of roster cuts. This is not the old Avalanche organization, hoping for prospects to live up to their potential so they can fill holes in the starting lineup. There's a new sheriff in town, and the Avalanche are no longer beggars in the talent pool. Coach Jared Bednar was clear. The Avalanche have a veteran team, and that's who's going to play.
"I want them to push and strive for more," Bednar stated this week. His actions backed up his words.
Coach Bednar Set His Standards
When Bednar joined the Avalanche, the team was in disarray. Coach Patrick Roy had abruptly resigned shortly before the season's start. Bednar came in as part of general manager Joe Sakic's move to a younger and faster team, using Roy's departure as an opportunity to set a new direction.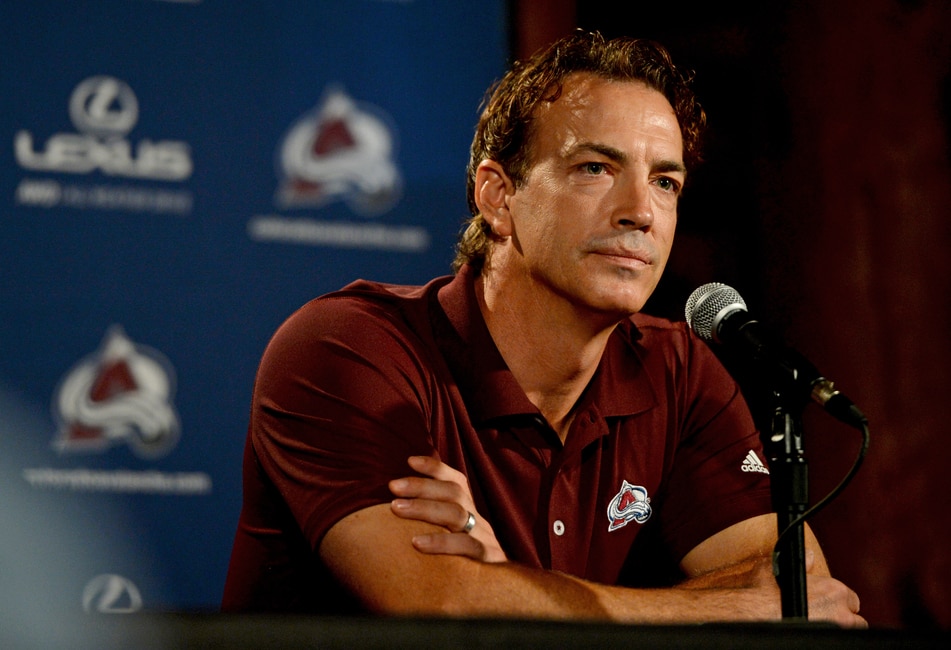 Meanwhile, Bednar arrived without the chance to hire any of his own staff, forced to evaluate the team's talent on the run and devise systems with recently added players who no longer fit the new vision. One of the first things he mentioned changing was the need to work on conditioning.
Last year, Bednar entered training camp with his own assistant coaches and with a fairly good idea of the talent on hand. The players who survived the disastrous 48-point season entered camp in some of the best condition of their lives. As part of his training regimen, Bednar made every player participate in timed skating drills. If they were sick or injured, they had to make it up, in front of their teammates.
When defenseman Nikita Zadorov joined camp late after a contract issue, Bednar worked him to get in shape. The coach even benched Zadorov for a few games at the season's start, sending a message to everyone. Bednar wanted every player's best effort, and he would settle for nothing less.
Bednar Raises the Bar
Bednar continued to reinforce his standard of excellence this preseason. During his media briefing this week, Bednar offered, "We didn't win the Stanley Cup last year…We have to find a way to raise the bar." The new standards carried down to the bubble players, some of whom were recently cut and a few who wait in the wings. Bednar laid out his plan with the recently cut players.
"I think once a guy sits too long, that he kinda gets out of game mode, he doesn't get the touches he needs in game situations to I'd like to send him down, maybe trade guys out, I think we have the ability to do that this year."
With the Colorado Eagles just up the road in Loveland, a little over an hour away, Bednar plans to keep the players developing. He wants all the skaters in the pipeline playing. In his briefing, Bednar described how some of the players sent down have different roles in the AHL than the NHL and he expressed a plan to keep them improving in both roles moving forward. While players may end up starting their season in Loveland, it doesn't look like Bednar intends to keep all of them there.
Bednar set the standards for development of future Avalanche players in the pipeline as well as the starting lineup. It's a refreshing change.
Avalanche Flood the Eagles With Talent
Bearing in mind Coach Bednar's goals to keep all the prospects playing, the recent cuts carry a different weight. Within a 24-hour period, the Avalanche released 15 players, bringing their current roster to 29. The Avalanche reassigned 14 players to their AHL affiliate Colorado Eagles and released professional tryout Cody Bass. Of the 14 players moved, four had to be sent through – and cleared – waivers.
Unlike years past, the AHL affiliate should have a plethora of quality talent. Of the seven total goals the Avalanche notched in the first four preseason games, five of them come from their prospect pool. Two of them have each earned two points – defenseman Ryan Graves (from a goal and an assist) and Martin Kaut (two assists). In fact, the Avalanche may have reassigned an entire line with enough talent to reach the big club – in time – when they sent down Pavel Francouz (goaltender), Sergei Boikov, Graves (defenseman), Ty Lewis (left wing), Igor Shvyrev (center) and Kaut (right wing). Four of those players competed in the Rookie Tournament as well.
First day of Eagles Camp photo 😁#EaglesCountry pic.twitter.com/m8n3yiSViF

— Colorado Eagles (@ColoradoEagles) September 27, 2018
Eleven of the recently reassigned players are under the age of 24. They still have plenty of room to grow and learn together. Because the Avalanche's roster has so many quality veterans, the organization can allow the young players more time to develop and hone their craft. It's a luxury the team couldn't afford a few years ago.
One only needs to remember how rushing defenseman Chris Bigras onto the NHL stage too early hurt his career. At the time, Bigras was called up as the blue line started losing players to injury. But the plan for his development got lost in the rush to fill holes on a roster without depth. He ended up reverting back the AHL roster and hasn't been able to sustain an NHL spot since.
The Avalanche no longer have that problem. Colorado has started to acquire good young assets to fill their development pipeline. Now, they can afford to train the young players. The Avalanche can let their number-one draft pick Martin Kaut play in the AHL and adjust to the North American ice without the team limping through the season. The team has enough quality players on their starting roster they can let their young assets mature.
Bednar sent a message with this batch of roster cuts. The young prospects still have things to learn, but they are close and he intends to keep pushing them to excel.
For those on the Avalanche's roster, they still have room to improve as well, and there are guys waiting in the wings hungry for a spot. Bednar said it best when he finished his interview "We want to see more great games out of all our players. That's the goal."
The Avalanche have entered a new phase. No longer looking to plug holes in a leaky boat, they are building a quality organization with enough talented pieces they can afford to wait for excellence. Bednar delivered the message. Now it's up to the players to raise the bar.
J.D. has followed the Colorado Avalanche since the days of Joe Sakic and Peter Forsberg. Blessed to cover the team for nearly 5 seasons, 3 of those at other venues, J.D. enjoys working with the Hockey Writers. Proud parent of three humans and two dogs, you can follow all the escapades @JDKpirate.