The Columbus Blue Jackets find themselves in an oddly familiar spot.
They ended the 2014-15 season on a very high note, going 16-3-1 in their last 20 games. They were the best team in the league during that stretch. What that streak didn't do, however, was get them back to the playoffs.
As has been the story now for the last few seasons, the Blue Jackets stumbled out of the gate to begin the season. Just once, in 2013-14, they were able to recover from their bad start to make the postseason.
Whether it has been injuries (over 500 man-games lost just last season), or inexplicable poor play, something seems to happen every October and November that puts the team in an early hole. Then once the calendar turns to a new year, the Blue Jackets figure things out and play like a house of fire.
There's a lot to look forward to this season in Columbus. But questions remain. How will the upcoming season play out for the Blue Jackets?
2014-2015 SEASON IN REVIEW
Record: 42-35-5 (89 points)
NHL: 23rd
Conference: 11th
Division: 5th
GF: 11th
GA: 25th
PP: 5th
PK: 23rd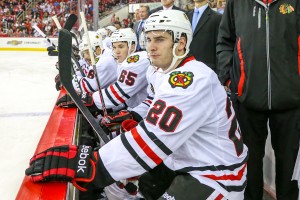 KEY ADDITIONS
Brandon Saad
Gregory Campbell
KEY LOSSES
Artem Anisimov
Marko Dano
Mark Letestu
Corey Tropp
Jeremy Morin
James Wisniewski
FORWARDS
EXPECTED LINES
Saad – Johansen – Foligno
Jenner – Dubinsky – Atkinson
Hartnell – Wennberg – Clarkson
Calvert – Campbell – Bourque
Nick Foligno
At long last, the Blue Jackets have named a captain. Not since Rick Nash has anyone worn a "C" in Columbus. Foligno earned his way to the captaincy the old-fashioned way by working hard and earning the respect of his teammates. Foligno started his Blue Jackets career in the lockout shortened season, by scoring just six goals in 45 games. He followed that up with 18 goals in 2013-14, then 31 goals last season, leading the team. His performance last season earned him his first trip to the All-Star Game.
Foligno is everything you want in a captain. He leads by example, and is not afraid to tell you what's on his mind. He's a relentless worker, who is good at both ends of the ice. He can play either wing and doesn't mind which side he plays. Expect Foligno to start on the top line with fellow all-star Ryan Johansen, but don't be surprised if he plays his natural left-side on Brandon Dubinsky's line. Regardless, coach Todd Richards has many options available to him to start the season.
Ryan Johansen
From AHL scratch to NHL all-star, Johansen has had an interesting start to his career. He scored a total of 14 goals in his first 117 games. Many were beginning to question his work ethic. Some even questioned his character. The questions only escalated when he and the Blue Jackets spent last summer forging out a new contract. As a result, Johansen missed all of training camp. They got the deal done before the season. His stock has taken off ever since.
Despite missing camp last season, Johansen appeared in all 82 games, scoring a career-high 71 points. This was after he scored 33 goals in the 2013-14 season. Oh, and he's only 23. He hasn't even begun scratching the surface of how good he is. For someone his size (6-foot-3, 223 lbs.), Johansen has excellent hands and vision. He sees the play developing, but can also beat you one-on-one. He'll be depended on to carry the offensive load again for the Blue Jackets.
Brandon Saad
In the blockbuster of the offseason for the Blue Jackets, they acquired Saad and two prospects from the Blackhawks as part of a seven-player deal. The move came as a shock to everybody, given the Blackhawks insistence that they'd re-sign him "at any cost". GM Jarmo Kekalainen saw the opportunity to bring a game-changing forward on board, while trimming their roster.
Saad fits exactly what Columbus is all about. He plays the game fast. He's ferocious at both ends of the rink. He is excellent on the power play and penalty killing. His presence gives the Blue Jackets depth up-front that they've never experienced in their short history. Saad is not the kind of player that will get you 30 goals, but he will get you 20 goals, while making everyone around him better. He brings a championship mentality having won two cups in Chicago. Many are asking if he is just a product of playing with Jonathan Toews and the Blackhawks. As long as he continues his stellar special teams play, he will continue to produce at high levels.
Cam Atkinson
After a slow start to last season that saw his name come up in many trade rumors, Atkinson flourished down the stretch, helping the Blue Jackets finish the season with a winning record. In spite of his size (5-foot-8), Atkinson makes up for it in the way he plays. He is usually one of the hardest working Blue Jackets. His hard work has paid off, resulting in back-to-back 20 goal seasons. This earned him a new three-year contract.
Atkinson is a streaky scorer. For long stretches last season, he couldn't buy a goal. He was close on multiple occasions, but just couldn't find the back of the net. Once he signed the new contract, Atkinson took off. He scored nine goals in the last 16 games, including a hat-trick in Chicago. Consistency is the key for Atkinson. Can he limit the length of his goal-scoring droughts? He'll have plenty of scoring opportunities on the top-two lines and on the power play. If he can find his scoring touch from the end of last season, 30 goals is within reach.
Boone Jenner
Last season was somewhat forgettable for Jenner, as he was one of many Blue Jackets to suffer multiple injuries. He missed 40 games due to a stress fracture in his back. He also missed time due to a broken hand that he suffered in practice. The good news in all this is that he was on pace to score over 20 goals last season if it weren't for the injuries.
The Blue Jackets love what Jenner brings to the table. He is a high-energy, high-tempo player that can create offense. His play makes him one of the fan favorites in Columbus. Just ask the Pittsburgh Penguins how dangerous Jenner is. When asked who the best player on the ice was during their playoff series with the Blue Jackets, many of the Penguins suggested it was Jenner. He enters the last year of his entry-level contract. He'll want to prove that he can stay healthy this season. Given the motivating factors, expect a big season from him. You'll find him somewhere in the top-six.
David Clarkson
In perhaps one of the most surprising moves from last season, the Blue Jackets acquired Clarkson from the Maple Leafs in exchange for Nathan Horton. This was two teams making the best of unusual circumstances. Horton had a back injury that for now, has forced him out of hockey. The Maple Leafs wanted a way to dump Clarkson's contract. Both teams made that happen with this deal.
What can we honestly expect from Clarkson this season? Contract aside, he does find himself in a better situation. He'll find himself on the third or fourth line playing the right-wing. He could also see some power play time in front of the net. If he does end up on the third line, he'll likely play with Scott Hartnell and Alexander Wennberg. This would make one of the better third lines in hockey. To think that he could recreate his 30 goal season as a bottom-six player is probably not reasonable. But to expect 10-15 goals and solid two-way play is not out of the realm of possibility. For someone with a cap hit of over $5 million, it doesn't look good. But given the circumstances, it's better than someone who isn't playing games for them.
DEFENSE
EXPECTED PAIRS
Murray – Tyutin
Johnson – Savard
Connauton – Prout
Goloubef
Jack Johnson
What a ride last season was for Johnson. From his play on the ice, to filing bankruptcy off the ice, Johnson has had to endure a lot. To his credit, he has handled everything like a true professional. The only games he missed last season was due to a suspension for an illegal hit. Otherwise, Johnson was playing his usual heavy minutes on the top pair.
On the ice, questions remain. He did score 40 points last season. That's the second-best offensive output of his career. But, he also finished with a +/- of -13, which is his worst output his 2010-11. Not once has Johnson ever finished a season as a plus-player. He's also finished under 50% CF. It is worth noting that this unit was part of both the 10-1-1 December and 16-3-1 stretch to finish last season. The key here is staying consistent. Johnson is ready to put the events of the past behind him and help the Blue Jackets return to the playoffs. If Columbus wants to stay in the Metro race and make the playoffs a reality, Johnson needs to improve on the defensive end.
David Savard
Savard enjoyed a nice breakout season in 2014-15, playing in all 82 games, while scoring 11 goals and 36 points. He also started logging major minutes along side Johnson. Like Johnson, the offensive numbers are encouraging. Unlike Johnson, Savard finished last season as an even player. He finished the season before with a rating of +2. He has steadily improved over his career.
Savard has had his bad moments on the defensive end. But as the season went on, the mistakes became fewer. The Blue Jackets hope the trend that Savard started last season will continue this season, as he will start on the top pair with Johnson. Given the improvements up front, Savard could improve on his offensive numbers. If he gets power-play time like he did last season, 50 points is realistic. The key for Savard is continuing his development as a shut-down defender. All eyes early in the season will be on the Johnson-Savard pair. The Blue Jackets must drastically improve from their 250 goals against from last season.
Fedor Tyutin
Tyutin will begin his 8th season with the Blue Jackets in 2015-16. Although the advanced stats don't necessary bear this out, Tyutin has been one of the most steady players for the Blue Jackets in his time. He makes good decisions with the puck. His is responsible in his own end. He isn't known as a typical shut-down defender, but he does enough to hold his own.
Expect more of the same from Tyutin this season. He will chip in some offense, although the offensive numbers are slowly declining. The main thing is his steady play. As long as that continues, he will have a successful season. Expect Tyutin to play with Ryan Murray at the start of the season.
Kevin Connauton
Thanks to the injury bug last season, the Blue Jackets went to the waiver wire, and found Connauton. The Stars placed him on waivers. The Blue Jackets claimed him and immediately put him in the lineup. To the surprise of many, Connauton started contributing immediately on the offensive end. He finished last season with nine goals in 54 games, including four game-winning goals.
Connauton will likely start on the third pair. That is, of course, if he makes the team. That third pair is one of the training camp battles worth watching. Others that are fighting for a spot are Dalton Prout, Cody Goloubef, as well as prospects Dillon Heatherington and Michael Paliotta. Connauton needs to have a good camp so that he keep his spot with so much competition waiting in the wings. Connauton does have a leg up given the offense he brings to the table.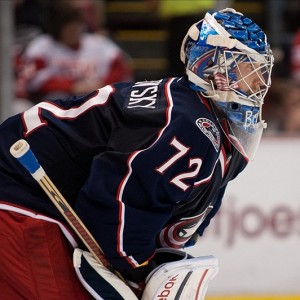 GOALTENDING
The conversation begins and ends with Sergei Bobrovsky. This is the first season of his new four-year contract that makes him the second-highest paid goaltender in the league, only behind Henrik Lundqvist. Although the numbers don't show it, he is one of the best goaltenders in the league. He missed time last season, thanks to both hand and groin injuires. The team clearly missed his presence. By the time everyone was back and healthy, the playoffs were out of reach. Bobrovsky helped the Blue Jackets play spoiler to a lot of playoff teams last spring.
According to reports, Bobrovsky has a new workout routine that has made him bigger and stronger. Goaltending coach Ian Clark paid a visit to Russia to work with Bobrovsky this summer. The reports have all been positive. As Bobrovsky goes, so do the Blue Jackets. If he plays the season like he does in March and April, a vezina trophy is possible. It wouldn't be his first one.
The Blue Jackets decided to bring Curtis McElhinney back to serve as Bobrovsky's backup. McElhinney signed a cap friendly, two-year deal to stay with Columbus. The question here is, which McElhinney will we see this season? He finished with a record of 12-14-2 last season. This included two different winning streaks of four games or more. But it also included two different losing streaks of four games or more. He proved his worth two seasons ago by helping the Blue Jackets win in the middle of the season before Bobrovsky came back and got them to the playoffs. If the Blue Jackets want to play in April and beyond, McElhinney must find consistency. That will also help keep Bobrovsky fresh for later in the season.
BREAKOUT PLAYER
ALEXANDER WENNBERG
Last season for Wennberg was a tale of two halves. Injuries forced Wennberg into the lineup on opening night. He seemed overwhelmed by a lot of early responsibility. This resulted in him registering a -17 in the first three months of the season. Once players started returning from injury, Wennberg's game started to take off.
All told, Wennberg finished with four goals in 68 games. This doesn't even begin to tell you how well he was playing from January on. He found himself on a line with Hartnell and Dano. This line was the best line for the Blue Jackets on many nights. They had instant chemistry. The success of this line helped Wennberg earn more playing time, in key situations. He took big face-offs. He was on the ice in the last few minutes of games trying to protect leads. By the time the season ended, you could see the enormous amount of confidence he was playing the game at.
Wennberg, a former first-round pick, is ready for a big break-out season. He'll likely start as the third line center between Hartnell and Clarkson. He has first-line center upside. Scouts have indicated they've seen a lot of fellow countrymen Mats Sundin in Wennberg's game. His awareness and vision are élite. He uses that to make his teammates better. Wennberg could end up with 15-20 goals. Not bad for your third-line center.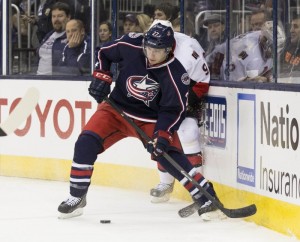 PLAYER WITH MOST TO PROVE
RYAN MURRAY
Murray is the most important player for the Blue Jackets this season. The reason is simple. Can he stay healthy? The former number two overall pick has had his early career marred by different injuries. When he has been in, he's played like a number one defenseman. When he's been out, the absence is noticeable.
As Kekalainen pointed out, Murray is the summer's best acquisition if he can stay healthy. Early reports from the summer show that Murray has looked good and is having no issues with the leg that keeps bothering him. This is encouraging news for the blue line of the Blue Jackets. Now he has to show that it can endure a full season.
This is also the last year of Murray's entry-level deal. This season is important for him on so many levels. Another extended absence will raise a lot of questions that management doesn't want to think about. Murray now has his chance to prove he can play a full season. This must happen if the Blue Jackets want to play deep into the spring.
SEASON OUTLOOK
With as many questions as the Blue Jackets have, there are many possible outcomes for the team. There are some that believe that the Blue Jackets are the best candidate to return to the playoffs. There are others that believe that they will finish fifth or sixth in their own division, which puts them at either a wild-card or out of the playoffs entirely. The chances of them making the second-round is about the same as missing the playoffs entirely.
The pieces are certainly in place. They have a Vezina-calibur goalie, one of the best forward groups in the league, and a defense eager to prove they can handle their share of the load. Can they stay healthy? Can the defense prove to everyone that they are ok without having to add anyone to the roster? It's the answers to those questions that will dictate how the 2015-16 season will play out for the Columbus Blue Jackets.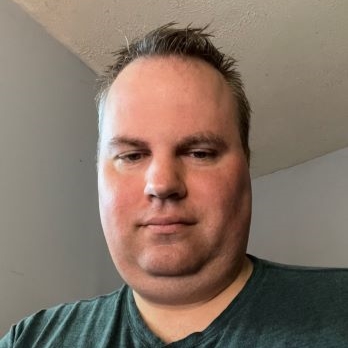 I am a fully credentialed writer who covers the Columbus Blue Jackets, Cleveland Monsters and Erie Otters as well as the Ontario Hockey League and NHL Draft. The 2022-23 season will mark nine seasons with the Hockey Writers. I am also the site's Credentials Manager. Please take note of the updated Twitter handle: @mark_scheig.