Free agency officially opens Sunday. For the Columbus Blue Jackets, this is secondary compared to a much bigger story that's just starting to unfold.
While the hockey world waits for both Sunday and an eventual John Tavares decision, the Blue Jackets have a franchise altering decision to make. While they could make a couple of smaller moves in free agency, all eyes in Columbus will be focused on Artemi Panarin.
As you know by now, Panarin and his agent expressed to the Blue Jackets that they are not willing to negotiate a contract extension "at this time." What does that truly mean? Only the team, the player and the agent truly know the full situation.
The bottom line is this. The fact that Panarin expressed this to the Blue Jackets now with one year left on his contract has put a ton of pressure on the Blue Jackets. They have to make a decision, a big decision, a franchise altering decision this offseason.
The Blue Jackets must decide what to do with Artemi Panarin. Really there's three options that could play out. No matter what the team decides, it has to be all or nothing. There can't be any middle ground for such an important decision. What are those three options?
The Blue Jackets retain Panarin this season and treat 2018-19 as an all-in for the Cup season.
The Blue Jackets retain Panarin this season but trade him by the trade deadline if team is too far out of it.
The Blue Jackets trade Panarin for an acceptable return this summer.
Let's break each of these scenarios down.
All-In and Then Some
If I had to venture a guess as of this writing, this is what I'd expect the Blue Jackets to do. The goal is to win the Stanley Cup, right? So if you have one season left of Panarin at his current rate, one season of Sergei Bobrovsky left at his current rate and one season of Zach Werenski left at his current rate, you have a unique opportunity to chase a Cup before prices skyrocket.
This can absolutely work both ways. Selecting option one tells Panarin that not only do they believe in him, they believe they can win a Cup with him with this current team. The team is on record as saying they want him long term. Now they have to put their money where their mouth is and prove it.
This absolutely comes with the risk of losing him for nothing. This is what the team must weigh out. Are they willing to make one strong run at a Cup knowing that no matter what happens, they could lose him for nothing? For a player of Panarin's caliber, I think you have to go for it, especially if you want a chance to sign him to an extension.
If this is the way they go, then the Blue Jackets need to treat free agency this way. They need another top-six player to help with their scoring. It doesn't have to be a center but it has to be an impact player. If not in July, they need to improve most certainly by the trade deadline.
There's no middle ground. If you're all-in, you're all-in. Keeping Panarin and not improving the rest of your roster with timely moves is a mistake. The team needs to show Panarin that Columbus is right for him especially if they want him signing an eight-year extension.
These decisions by the team will have an impact one way or another on Panarin and his eventual decision. Do the Blue Jackets want to win? Of course they do. Now it's time for them to back that up with one of the 10-best players in the NHL under team control for one more season.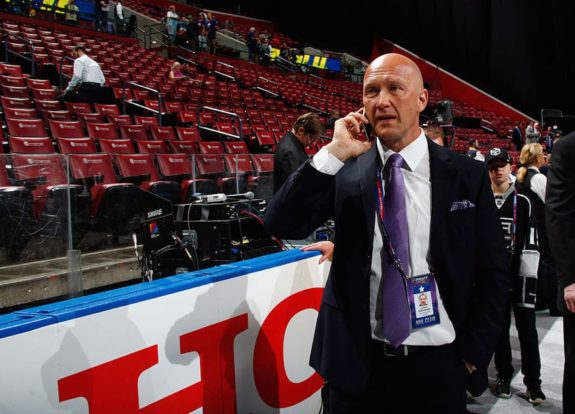 The Trade Deadline
The Blue Jackets could elect to keep Panarin to start the season. But we know how hard the season is. Anything can happen. Whether it's an injury or inconsistent play, the Blue Jackets could be far enough behind in the standings that the playoffs are out of reach.
If this were to happen, then trading Panarin might be your best option especially if there's still no extension. This comes with risk. You won't get the return at the deadline that you would get in the offseason, but at least you get something for him. Still, it's an extremely tough pill to swallow for a team still trying to become an annual contender.
At least you entered the season with the hope of making something happen. It just didn't work out. At that point, you have to look out for the best interest of the team. That of course is retaining Panarin. But if not, you need assets for future seasons. If it comes to this, a trade is likely to happen.
An Offseason Trade
Reports have surfaced that teams have made offers to the Blue Jackets for Panarin only to not see a trade happen. According to those reports, the things coming to the Blue Jackets were prospects and picks. They want now help for this season, not future help yet. That's likely why a trade didn't happen at the draft. And of course Columbus wants Panarin long-term. So the deal would have to blow them away in order to seriously consider it.
Jarmo Kekalainen is expected to meet face-to-face with Panarin in Russia this summer to discuss the upcoming season. It's very possible the team will decide how to handle the 2018-19 season after this meeting happens. Kekalainen should have a better sense of where things stand then.
ICYMI: #CBJ GM Jarmo Kekalainen joined the program to break down the Panarin situation, the Blue Jackets offseason and more! https://t.co/F72RauJX9V

— Rothman & Ice (@971RandI) June 27, 2018
A trade could happen if Kekalainen doesn't get the sense Panarin wants to stay AND if an offer they can't refuse comes in. The Blue Jackets would still likely lose in a trade at this point, but they would get their highest rate of return now.
There in lies the decision. Kekalainen and crew must decide do they get a decent package for the future now so that there's something to show for the loss of Panarin or do they treat the season as all-in no matter what happens?
Regardless of what happens, it's a franchise altering decision that will have lasting ramifications for years to come. Kekalainen has had many important decisions to make since becoming the GM. I'm not sure of any decision as important as this one though.
If I was Kekalainen, I'm all-in. You've got talent in the right places. Make one or two moves to improve your team and you have a real shot at a Stanley Cup.
We'll see what he decides. No matter what it is, we'll be talking about it for years to come.