The 2013 National Hockey League (NHL) Entry Draft was one of the most successful drafts in recent Columbus Blue Jackets history. That Blue Jackets draft class has amassed a combined 580 combined NHL games played — a total that would be higher if multiple untimely injuries had not occurred.
Aside from Alexander Wennberg, one of the more tenured Blue Jackets draftees from that class is none other than 23-year-old right-wing Oliver Bjorkstrand, selected by the Blue Jackets at No. 89 overall in the third round. His numbers with the Portland Winterhawks of the Western Hockey League (WHL) were very impressive – he tallied 227 points in 128 regular season games, including 113 goals, from 2013 to 2015.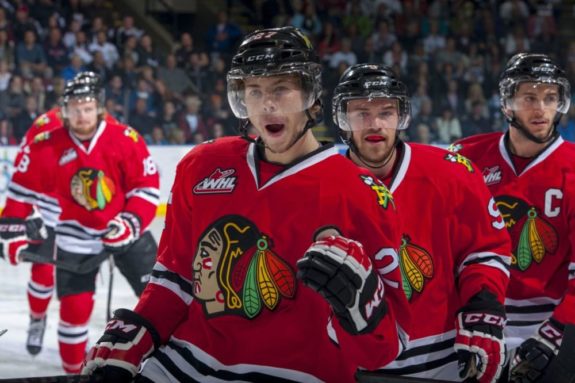 This year, Bjorkstrand finally stuck with the Blue Jackets for the full year, and was able to show fans and team personnel alike a glimpse of his potential at the most elite level of the game. As a restricted free agent this offseason, let's take a look at the path Bjorkstrand has taken since his draft day, and how he's trending as a youngster still trying to earn his stay in the big leagues.
2015-16: Breaking the Ice
NHL Games Played: 12
Points: Eight (four goals, four assists)
TOI / Game: 15:59
After his first NHL training camp, the Blue Jackets initially assigned Bjorkstrand back to the Winterhawks. However, the Blue Jackets signed Bjorkstrand on Dec. 26 to a three-year, entry-level contract, making it clear they saw his potential value. They also gave him a chance at the NHL level when they recalled him on March 16 from the then-AHL Lake Erie Monsters. In his 12 games played, he produced points and had a solid chunk of ice time.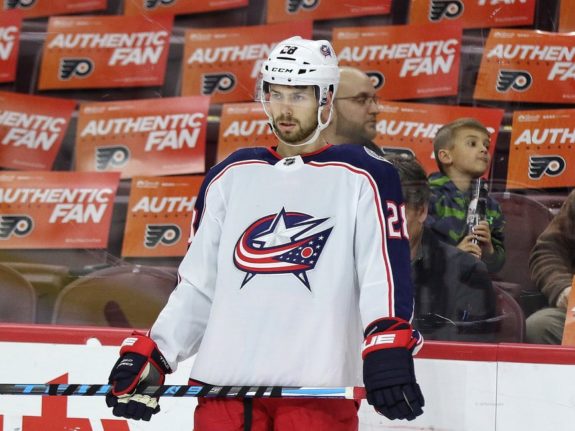 But, the biggest questions surrounded Bjorkstrand's small stature and lack of physicality. He was asked to hit the weight room in the off-season so he could stay on his feet following huge hits, and not be knocked off the puck so easily. Back in the AHL, though, Bjorkstrand led the Monsters to a Calder Cup victory with 16 points in 17 playoff games. It was a big step in the right direction, but he still had a lot to prove.
2016-17: On the Edge
NHL Games Played: 26
Points: 13 (six goals, seven assists)
TOI / Game: 14:05
After his Calder Cup performance and after gaining a few pounds and inches in the offseason, expectations were incredibly high for Bjorkstrand. He was penciled in as an NHL regular initially, but a poor showing in training camp forced him to spend the early part of the season back in the AHL. Once there, Bjorkstrand proved he was ready, and tallied 10 points in 15 games after his recall in February. That hot streak was short-lived, as Bjorkstrand suffered an injury after an illegal check by the Toronto Maple Leafs' Roman Polak in late March. He didn't return until a few weeks later and wasn't producing quite at the previous level, but he showed he could hold his own.
2017-18: In Full Force
NHL Games Played: 82
Points: 40 (11 goals, 29 assists)
TOI / Game: 14:18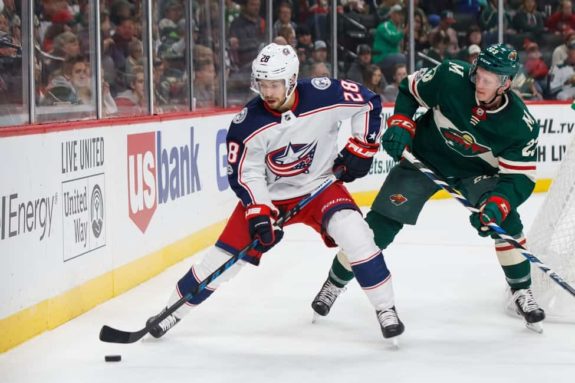 Bjorkstrand came into Blue Jackets training camp ready and prepared, and playing a full 82-game, 40-point season proved just that. Playing consistent minutes night after night, including time on special teams, paid off in dividends for him as an individual and the team's success. He stepped up as needed when teammates were injured and fit right in with whoever he was on a line with. It was the season Bjorkstrand needed in his contract year – not only to secure a new deal, but to show everyone his true potential with an entire NHL season under his belt.
What's Next?
The Blue Jackets have a few decisions to make this offseason, including the fates of restricted free agents Bjorkstrand, Boone Jenner and Ryan Murray. That does not include the long list of unrestricted free agents the Blue Jackets have pending ahead of July 1. With the NHL Draft rapidly approaching, the Blue Jackets could make trades, and like almost every other team, they will listen to the various proposals.
With the way Bjorkstrand is trending, especially with a 40-point season as a 23-year-old, it's easy to see his potential as long as he stays healthy. A season like this last one, if not better, is what he needs to be an NHL mainstay. Expect his impending signing to be in the bridge-deal territory, as his body of work is not extensive enough to garner a larger deal.
After living in two NHL cities (Orange, CA and Raleigh, NC), Kristyn graduated from Ohio University's E.W. Scripps School of Journalism and worked in the Columbus Blue Jackets' Digital Media department. She currently resides in Columbus and has been an NHL-credentialed reporter since the 2013-14 season.