Last season, Columbus Blue Jackets forward Oliver Bjorkstrand was all but penciled in on the team's permanent roster. A spot in the lineup was his for the taking. However, a disappointing preseason left Bjorkstrand on the outside looking in just a few games into the new season, as he was sent to the team's American Hockey League (AHL) affiliate Cleveland Monsters to improve.
This time around, and with positive NHL experience under his belt after he earned a call-up midseason, Bjorkstrand is not planning to make the same mistake twice.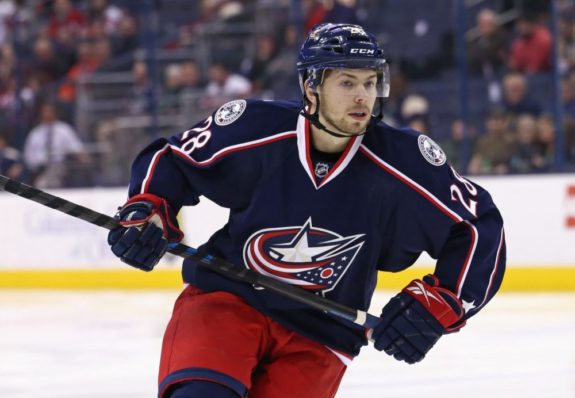 He tallied two primary assists in Tuesday night's preseason game against the St. Louis Blues, setting up 23-year-old defenseman Markus Nutivaara on the power play and 19-year-old forward Pierre-Luc Dubois later on. Bjorkstrand also scored a goal earlier in exhibition play. He is showing what he had hoped to this time last year — more confidence.
Blue Jackets head coach John Tortorella's trust in Bjorkstrand's skill on the preseason power play has paid off for both the team and player in terms of confidence and points.
"It's nice [being on the point]," Bjorkstrand said after Tuesday's 5-2 win over the Blues. "I had good vision, and I can shoot the puck and make some plays, so it's fun playing up there."
Bjorkstrand has also found chemistry alongside Dubois, which has helped both players' cases. Together, they averaged nearly eight minutes apiece on the man advantage and led all forwards with the most overall ice time Tuesday night. They have earned that time, too, and Tortorella is keeping a close eye on those two.
With Bjorkstrand making a strong case and a significant push to start with the Blue Jackets this season, let's take a look back at how he wound up in this position.
What Happened: The 2016-17 Season
Bjorkstrand was flying high in June 2016. He was named the AHL postseason's Most Valuable Player with 16 points (including 10 goals) in 17 playoff games and the all-important overtime game-winning goal to seal the Calder Cup-winning victory for the Monsters. After numbers like that, the entire Blue Jackets organization had high hopes for Bjorkstrand coming into the new year.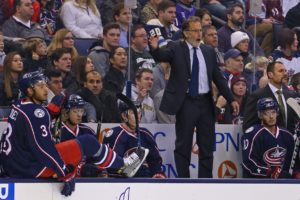 But, the shortened summer left him with little time to prepare for Tortorella's infamous training camp and the wear and tear showed. After a dismal preseason and five regular season games, Tortorella decided Bjorkstrand was not ready just yet and had to prove himself worthy of a second chance with the big club.
"I had him penciled into our [permanent] lineup [at the start] and he did not deserve to be here," Tortorella said in February 2017, reflecting mere days after Bjorkstrand was called up mid-season. "He did not play with energy in [training] camp."
The call-up on Feb. 14 was Bjorkstrand's second chance, and once he was in Columbus, he proved he was there to stay. Tortorella even went so far as calling Bjorkstrand the Blue Jackets' "best trade deadline acquisition" down the stretch.
He finished the 2016-17 season with 26 NHL games played and 13 points to show for his efforts, and Bjorkstrand was motivated to build upon that moving forward.
Bjorkstrand's Summer Training
Earlier this summer, Bjorkstrand said he was sticking to the Blue Jackets' offseason training schedule alongside several other prospects and roster players in Columbus to better prepare for Tortorella's grueling training camp.
So far, the extra time off has proven beneficial as Bjorkstrand has kept up with the NHL regulars and fits right in. With several spots still up in the air with many offseason departures, Bjorkstrand is once again in control of his own destiny, and looks ready to make the full-time, full-season jump to the NHL.
After living in two NHL cities (Orange, CA and Raleigh, NC), Kristyn graduated from Ohio University's E.W. Scripps School of Journalism and worked in the Columbus Blue Jackets' Digital Media department. She currently resides in Columbus and has been an NHL-credentialed reporter since the 2013-14 season.