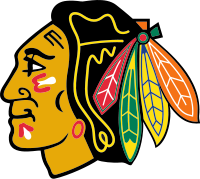 As hockey fans, and sports fans in general, we often get so caught up in what's happening on the ice that we may forget about all the hard work that goes on behind the scenes in order to make what we watch possible. The many other individuals who work hard for their organizations are just as much a part of the team as the players and coaches. Today, we honor Mike Gapski.
Gapski, of the Chicago Blackhawks, marked his 25th anniversary, August 1st,  as the head trainer of the team. A Chicago native, Gapski accepted his dream job in 1987 after serving as the head trainer for two years at the University of Illinois-Chicago, his alma mater.
As the head trainer for one of the most storied franchises in NHL history, Gapski has experienced a lot in the last 25 years. Since 1987, the Blackhawks have been through 11 head coaches, 6 general managers, and two home arenas(Chicago Stadium, United Center).
Gapski has also felt the heartbreaking defeat of a Stanley Cup Final in 1992, and the joy of triumph in 2010. Not to mention, he has also had the privilege of taping up some of the best players in 'Hawks and NHL history.Not only has Gapski experienced much in his career with the Blackhawks, but he has also served as athletic trainer for the 1991 and 2003 NHL All-Star Games and for Team Canada at the 1991 Canada Cup.
To be able to keep a job for 25 years in any industry, much less professional sports, is a great accomplishment! To think that he, Mike Gapski, has held a job for longer than I have existed is, for me, mind blowing!
Mike Gapski has led a career that has been respected by many and rivaled by few. Congratulations on an impressive 25 years and hopefully many more to come!