After achieving gold in 2010 and a bronze in 2011, last year's World Junior Championship effort by Team USA was utterly abysmal; it was atrocious; it was horrid; it was a letdown.  Having such high expectations, along with returning vets like Jason Zucker, Jack Campbell, and the like, the best USA could come up with was a 5th place finish.  Rest assured, come Saturday, August 4th, Team USA will strive for gold, yet again – only this time with a completely new look.
Saturday marks the beginning of Team USA Evaluation Camp for the World Junior Championships being held in Ufa, Russia.  You don't even need all your fingers on one hand to count the returning members from the 2012 WJC team.  Only John Gibson, Jacob Trouba, and JT Miller will be the recurring faces in this year's camp.  Some of the other potential new faces were invited to camp last year, but did not make the team (Gaudreau and Jones).  However, I have a strong feeling that the fresh crop of players will make the biggest splash in this year's tournament.
Under the direction of Phil Housley, this USA team may be looked like a sleeper team since it lacks the flashy forwards it had in years past – Kreider, Etem, Coyle, Palmieri, Bjugstad, Zucker.  On the contrary, this year's camp features just as much offensive talent and is coupled with twice as much grit.
The invitee list is as follows:
Goalies : John Gibson, Jon Gillies, Anthony Stolarz, Garret Sparks
Defensemen : Connor Carrick, Shayne Gostisbehere, Matt Grzelcyk, Garrett Haar, Mike Paliotta, Jordan Schmaltz, Patrick Sieloff, Brady Skjei, Jacob Trouba, Brian Cooper, Seth Jones, Jake McCabe, Connor Murphy, Mike Reilly, Robbie Russo, Joakim Ryan, Andrew Welinski
Forwards : Cole Bardreau, Tyler Biggs, Reid Boucher, Travis Boyd, Alex Broadhurst, Ryan Hartman, Steffan Matteau, J.T. Miller, Logan Nelson, Blake PIetila, Vince Trocheck, Jim Vesey, Colin Blackwell, Thomas Di Pauli, Steve Fogarty, Alex Galchenyuk, John Gaudreau, Brian Hart, Nicolas Kerdiles, Sean Kuraly, Mario Lucia, Stefan Noesen, Adam Reid, Henrik Samuelsson
Players to look out for:
Anthony Stolarz
– In recent months, Stolarz went from a prospect you never heard of to a 2nd round pick.  He's garnered considerable praise as a big presence between the pipes.  His 6'6″ size is a definite advantage, but he is also a very quick and agile netminder.  My hunch is that John Gibson gets the nod for the starting role, but look for Stolarz to make an impact at evaluation camp on Saturday.  
Connor Murphy
– Connor missed half of the season with the Sting due to injury, but he came back better than ever.  A gifted offensive talent on the blue line, Connor has already experienced Team USA fame and glory when he scored the game-winning goal in the 2011 World Under-18 Championship for the States.    
John Gaudreau
– The immediate reaction when seeing a small guy on the ice is, "This kid doesn't have a shot at being anything at THAT height."  Well John Gaudreau has done everything in his power to flip the script and show the hockey world just how talented he is.  Standing 5'7″, Gaudreau helped lead the Boston College Eagles to its 3rd National Championship in 5 years.  After being invited to last year's camp, Gaudreau was left off the team, but will have a good shot at making it this go around.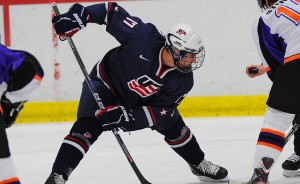 Nicolas Kerdiles
– Much like Connor Murphy, Kerdiles has also tasted the success of a gold medal at the World Under-18 Championships…twice.  Being one of the younger kids on the team two years ago, Kerdiles didn't get as much playing time as other notables like Biggs and Grimaldi.  However, he capitalized on his chance this year when he took matters into his own hands in the gold medal game when he potted 2 goals and 3 assists in a 7-0 routing of Sweden.  Nic seems to always play his best hockey when under pressure, and this camp is no exception.
Ryan Hartman
– Hartman is one of the youngest players at evaluation camp, but is one of the fiercest competitors USA has to offer.  A solid blend of skill and tenacity, Hartman can make a serious case for his draft stock at this year's World Junior Championship by making the team and playing well throughout the tournament.  
My final predictions:
Goalies: John Gibson, Anthony Stolarz
Defensemen: Jacob Trouba, Seth Jones, Connor Murphy, Jordan Schmaltz, Brady Skjei, Pat Sieloff, Matt Grzelyck
Forwards: Reid Boucher, John Gaudreau, Steffan Matteau, Mario Lucia, Alex Galchenyuk, Nicolas Kerdiles, J.T. Miller, Vince Trocheck, Tyler Biggs, Henrik Samuelsson, Stefan Noesen, Ryan Hartman, Sean Kuraly
Projected Lines:
John Gaudreau - Alex Galchenyuk - Tyler Biggs
Reid Boucher - Nic Kerdiles - Stefan Noesen
Steffan Matteau - J.T. Miller - Ryan Hartman
Mario Lucia - Vince Trocheck - Henrik Samuelsson
Jacob Trouba - Seth Jones
Connor Murphy - Brady Skjei
Jordan Schmaltz - Pat Sieloff
Gibson
Stolarz
Kuraly
Grzlecyk

Follow Shawn Reznik on Twitter (@ShawnReznikTHW) for up-to-date prospect information.