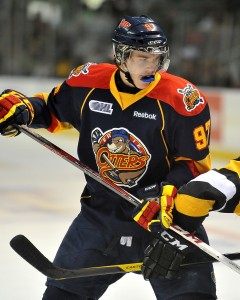 As unbelievable as it may sound to some, a 15-year-old is making his mark just a few games into his OHL career. And yet, to those who know the name of Connor McDavid, it really isn't much of a surprise.
When it was announced last spring that McDavid would be granted "exceptional player" status, the Erie Otters knew a gift was about to fall into their lap. Now that he's played a handful of OHL games, everyone else is starting to see why.
A native of Newmarket, Ontario, McDavid is just the third player to ever receive the "exceptional" status, following in the likes of current New York Islander, John Tavares, and Aaron Ekblad, a defenceman playing with the OHL's Barrie Colts.
Ekblad was given the status in 2011, after a season with the Sun County Panthers in which he was clearly a step ahead of others who were a full year older than him. So it came as somewhat of a surprise when Hockey Canada gave McDavid the privilege of playing in the Ontario Hockey League a year ahead of schedule, especially when they had made sure it was understood that this was not a status to be handed out to just anybody.
Otters' general manager Sherry Bassin has been around the block a few times, and knows what he sees in McDavid.
"I've been around a lot of good players – the Sakics, the Sundins, the Yzermans – so I'd never want to be disrespectful to those guys, but Connor McDavid is one of the most special players I've ever seen," Bassin recently told The Globe And Mail.
In fact, the article that quote was published in was featured on the front page of the Sports section of that publication one weekday morning. That alone made an entire nation aware of his name, and hockey fans everywhere should probably be getting used to hearing it.
Using the words of a dictionary, the word exceptional can be defined as, "unusually good", and "outstanding". Just by taking a look at his statistics from last season, while playing a year up, it's obvious McDavid was more than just your average talent.
Last season, McDavid was the main attraction on a star-studded Toronto Marlboros roster. Among the others were second-overall pick Roland McKeown, who went to the Kingston Frontenacs, and Josh Ho-Sang, who was selected fifth by the Windsor Spitfires. At the start of the 2011-2012 season, Ho-Sang was the favourite to go number one in the 2012 OHL Priority Selection, and remained the clear-cut choice until McDavid was granted "exceptional" status.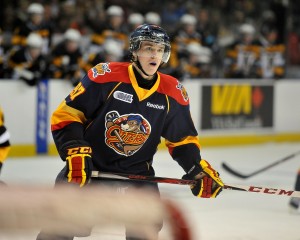 Through seven games this season with the Otters, McDavid has put up nine points. Not too shabby for the youngest player in the league, especially considering how young of a team Erie has this year. They've only won two of those games, but McDavid has made his presence known.
Early on in his first game against Niagara, IceDogs' defenceman Dougie Hamilton welcomed McDavid to the league with a bone-crushing hit that put the 15-year-old phenom on his rear end. According to those who attended the game, McDavid was still the best player on the ice that night.
He scored his first goal against the London Knights in a packed home-opener at the Knights' newly-named home, Budweiser Gardens. It wasn't the typical McDavid goal; he deflected a shot into the back of the net, but it was what he did before the goal that was impressive.
Just a few seconds earlier, McDavid had rushed the puck through the neutral zone into London territory. He proceeded to dish the puck off to Otters' captain Connor Brown, a 2012 pick of the Toronto Maple Leafs. Then he slipped through the defence almost unnoticed, found his way to the net, and tipped the incoming shot home.
"He's a special player and a special person," Bassin told the Peterborough Examiner. "A lot of players with a lot of skill wish they had more character. A lot of players with a lot of character wish they had more ability. This kid has them both."
The Otters' home opener was on October 5, after arena renovations forced the team to play their first five games on the road. It was a long-time coming for Erie fans, even though they've only had McDavid with their club for a handful of months.
McDavid didn't disappoint, scoring his first of two goals on the night six minutes into the second period. The Otters went on to defeat the Brampton Battalion 5-1, and McDavid was named the game's first star. In front of a reported 3,474 fans at Erie Insurance Arena, he got off to a great start in his new home.
On October 7, once again facing London, McDavid scored his third goal in six games just a few minutes into the first period. The Otters would fall 4-3 in a shootout to the Knights, but McDavid also increased his point streak.
"If there is a hockey god, he's been good to us by having this young man play for us," Bassin said.
While there are multiple parts to his game that are exceptional, scouts say McDavid's creativity and speed make him stand out among his peers. He's often called a playmaker, and though he's a terrific passer, he also has fantastic scoring ability. As Otters' head coach Robbie Ftorek says, he has the hockey sense of someone who's between twenty-one and twenty-eight. And we're talking about someone who's fifteen.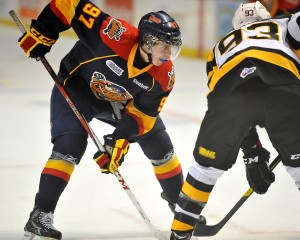 He's not NHL-eligible until 2015, meaning there's a whole lot of time for scouts to break down every little part of his game. But if there's an advantage McDavid has that others may not, it's that his maturity is also at a high level. During the Otters' training camp, even though he was already a lock to make the team, he refused to wear Erie gear while on the ice. That alone was enough to tell Bassin he had made the right choice.
Moving nearly 400-kilometres away from home as a second-year high school student would be a lot to handle for most youngsters. Add in the pressure McDavid's facing, and it would easily be enough to make your average teenager crack. However, Bassin believes McDavid's parents did an excellent job preparing the Otters' rookie.
"I can't say enough about the upbringing and the direction that he's had from his parents," Bassin said. "I know those other guys [Ekblad and Tavares] were exceptional, but this guy will help set the standard."
There's a long way to go until the 2015 NHL Entry Draft rolls around, but the hype has already started, and it doesn't sound like it's going to end anytime soon.
Sidney Crosby, the Pittsburgh Penguins' superstar, recently watched McDavid on the ice. What he said afterwards only places more weight on the 15-year-old's shoulders.
"When I watched him play, he reminded me of myself," said Crosby.
While McDavid has a lot of work to do before he become's the next Sid the Kid, scouts will admit that it's not a complete stretch of the imagination to say McDavid could star in the NHL someday.
"And the team that gets him is going to do a hat dance when they find out what a person this guy is," said Bassin. "When you put talent and character together you have a star. Connor has both."