The 2015 NHL Entry Draft's #1 overall pick, Connor McDavid, has signed his first NHL contract.
The #Oilers have agreed to terms with 2015 first-overall pick @cmcdavid97 on a three-year entry-level contract! pic.twitter.com/D6wBFRcrrU

— Edmonton Oilers (@EdmontonOilers) July 3, 2015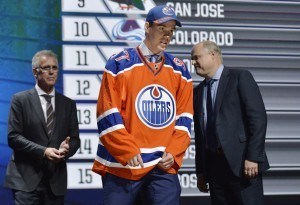 McDavid gets a three-year entry-level deal with the Edmonton Oilers, who drafted him last week.
According to Sportnet's Chris Johnston, McDavid is getting the max entry-level deal: $925K, with $92,500 signing bonus and up to $2.85 million in performance bonuses. While the performance bonuses may vary, it's the same contract that Jack Eichel just got from Buffalo.
This week, he took to the ice for the first time in an Oilers jersey, as the team opened its development camp. Nothing too exciting happening at development camp so far, but a handful of videos and GIFs have come out, like the one below, that give another look at what an incredible skater McDavid is.
https://twitter.com/HockeyWebCast/status/616708500345913345
Just three more months till the seasons starts and you can get your first look at him in NHL game action.
RELATED: Redrafting the Edmonton Oilers: 2007-2014
[catlist categorypage="yes" numberposts=3 excludeposts=this]