Andrew Desjardins got a good deal at the trade deadline. He left the struggling San Jose Sharks, the only NHL team he'd ever played for, in a trade with the Chicago Blackhawks, where he won a cup. According to Desjardins' agent Todd Reynolds, Desjardins "[l]oves it there." And "there" he will remain, after signing a two-year contract extension with the Blackhawks, carrying an AAV of $800K.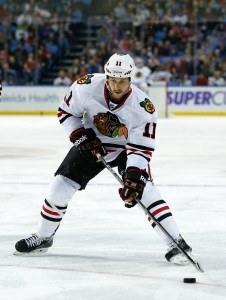 According to the
Chicago Sun Times' Mark Lazerus
, Desjardins was offered more money elsewhere, but was content to wait out the process to see what the 'Hawks could offer him to stay.
The trade that brought him to Chicago was the team trying to lose some salary, sending Ben Smith to San Jose, but the deal wound up working out pretty well, even if it appeared to be a salary out deal for Chicago.
Desjardins is the kind of player who can absorb lots of bad zone starts on the fourth line and do ok with it. Last season he had a ZSO%Rel of -24.6% — meaning he started an enormous amount of his shifts in the defensive zone — and a score-adjusted CF%Rel of -4.5%. That relative possession number masks that he has been an excellent defensive forward, but generates very little offense. It's a tradeoff that worked well for a team like Chicago that has plenty of guys who can drive play offensively up front.
Take a look at Desjardins' HERO chart below to get a sense of how strong he is in the defensive zone.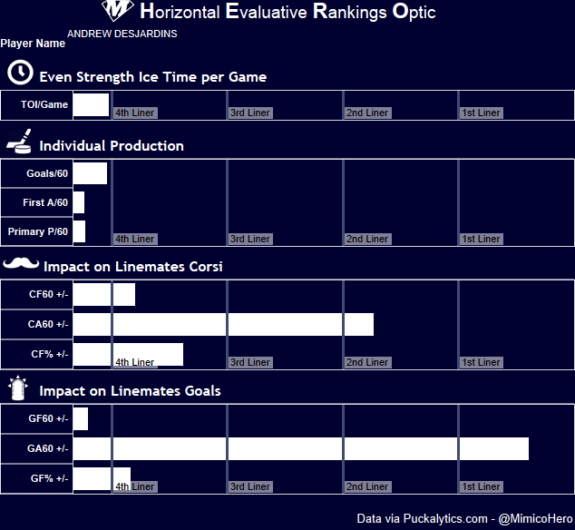 RELATED: Brandon Saad Traded to Columbus
[catlist categorypage="yes" numberposts=3 excludeposts=this]