Last week, the NHL Entry Draft gave fans a glimpse into what the future has in store for their teams. Now, the attention shifts to the present as the free agency period is underway. The Arizona Coyotes are definitely eager to see what third overall pick Dylan Strome can bring to the desert, but there is also focus on the current state of the team. Mikkel Boedker and Martin Hanzal both saw last season end early due to injury and are looking to make up for lost time starting in October.
Mikkel Boedker
Earlier this week, the Coyotes extended a qualifying offer to seven players on the team, including Boedker. Last season, the Danish forward was on pace to break his career high of 19 goals set back in 2013-14. However, his season was suddenly ended after he ruptured his spleen on January 18 against the Winnipeg Jets. Boedker was heating up prior to that game and subsequent injury, scoring goals in four of his previous five contests. With Boedker's speed and skill missing from the lineup, Arizona's offense floundered in the second half of the season as they finished the year with the second-lowest goal total in the league. Now that he has had some time to recover, Boedker will look to finish what he started in the upcoming year.
Martin Hanzal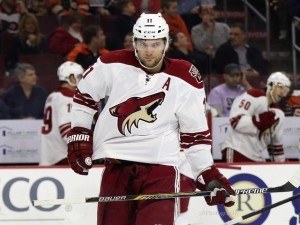 In last year's season preview, the NHL website listed Hanzal as one of the keys to Arizona having a good year, specifically mentioning that Hanzal
had to remain healthy
. Unfortunately for Arizona, the exact opposite happened as the Czech forward missed most of the second half of the season after
requiring back surgery.
Hanzal only managed eight goals and 24 points in 37 games last season, with three of those goals coming via a natural hat trick on November 14 against the Vancouver Canucks. When he is on the ice, Hanzal is a good offensive weapon for the Coyotes with his size providing support on the power play. Injuries have made him miss a lot of ice time during his eight years in the NHL and the Coyotes hope that he can turn that trend around.